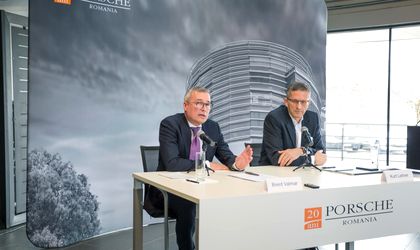 Porsche Romania, the largest local auto importer, celebrated its 20th anniversary and posted figures that reflect the company's successful record. In its two decades of existence, Porsche Romania delivered 455,055 cars under the brands Volkswagen, Audi, Seat and Skoda. In the future, Porsche Romania representatives said, the company wants to stay ahead of the new trends making an impact on the auto industry, including increased connectivity, autonomous driving and electric mobility. 
The company ended 2017 with record results for the post-crisis period, namely its turnover increased to EUR 638 million, up 16 percent year-on-year, while the total number of units sold in 2017 amounted to 31,569, representing a 13 percent year-on-year increase.
Brent Valmar, General Manager of Porsche Romania, said: "2018 is a special year for Porsche Romania: we mark 20 years of activity on this market and we are positioning ourselves to continue our sustained growth so far. We want to keep our leadership position among car importers and exceed the threshold of 50,000 units sold annually by 2025 at the latest. "
"An important stake for the future is also our contribution to Romania's mobility strategy, along with distributors, partners and authorities. We are talking about renewing the car fleet and preparing for the major transformations brought by new technologies and new mobility needs, " Valmar added.
Electric mobility, autonomous cars and connectivity
Kurt Leitner, General Manager of Porsche Romania, said: "We have built a high-performance business in Romania and our success so far is a solid foundation for the goals we are proposing from now on. With the new mobility strategy and the International Future Sales program, we will focus more on the customer, with added speed of service, flexibility and comfort. In terms of traded models, three major trends will change the car market: electric mobility, autonomous cars and connectivity. Our goal for 2025 is to reach a sales volume of 12,000 electric vehicles per year, out of a total of 50,000 units sold annually. "
"Romania is always a benchmark," Leitner said, when it comes to the adoption of technology. "People are very open to technology here, think of the internet which is the fastest in the region. Romania is a benchmark for the region also in terms of performance. In the last 2-3 years, all the neighbour countries have been growing, but Romania a bit more," he added.
For 2018, Porsche Romania is planning to deliver 500 electric vehicles and to continue installing the charging stations for electric vehicles in its own network, so that in no more than two years all Porsche Romania dealers will have loading stations.
This year, Porsche Romania will be present at the International Auto Show Bucharest 2018, where it will present the latest models of the company, as well as anniversary models specially designed for Romanian customers.
Alongside its partners, Porsche Romania generated over 3,500 jobs nationwide at its headquarters and the network of 82 distributors present in 26 counties.