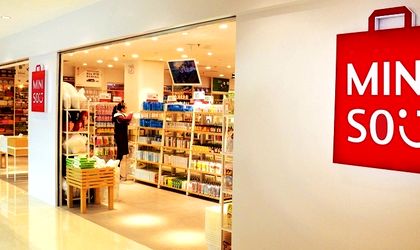 The Japanese retailer Miniso, which sales a wide range of accessories, will open the first Romanian street store on November 29 in Romanian Market, one of Bucharest's most important shopping arcades.
Miniso leased a space of 125 square meters on Magheru Boulevard, the transaction being intermediated by Cushman & Wakefield Echinox real estate consultant.
This will be the fourth Miniso store on the local market, following the opening of units in Mega Mall, Veranda Mall and Iris Titan in Bucharest.
The company entered on the local market less than three months ago and already reached its target set for 2018 in terms of number of units. Miniso plans to expand to 40 units on the local market by 2020.
"The local market is one of the most attractive in the region due to its size and rhythm of growth, which is why over the past three years more than 30 new retailers decided to set up local operations. Just like Miniso, most retailers initially opened stores in shopping centers, but we see a growing interest in street outlets as well as strong commercial destinations, " says Dana Radoveneanu, senior consultant at Retail Agency.
"Romanian Market is one of the places in Bucharest that benefits from significant traffic, being attended by high-school students, students and employees working in the area's buildings, with a profile similar to that of the target consumers," she added.
Miniso is a Japanese retailer of household products, accessories and toys set up in 2013 in Tokyo by Japanese designer Miyake Junya and the young Chinese entrepreneur Ye Guof. The company operates over 3,000 stores in over 70 countries.
Since 2017, the brand entered the European market in Germany, Poland, Serbia, Spain, Greece, Estonia and Ukraine and emphasizes its affordable prices, quality, utility and design of marketed products.