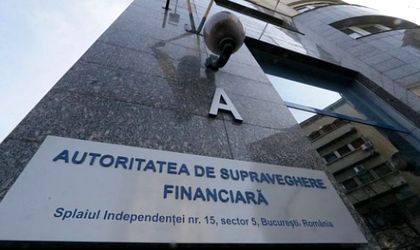 The Council of the Financial Supervision Authority (ASF) has withdrawn the license of operation for LIG Insurance SA Asigurari-Reasigurari Company, as a result of the insolvency stage and the start of the bankruptcy procedure, according to a press release of the institution.
Also, the Council approved the appointment of Robert Grigore as deputy general director of the company Credit Europe Asigurari-Reasigurari and Marian-Cristian Grajdan as deputy general director at Asito Kapital company, Elenei Filicioaia as deputy general director of SAI Vanguard Asset Management, of Mircea Constantin as director of SAI Muntenia Invest and Mariana Tania Malureanu as director of SAI Sira S.A.
Moreover, the institution approved the issuing of the Registration Certificate of Movable Goods associated to the increase in the social capital of the company Vrancart Adjud, the issuing of the Registration Certificate of Movable Goods for structural goods issued by Erste Group Bank and the change of the pensions scheme prospect for the Pension Fund Privately Administered Metropolitan Life managed by Metropolitan Life Administration Company of a Pension Fund Privately Administered.
The council approved 60 agents and took of the authorizations for other 72 agents that develop marketing activities for the facultative private pensions funds and privately administered.
Georgiana Bendre