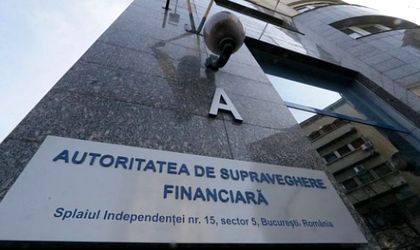 The Financial Supervision Authority Council (ASF) approved on Wednesday the increase in social capital of Asirom VIG by RON 84.57 million, resulting in the consolidation of the financial capacity of the company.
According to an ASF release, the social capital of Asirom reached RON 424.939 million, from RON 340.369 million.
"Before closing the financial year at 31.12.2016 and the approval of the capital increase, the solvency rate (SCR) was 15 percent and the minimum capital rate (MCR) was 449 percent," says ASF.
Also the ASF Council, approved during the Wednesday meeting the appointments of Jean-Yves Roger Marie Le Berre as vice-president of Supervisory Council at AXA Life Insurance, Bruno Charles Paul Dufraisse as member-president, Alice Chantal Marie Garcet as member-vice president and Daniel Buta as member for new mandate of the Board from AXA Life Insurance.
Moreover, the collaboration project between ASF through the Solution Entity of Litigations in non-banking financial field and the Alternative Solution Center of Litigations in Banking Field.
"ASF Council meets every week to decide the measures that need to be adopted for the well functioning and the efficient surveillance of the non-banking financial markets, participants and operations on this market,"says ASF.
Georgiana Bendre