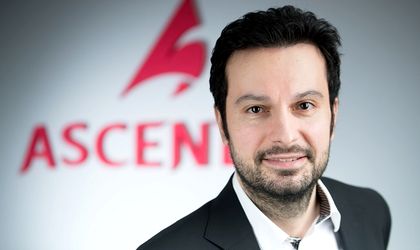 Ascendis, leader in training and consulting in the organisational development sector, has signed a partnership with Ipsos Interactive Services (IIS) – the Excellence Centre of the Ipsos group for Online and Mobile Data Collection – with the purpose of conducting market research studies for Romanian companies, in the HR field.  
Ascendis is aiming to get to sales of over EUR 300,000 on this market segment, due to the interest showed by clients for such research.
Bogdan Ciubotaru, consultant and trainer at Ascendis: "Currently, the labour market is led by the best candidates. This is the effect of an oversized work offer compared to the availability of workforce, and the impact is seen in all industries. If 10 years ago  we would get 200 candidates for a job posting and saw that 10 of them weren't qualified for the position, today the same ad would get only 10 candidates and none of them would be qualified. Attracting and retaining the right employees are two of the essential concerns of Romanian managers in 2018, and to manage these problems, organisations need a diagnosis. This is how the market research division was established at Ascendis."
The new division at Ascendis will provide clients with two types of studies in the beginning: online climate surveys – which measure both the perception of candidates about the company (external or employer branding climate studies) and market surveys – complex market studies, on a representative population, which offers critical information for taking business decisions. The price of a study varies, depending on its complexity and target.
Ileana Parvu, Managing Director at Ipsos Interactive Services Romania, stated: "The Partnership between Ipsos Interactive Services and Ascendis aims to strengthen the role of online and mobile market research in Romania. Over 70 percent of Romanians have a smartphone, and 45 percent of them have bought at least one product online in the past year. More than 75 percent of those who live in the urban environment have internet access, and to understand their behaviour and offer them personalised solution, the collection of online and mobile data plays an important role thanks to its accuracy and speed. Furthermore, it has the advantage of observing and analysing consumer behaviour in real time."
In the medium term, Ascendis aims to deliver market research for clients in Europe as well.
In 2017, Ascendis and Co-factor launched the digital microlearning platform Code of Talent. Ascendis also brought two new instruments to Romania last year: BlueEQ (an instrument for measuring emotional intelligence) and HappyOrNot (an instrument for evaluating employee and client satisfaction).
Among the most important strategic decisions by Ascendis in previous years were the acquisition of 33 percent of shares of the digital marketing agency Ideologiq, 50 percent of shares in the foreign language provider Eucom, and 50 percent of the wellbeing services provider SmartExperience.