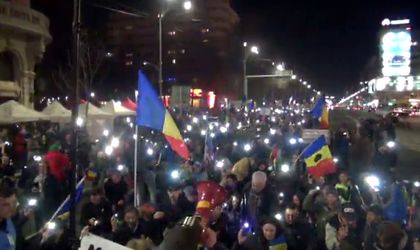 Around 2,000 people protested on Sunday in the Romanian capital against a projected pardon law and the amendments proposed by Social Democratic Party (PSD) Senator Serban Nicolae, directed at pardoning those sentenced for several acts of corruption.
The protesters gathered in Victoria Square and marched towards Parliament chanting slogans such as 'Resignation!', 'Thieves!', 'PSD, the red plague!' Down with Tariceanu, Dragnea and Grindeanu! The crowd stopped and sang the national anthem. In front of Parliament, protesters also chanted 'CCR [Constitutional Court of Romania], PSD's servant!' and 'Serban Nicolae, go to jail!'.
Romania has seen a wave of protests against the ruling party, which won the 11 December 2016 parliamentary elections. People took to the streets at the end of January 2017 to protest against emergency ordinance 13/2017, which partially decriminalized abuse of office, if the damage caused is less than €44,000.
The biggest protest, on February 5, gathered around 250,000 people in Bucharest and half a million around the country.
The protest died down in around 10 pm.