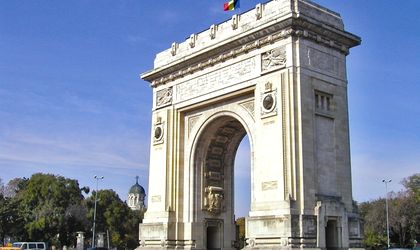 Flagship Bucharest historical monument Arcul de Triumf (the Arch of Triumph) will undergo refurbishment works costing EUR 7 million. Part of the sum (approximately EUR 5.1 million) will come from EU funding. The announcement was made by Bucharest's mayor, Sorin Oprescu, who said that a financing contract for the consolidation, refurbishment and conservation of the structure would be signed with the Regional Development and Tourism Ministry soon.
The request for refurbishment works on the monument was filed in December 2009 but the evaluation lasted for more than a year and a half.
At the same time, the City Hall and the ministry will sign financing contracts for the consolidation and refurbishment of the Vasile Urseanu Astronomic Observatory in Bucharest. Financing for the EUR 2.5 million project was approved in April this year.
Other projects awaiting evaluation include the refurbishment and modernization of the Dr. Victor Gomoiu children's' hospital and the Foisor hospital. The first financing contracts under the Regional Operational Program were signed for the consolidation, refurbishment and preservation of the Casa Cesianu and Nicolae Minovici museum in Bucharest.
The two contracts have a total value of EUR 5.4 million. Works are expected to start this fall.
Arcul de Triumf is located on Kiseleff Boulevard. Built to the design of architect Petre Antonescu, it is 27 meters tall. Inaugurated in September 1936, it commemorates the Romanian heroes of the War of Independence and World War One.

Staff