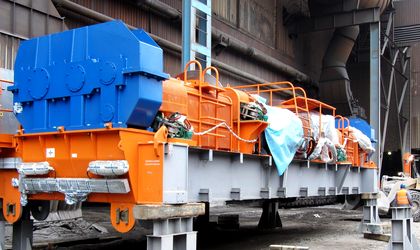 ArcelorMittal Galati will supply steel for a state-of-the-art research ship, an Antarctic Supply Research Vessel (ASRV) with icebreaking capabilities. The vessel was commissioned by the Australian government and will be used to broaden the country's exploration of the Southern Ocean and Antarctica.
ArcelorMittal supplied heavy plates in grades ranging from AH 36 to EH36 for the 156m-long vessel currently being constructed at Damen Shipyards in Galati, Romania. The marine steels have a low carbon content, ideal for tackling the challenging conditions of the polar waters.
The ship will carry out both research and supply functions in Antarctic waters. Specifically, it is designed to break up to 1.65m-thick ice at speeds of 3 knots. The ship, which will feature science laboratories and offices spread across an area of 500 square meters, will supply Australia's permanent research stations in the area with cargo, equipment and personnel.
ArcelorMittal Europe – Flat Products and Damen Shipyards Group have a long term working relationship. Due to their proximity, the chance of transport delays is kept to a minimum and allows ArcelorMittal's experts to provide answers to the technical inquiries of the client.
Previously, ArcelorMittal provided steel and collaborated with Damen on the latter's new service operation vessels (SOVs).
The official keel laying ceremony took place in Galati. As per tradition, several coins, including a Dutch silver coin dated 1642, were placed under the keel.