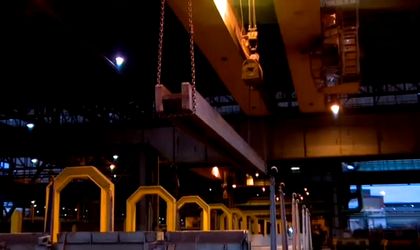 ArcelorMittal Galati steel plant has completed a EUR 1.8 million investment, which allows the company to reuse some of the raw material used in production and to decrease water consumption.
According to Mediafax, the new equipment recovers the slurry resulted after gas purification and uses it as a by-product in the process of agglomeration. Since the slurry contains 45 percent iron, the station for slurry retention reduces the plant's iron ore consumption and allows the reuse of the water obtained from its retention process.
ArcelorMittal Group announced earlier this year that it will invest EUR 40 million in the plant in Galati in 2015, but the number of employees might decrease by applying a new pre-retirement scheme.
The plant expects the steel production in Galati to exceed 2 million tonnes this year, 300,000 tonnes more compared to 2014.
Staff