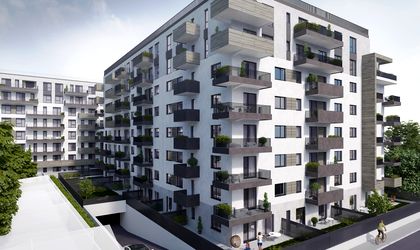 Arcadia Apartments Domenii, the first large residential complex in the Domenii Region area, launches the fourth building in the complex, one year after the start of the project.
The new building, with 2S + P + 5E + 6-7R height, will be delivered in March 2020, and will add up to 109 apartments together with the parking spaces that are entirely located in the underground car park.
The fourth building comprises studios, two-, three- and four-room apartments, as well as duplexes and penthouses with various surfaces and compartments. Designed to provide a high level of space functionality, the apartments include storage rooms on hallways and large dressing rooms in bedrooms.
Reported to the area's facilities, the apartment prices are still tempting: they start from EUR 84,000 + VAT for the studio and reach to EUR 353,000 euros + VAT for the penthouse.
By the end of October 2018, buyers will benefit from a 10 percent discount on the price of any apartment in the new block.
One year after the start of Arcadia Apartments Domenii, the construction works are based on the execution schedule. Thus, in three months, the first building as a whole will be delivered, currently in the last stage of construction, ie interior and exterior finishes.
At the same time, the superstructure of the next two apartment buildings, which will be delivered in May 2019, and the basement of the fourth building, is being carried out at a sustained pace.
"Within a year of Arcadia Apartments Domains, we can say that we have managed to fulfill our promises to the market and achieve the results we have set ourselves. We are approaching fast delivery of the first building and the reception of the inhabitants, but also the completion of the ensemble. Here we are already in the fourth block and, therefore, halfway through the project. Everything follows as planned, from construction to sales rhythm. Of the 418 executed apartments, we sold 70 percent and we already have requests for units in block four, "says Daniela Barbu, Arcadia Apartments Domenii, communications director.
The project, launched in September 2017, will be built in three phases, on a three-hectare plot of land and will include 800 apartments.
The total value of the complex is estimated at around EUR 100 million and the investment is made through DVD Residential Imobiliare, which has as main associates the Dan Sucu, the owner of the Mobexpert group, and Valentin Visoiu, the owner of the Conarg group.