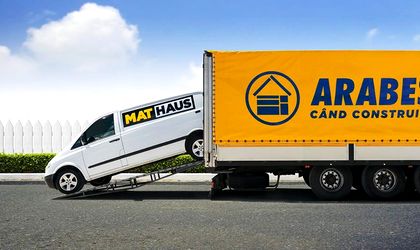 Arabesque, the largest distributor of construction and furnishing materials in Romania, is preparing, on May 10th, for the launch of a new store in Bucharest and a rebranding campaign for its retail stores. The company will invest EUR 10 million for opening a store at Vitan 112-114 and modernizing the units in Galati, Constanta, Craiova, Pitesti and Oradea, all under the MatHaus brand – the Arabesque retail division.
According to Arabesque, the residential construction sector in Romania has grown significantly in recent years, and the investment in the MatHaus network comes to provide the necessary logistical support.
"We are specialists in the building materials, finishing and refurbishment segment and we can transfer our industry expertise to individual customers targeting such a project," said Cezar Rapotan, Arabesque's founder and shareholder.
"In any MatHaus store, anyone who has something to build, repair or renovate will have an extensive range of quality products, personalized project offers, technical advice and free shipping in the logistics area of ​​the store. It's economical and convenient to work with MatHaus," said Rapotan.
According to a study commissioned by Arabesque, the construction market had a positive evolution in 2017, and figures for the first quarter of 2018 show an encouraging trend. Against the backdrop of economic growth, the demand for office space, housing and industrial construction has advanced significantly, so that businesses in this sector could approach this year by RON 30 billion, an increase of RON 3 billion compared to 2016.
Arabesque is the largest distributor of building and furnishing materials in Romania with 38 shopping centers in Romania, Moldova, Ukraine and Bulgaria. The team in Romania counts over 2,700 people and the logistic force is assured by over 1,000 specialized trucks.
MatHaus