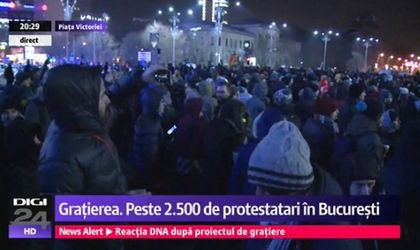 Romanians around the country will protest against the draft bill put up for public debate that aims to pardon those sentenced to jail terms shorter than five years, in a repeat of Wednesday's rallies. Romanian PM Sorin Grindeanu put up for debate the bill on Wednesday.
On Bucharest around 2,500 people protested outside the Government building, with smaller gatherings taking place in Craiova and Cluj-Napoca. Romanians took to the streets to protest against the Social Democratic Party (PSD) and its chairman, Liviu Dragnea and also Ombudsman Victor Ciorbea.
The emergency ordinance draft grants full pardon to those sentenced to less than five years in jail as well as sentences with penalty imposed by the court. According to Minister of Justice, Florin Iordache, around 2,500 detainees would be pardoned, helping reduce overcrowding in Romania's jails, which have an occupancy rate of 150 percent. However, the National Anticorruption Directorate (DNA) warned that the draft bills would hit Romania's anti corruption efforts. The DNA said in a statement that the abuse in office and the crimes related to corruption would be on the list of pardoned offences, alongside the complex fiscal evasion crimes.
Moreover, beginning January, Ombudsman Victor Ciorbea decided to bring Law 90/2001 to the Constitutional Court. President Klaus Iohannis criticized the initiative as a "move with a unique beneficiary."
Sunday's protests were announced via Facebook events. The event announcing the protest in the capital Bucharest is again expected to attract thousands. Additional protests will take place in Brasov and Timisoara on Thursday, and on Sunday in Cluj-Napoca, Pitesti, Piatra Neamt, Baia Mare, Suceava, Satu Mare, Brasov and Iasi.
Romanians abroad will also take to the streets, and are expected to gather in Paris, Copenhagen as well in Haugesund, Norway.
The draft pardon bill and the proposed amendments to the Penal Code did not appear on the Government's agenda on Thursday, but it is unclear if the documents had been on this list initially so they could be approved through government ordinances.
Georgeta Gheorghe