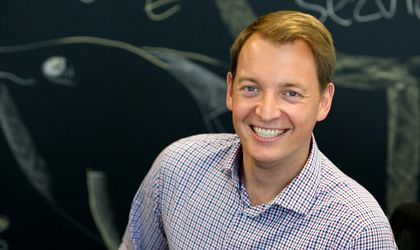 Revolut is a service that tends to disrupt the banking system. Specially in the money transfer across countries area where Revolut takes no charges. The service is also free for forex exchange and for withdrawals from any ATM in the world, with a limit of EUR 400 per month.
The company just opened an office in Romania in order to offer the service to all Romanians namely those who work abroad and are sending money home on a monthly basis. Business Review talked to Andrius Biceika, head of Country Managers at Revolut, in order to better understand how the technology works and how can Revolut transfer money across countries with no charge for the customers.
"Like the recipe of Coca-Cola, you tend not to share it", Biceika told BR. "On a more serious note, Revolut operates a proprietary (fx) system to enable instant multicurrency transfers within its own ecosystem (i.e peer to peer) as well as a range of third party systems i.e. banking and other financial services providers."
It is normal for Revolut to keep secret the way in which their service works. As far as one can understand they use a system that bypasses the banking industry by using its own digital system. One comparison can probably be made with the early beginnings of the money transfer, the Knights Templars who took the money from the customers in Europe and giving them back in Jerusalem without necessarily moving the money abroad.
"Regarding our technology, banks see it as the one which they cannot copy due to its complexity and fx-based components. On the operations side, they profit from the operations made through Revolut that they facilitate: the external transfers facilitated by the banking "rails" are priced by banks", says Biceika.
How does Revolut make a profit?
"Revolut makes money in different ways. First, we have the premium customers which pay a monthly fee of GBP 6.99 (or GBP 72 annually) to use the premium service. In exchange for this, they receive a series of additional benefits:
GBP 400/EUR 400 Free ATM withdrawals per month
Free unlimited FX volumes
Free exclusive Premium cards
Free overseas medical insurance
Free global express delivery
Exclusive priority 24/7 customer support
Exclusive Premium promotions
Free disposable virtual cards
Then, there is also what is called the MasterCard interchange: we get a cut of the revenue from the fee paid to MasterCard by merchants in order to process their payments.
Other revenue streams include Revolut for Business (a subscription-based web service that offers companies a global business current account for easy international payments, with prepaid business cards and an Open API), Revolut credit (available in the UK for now, in partnership with a third-party provider) or different partnerships."
Even if Revolut collaborates with the institutions in the banking system in order to function it is clear that the change is here to stay. We will probably see more companies and technologies like that in the future as well as we will see changes in the way banks operate.
As for Revolut's future plans, Biceika says:
"Technology is at the heart of our service and this is why we plan to focus on enriching the product with additional features such as investment, credit, direct debits, and more. We also plan to expand outside Europe to as many countries as possible – among them there are the US, Canada, Australia, Singapore, and many more."