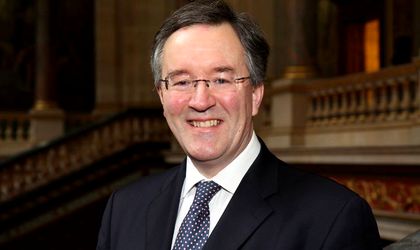 As the current ambassador of the United Kingdom in Bucharest, Paul Brummell, is reaching the end of his term this summer after four years, he will be replaced by Andrew James Noble, who has most recently been the UK ambassador to Algeria.
Andrew James Noble started his diplomatic career in 1982, and in 1983 he was sent to the British Embassy in Bucharest, where he spent four years as third secretary and second secretary and later had political assignments. He was recalled from his Romania post in 1986.
Noble was also a vice-ambassador in Germany between 2009 and 2013, as well as a consul-general and political counselor at the UK's embassy in Berlin. Between 2005 and 2009, he was a director in London Foreign Office's security and foreign real estate department.
Andrew Noble was also the vice-ambassador and consul-general of the UK in Greece, in 2001-2005, as well as the chief of the political section of the UK embassy in South Africa (1994-1998), second secretary at the Bonn embassy, responsible for foreign policy and bilateral relations (1987-1989) and British attaché to the foreign minister of Federal Germany (1986-1987).
In the periods between his foreign postings, Noble returned to the UK Foreign Office, where he carried out work related to security policy and relations with the European Community.
Andrew James Noble is married and has four children.