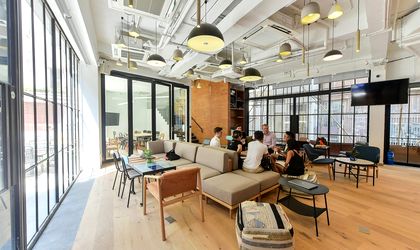 Since the start of 2000, when the Bucharest skyline boasted just a few office buildings, a major influx of foreign investments has led to massive development in all parts of the capital. In the past few years, developers have also started pioneer investments in several large cities outside Bucharest. Looking ahead, smart and sustainable are the key principles that will drive investments in property across the country, predict pundits.
From an office stock of 168,000 sqm in 2004, the total surface reached 2.7 million sqm at the end of last year, according to estimates. Moreover, the office stock outside Bucharest climbed virtually from scratch to 690,000 sqm.
In the past decade, we have started to see buildings that are friendlier to the environment and more accessible to the new generation of employees. Investments in green projects are set to mark the industry in the next year, according to consultants. Developers are also poised to continue investments in mixed-use projects that have office and residential components, although investors are also starting to include wider commercial spaces.
"Green office buildings will continue to appear on the Romanian market, driven by demand from the young generations and the increasing global need for sustainable developments. We are already noticing a trend towards campus-style developments, with green areas and interior gardens. Aside from the energy efficiency aspect, developers will also need to pay more attention to buildings' interiors: green walls and roofs, an increased integration of daylight versus electrical light, fresh air intakes. Given these circumstances, 2018 and the following years will see a rising trend in the development of green office buildings," Simona Urse, associate director of the office agency at Crosspoint Real Estate, told BR.
The offices of the future should be focused on a friendly, connecting environment, where people like to hang out, according to a study by Savills.
"Older people will live and work longer and more flexibly through the use of new technologies. Telecommuting will increase, together with the need for high quality, flexible working space," said the real estate consultancy.
Millennials will also constitute 47 percent of the workforce across Europe by 2025, and by this time we will start to see more developments under smart cities principles. In the two decades to 2030, the number of older workers (55-64) is also expected to increase by 15.5 percent.
Meanwhile, the residential segment has recovered following the crisis of 2008, with more developers working on projects targeting middle and upper-class buyers. The main generator of demand in the mass market segment was the state-backed Prima Casa program.
"The facilities offered by residential complexes must be innovative: smart house integrated solutions, 'green' certified residential buildings (lighting, heating, insulations), electrical vehicles, and green areas such as parks and playgrounds. Another important facility is the socializing areas, as the need for a selected community is quite obvious. When we discuss large projects, [we talk about] gym, shopping areas, schools, kindergartens, leisure facilities such as pools, coffee shops, and why not bars or pubs, as the trend is for people to relax in the proximity of their home," said Bogdan Iliescu, associate, residential, at Crosspoint Real Estate.
Iliescu says that an emerging trend in the residential market, mirroring office investments, is targeting buyers that want to upgrade their living experience. In this category you can find professionals from IT&C and financial services, but also freelancers.
"They opt for a good location in semi-central areas with access to public transport and in proximity to established or new business areas, with all the facilities at hand, for living purposes, and not to rent. Consequently, major developers and investors are looking for land and development opportunities in better areas than the outskirts," said Iliescu.
Looking at the evolution of the market over the past decade, prices haven't yet bounced back to the peaks of 2007-2008. For instance, the price per sqm for a new apartment in Bucharest was EUR 2,307 in January 2008, while in January 2018 it stood at EUR 1,350, according to data from Imobiliare.ro.
For land plots in Bucharest, the cost per sqm sank from EUR 933 to EUR 184 over the same period.
2017's real estate market in review and prospects for 2018
Dorel Nita, head of data and research at Imobiliare.ro and project manager at AnalizeImobiliare.ro, highlights the main features of the real estate market last year and gives a short overview of 2018.
Last year we celebrated ten years since Romania joined the European Union, in 2007. In the meantime, the real estate market went through a complete economic cycle and residential property prices across the country increased by 30%. Just like in 2007, we are going through a phase of economic expansion and rising prices due to strong market demand and the active development of new dwellings.
In 2017 the market registered a price increase of just 9.1%, lower than in 2016, when prices increased by 12.4%. This attenuation of rising prices is due to a series of "disturbing" factors that are common in a phase of economic expansion.
In the past year, the real estate market faced some external "disturbing" factors such as:
The devaluation of the national currency
(RON) against the major currencies
The exhaustion of Prima Casa program funds increased bank loan deposits for buyers
The rapid growth of the ROBOR index (at 3 months) – from 0.87%, in August, to 2.22%, in December – made the public reluctant to take out bank loans
We also identified some internal "disturbing" factors that influenced the real estate market in 2017:
A decrease in the number of properties available for sale in major cities, resulting in a slowdown in the number of transactions
Insufficient supply of new builds compared to demand (56% of potential buyers want to acquire new buildings, at national level).
At a national level, the most expensive apartments are located in the major regional centers (Cluj-Napoca, Bucharest, Timisoara, Constanta, Brasov and Craiova), with an average price/sqm of over EUR 1,000. Average prices in Iasi remain under the EUR 1,000 /sqm threshold, at EUR 950/sqm.
Our analysis revealed that in Q4-2017, compared to Q4-2016, Bucharest had the lowest rise in average price, of only 7.7%. In the meantime, the other six analyzed cities registered a rise in average prices higher than 8%: 18.9% in Cluj-Napoca, 11.3% in Constanta, 9.4% Timisoara and Brasov, and 8.6% in Iasi. The real estate market in Bucharest had a tough year, as this was the only city in Romania that registered a price drop in the last four quarters: down by 1.1% in Q3-2017.
For residential properties (apartments and houses built before the year 2000) available for sale in the six analyzed cities, the data from Q4-2017 reflect a downward trend both from the previous quarter (-22%) and from Q4-2016 (-18%). The most significant drop compared to Q3-2017, of -25.6%, was registered in Constanta.
In the last four quarters, demand for residential properties (apartments and houses – new and old) in the six largest cities in the country increased, overall, by 5%. Our analyses revealed that Bucharest was the only city where demand fell, down by 7%, while in the other five cities it increased by up  to 42% in Iasi, 30% in Brasov, 24% in Cluj-Napoca, 12% in Constanta and 6% in Timisoara.
A survey conducted by Analize Imobiliare and Imobiliare.ro revealed that in the last quarter of 2017 over 1,500 residential projects (with more than 30 units/project) were under construction or planned to begin in the next period (having recently obtained authorization or in the process of obtaining the Zonal Urban Plan), in the ten major cities of the country (and surroundings).
From our real estate market data, we can conclude that 2018 could be a year of price stabilization or, at least, one of moderate price increases. Of course, the Romanian real estate market is still a young one, with no strict legislation that can temper the price demands of owners or real estate developers; therefore, the next ten months could also take us by surprise.