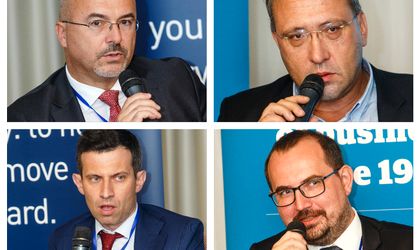 Polish companies have dealt in the past with some of the challenges facing Romania at the moment – the lack of a complex road network and an insufficient number of skilled trades people – but this didn't stop the country from becoming one of the economic tigers of Central and Eastern Europe. Polish firms have now ventured into Romania to fuel their international expansion, seeking higher growth rates, as the market back home has become saturated, said officials during the first Polish Investors Forum organized by Business Review magazine.
Ovidiu Posirca
"There is already a critical mass of Polish companies on the local market," said Marcin Wilczek, the Polish ambassador to Romania. He added that there are now more than 800 companies with Polish capital on the local market whose combined investment is close to the EUR 500 million mark.
How Polish companies became key players in the region
While Romania's GDP is set to expand by around 5 percent this year, Poland has kept up strong growth in output for a decade, on the back of foreign direct investments and European funds.
"In 2005 it was so hard to convince Polish companies to move into the EU, outside the country's own borders," said the ambassador.
Now, Polish companies are looking at Romania as a core market, said Cristian Cornea, executive general manager of Can Pack Romania, an aluminium packaging company.
"We have a very good IT infrastructure, we have the geographical position, very suitable for various business scenarios," said Cornea, who added that a serious problem for companies in the future will be the lack of qualified workforce.
"Romania is missing 4 million people at peak capacity," said Cornea, referring to the Romanians who have moved abroad. He added that it was crucial for the country to attract foreign investments in the production sector.
The GM said that multinational firms that need skilled employees have developed their own training programs, but smaller-sized firms simply can't afford to do so. The executive explained that, for instance, there is a lack of electrical engineers and qualified operators of robotics equipment.
The Can Pack representative said that from his experience, at least 25-30 percent of blue-collar workers resign after one month.
Aside from the ongoing issue with the workforce, Cornea considers missing logistics and infrastructure a business opportunity, underlining the fact that there could be more companies providing rail cars on the local market.
Sectors that attract Polish capital
Financial services, manufacturing and B2C businesses are of particular interest to private equity investors, explained Jakub Lerner, associated partner at Noerr Warsaw.
"We have three projects for investments in Romania from Poland," said the international lawyer. He also mentioned some of the challenges faced by a foreign legal expert working in Romania, citing the fairly low competition thresholds, the lack of sufficient case law following the roll out of the New Civil Code five years ago and the current legal regime for the acquisition of limited liability companies.
"For political reasons, Poland and Hungary have not had good coverage in the international press in the recent period, compared to Romania," said Lerner.
He noted that Germany is a gateway to Western Europe for Polish companies. Then there is CEE – Romania is the second largest economy in the region after Poland and thus a natural expansion target for Polish businesses, according to the Noerr Warsaw representative.
For Tomasz Ignaczak, general director of KRUK Romania, the debt collection firm, the local market has offered significant opportunities in terms of employees. The company has 600 people in Romania, but he said that a growing number of local managers are getting jobs in Italy, Spain, but also in Poland, countries where KRUK has operations.
One of the main examples of Polish capital being put to work in Romania has been the case of retail chain Profi.
Polish equity fund Enterprise Investor announced this spring that it was considering all options for the retail player, which it acquired in 2009. Back then, the company operated 67 stores, while by the end of September 2015, Profi had reached 448 units.
"Leading international private equity houses are interested in buying Profi," said Lerner of Noerr Warsaw. In April, EI fund took over Noriel Group, the biggest toys and games retailer in Romania, claim-ing that it was looking to replicate the development model seen in the case of Profi.