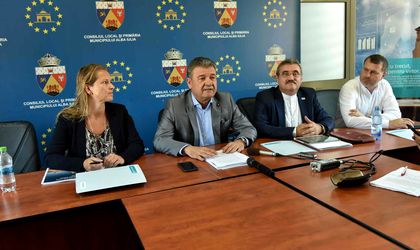 The concept of urban digitalization is gaining ground in Romania, with the first figures on the economic benefits emerging from the first city spearheading this effort. A new report published by German engineering group Siemens predicts that the development of Alba Iulia under smart city principles could yield total estimated benefits of EUR 532 million over the course of 35 years.
The western city, home to the 18th-century Alba Carolina Citadel, is focusing its smart development on connectivity, transport and energy, according to the report, which also assessed the benefits of such investments in Scottish city Aberdeen, London, Brussels and the Kartal neighborhood of Istanbul. Siemens worked on the report in partnership with professional services firm Arup.
"We met with all the cities, spent some time with them and other stakeholders, so in Alba Iulia we had the universities in attendance, with other interested parties, to really discuss and understand the ambition of the city, how it wants to develop economically, its driver. Very quickly in Alba Iulia, it became clear to the team that the driver was really about expanding the economy through increases in tourism, upgrading standards for residents and becoming a better connected city at the heart of Romania," said Julie Alexander, director for urban development and smart cities, lead global cities centre of competence, at Siemens London.
Alba Iulia has inked partnerships with a series of technology firms that are working on pilot projects there. In fact, it has ramped up this program as it prepares to mark Romania's centenary, with Alba Iulia being the place where the union of Romania was made official in 1918. Officials want to finish several smart tech initiatives in time for next year's celebrations. The city has attracted tech giants such as Microsoft and telecom players Orange and Telekom. The municipality lends an ear to start-ups as well, and earlier this year the town hosted a hackathon for the development of new solutions.
"All the firms that understood what this application means came to Alba Iulia; we signed partnerships through which they came and made applications. There are almost 300 smart lighting units. It is an exercise to see what can be done, and of course things will move forward," said Mircea Hava, the mayor of Alba Iulia, during a conference in which the findings of the report were made public.
The report suggests that if the city invests EUR 227 million in smart technologies, it could reap more than half a billion euros in benefits in 35 years. The payback period for the investment would stand at ten years.
Smart energy infrastructure would require the biggest initial investment of EUR 215 million over four years, and the study puts the cumulative direct and indirect benefit after 35 years at EUR 426 million.
In addition, the city would continue to register EUR 34 million annually in direct and indirect benefits after this period. Most of the initial investments would be required for smart grids. Smart connectivity, including free Wi-Fi, and smart transport, which would also support the development of real-time journey planning and smart parking, are smaller-scale projects that require smaller amounts of funding.
On its side, the municipality has already announced plans to develop the urban infrastructure and is currently looking for financing opportunities.
The municipality is seeking to secure financing for investments of EUR 22 million in transport infrastructure. This would include the modernization of roads, the deployment of smart traffic light systems and special bike lanes. Another EUR 16 million should be invested in the thermal rehabilitation of 30 apartment blocks, which should make the heating of homes more efficient. Moldovan said the city is also exploring investments in Virtual Reality/Augmented Reality projects, primarily for the Alba Carolina fortress, the city's main tourist attraction.
Crunching data for citizens
Fitting the city with sensors that can track anything from road traffic to faulty street lighting and air quality is set to generate impressive amounts of data that need to be filtered in order to help local residents.
This is why the cities of the future will need complex development teams including software engineers and hardware specialists, alongside traffic management experts, for instance.
"Most of the smart city applications developed until now have focused solely on the optimization of resources. This will change. The Internet of Things (IoT) will evolve towards an inter-connected ecosystem," said George Costache, CEO of Siemens Romania.
"What do we do with 100GB of data that we don't filter? This information needs to get to the city's partner, meaning the citizen, in the way he or she needs it," said the executive. He added that Siemens provided the report free of charge to the municipality, and that the company would participate in tenders, if Alba Iulia Town Hall wants smart city solutions.
Costache suggested that digitalization will certainly lead to a fundamental change in urban infrastructure, and that the future heralds predictive maintenance of buildings and other key parts of the city landscape.
Financing smart cities
With mayors in Romania exploring the concept of smart cities, the financing of such investments remains a challenge.
In theory, officials have to drop the old mantra that city infrastructure must be built only from public funds, in order to diversify its financing mix for smart urban development.
Siemens' report includes several delivery models and financing mechanisms that could be deployed in Alba Iulia, such as mobility-as-a-service, where customers pay subscriptions to have access to vehicles including taxi services or bike sharing schemes.
The municipality could raise funds by issuing bonds or tapping crowdfunding channels. A more conventional way to raise financing could be public-private partnerships (PPP). In this way, private players and public authorities could share the risk and financing for the roll-out of smart initiatives. Romania has a new PPP law in Parliament that has yet to be approved, after previous pieces of legislation in this field have failed to attract the private sector.
Tax increment financing (TIF) could also back investments in smart technologies. In short, this instrument allows local authorities to trade anticipated future tax income for a present benefit.
The authorities in Alba Iulia have cited public funds and EU grants as two of the main financing sources for investments in the city up to now. For instance, the Alba Carolina Citadel was refurbished with national and EU support of more than EUR 60 million, according to the report.
With a population of around 63,500, Alba Iulia welcomes some 400,000 visitors per year, out of whom 14 percent come from abroad. This is one of the reasons why the municipality has inked pilot projects that aim to support digital interfaces that help tourists get around the city and find out more about the main attractions.
Smart technologies have aroused the interest of several mayors in Romania and pilot projects have been deployed in the capital Bucharest. Roughly half of the counties (20) nationwide have at least one project that was finished or is under development through the smart cities concept, according to the Romanian Association for Smart Cities and Mobility.
However, Alba Iulia is the first city that has attempted to integrate all these technologies and actually get real-time feedback from its citizens regarding its future development.