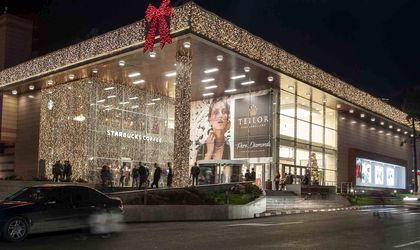 'Tis the season to go shopping and malls are firing up their engines to make the most of the holiday season, before the end of yet another good year for the local retail scene.
Simona Bazavan
Local shopping mall owners and retailers alike have good reason to be satisfied with the year that is almost ending. On the back of salary increases and overall improving consumer confidence, retail sales – excluding cars – were up by 16.8 percent in the first semester compared to the same period last year, according to official statistics.
During the same period, leading retail centers have reported average sales increases of between 9 and 10 percent y-o-y, according to Doinita Ilie, leasing manager for retail with JLL Romania. "If we also consider the period from July to September when retailers introduced new collections, we estimate that for the first nine months, the growth rate was slightly higher," she told BR.
Fashion retailers, in particular, have been posting above average results. Most major fashion players saw their sales increase by between 10 and 20 percent this year compared with the same period of last year, Liana Dumitru, associate director in the retail department of Colliers International, told BR. "We expect this trend to continue over the coming months, with this growth rate to apply for the entire year," she forecast.
Getting into the holiday spirit
Most importantly, the best is yet to come. Mall owners and retailers alike are now getting ready to make the most of the end-of-year shopping spree. "Winter holidays are peak sales season for malls and retailers. On average sales may increase by 10-20 percent compared with a typical period of the year," said Ilie. Leading retail projects that have several anchor stores are the ones likely to cash in the most from the rush for Christmas gifts, in Bucharest and outside the capital, she outlined.
In fact, the holiday season is so important that some retailers get a considerable chunk of their revenues around this time of the year. "There are retailers for whom the period from Black Friday until after the winter holidays can generate up to 40 percent of their full-year revenues," noted Dumitru.
Therefore, shopping center owners have been placing greater importance on marketing campaigns dedicated to the holiday season over recent years, say consultants. How have they been preparing to pull in shoppers this year? By bringing out the whole festive arsenal and making sure they differentiate, say pundits. "On a market where we are bombarded daily with all sorts of advertisement messages, atmosphere – for example decorations and music – have become very important and marketing campaigns have become more and more complex in an attempt to appeal to different shoppers," Aura Dinu, head of marketing shopping centers with CBRE Romania, told BR.
Getting shoppers into the holiday mood is key and malls are looking to boost sales by using all media channels, both online and offline, said Ilie. There is an increasing focus on indoor decorations as well as facades and also on organizing winter fairs with seasonal products and decorations. "Each mall has its own specifics, so I do not know if it is important to follow how they differentiate themselves in terms of marketing campaigns for the holidays, but rather the quality of the events they organize, the atmosphere that every mall manages to convey and, finally, to what extent all this brings in more shoppers," explained Ilie.
Entertainment too is very popular with consumers during the holiday season, particularly families who want to provide their children with entertainment options, such as cinema, playgrounds, skating rinks, Christmas fairs, concerts or other events for different age groups, added Dumitru. "All this can increase traffic and influence the shopper's choice to go to one shopping center or another, both when it comes to shopping and for spending leisure time with the family," she noted.
Timing is also important and starting early is the winning strategy, stressed Dumitru. Retailers that secure the highest sales increases during the holiday season are those with very aggressive programs starting with Black Friday at the end of November, and who generally promote their discounts even before the start of the holiday season, she said. "Consumers are increasingly responsive to discounts offered by retailers, both because they are looking for a good price-quality ratio, but also because they want novelties and an element of surprise that contributes to a more pleasant shopping experience," she said.
At the end of the day, the emphasis on more complex marketing campaigns can also be seen in the fact that shopping malls are allocating more money to such activities. Marketing budgets have been going up for the entire year for most shopping centers, said Dumitru. "This is further proof that a well thought out campaign during the year can be a strong differentiator for a shopping center and can directly influence the performance of its tenants," she concluded.
Mall owners confirm that they are expecting a better than average holiday season this year. Anchor Grup, the owner of Bucuresti Mall and Plaza Romania in Bucharest, estimates that traffic in its two malls will increase by at least 30 percent compared to the previous months.
For the first nine months of this year, the two shopping malls reported sales that surpassed last year's level. "This trend was fueled both by private consumption picking up and by the fact that early this year both malls were officially relaunched following a complex refurbishment process," Affan Yildirim, GM of Anchor Grup, told BR.
A mix of events, sales and promotions will be used to bring in shoppers this year by taking into account the specifics of each mall, says the developer. The core audience at Bucuresti Mall is made up of fashion lovers, hence a focus on sales and promotions. Plaza Romania, on the other hand, is particularly popular with families, which led the developer to focus on extending its food court offer and free time activities. For example, this October a chestnut festival was held in Plaza Romania, along with concerts and a Halloween movie marathon that brought in some 2,500 people.
"Both malls have loyal customers who have shopped there daily for more than ten years. Therefore, our marketing efforts focus on both securing their loyalty and attracting new a new audience," explained the GM. All this is supported by a higher marketing budget this year, he added.
Competition hots up for winter
Spending more and on more complex marketing campaigns makes sense since the capital's retail scene, and eastern Bucharest in particular, have gotten considerably more crowded this year. With the opening of the 70,000 sqm ParkLake and the 30,000 sqm Veranda malls earlier this year, Bucharest has seen its modern retail space stock increase to 1.16 million sqm, according to data from Colliers International.
Based on previous estimates that take into account the development of local purchasing power as well as forecasts of increased consumption for the coming years, Bucharest can absorb another 100,000 sqm of additional space over the next few years, meaning only one more large-scale shopping mall, according to the real estate services firm.