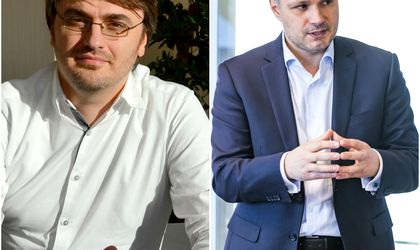 From its office in Bucharest, SAP Romania's 12-strong team has been working on innovative projects for global clients since 2010 and is seeking to grow. Always connected to and performing on the global markets, they relish the opportunity to do so from their home country, and call on Romanian businesses and public stakeholders to continue to embrace innovation.
SAP Romania's data science and machine learning team develops highly customized software solutions that address specific business needs that are not met completely by the firm's current standardized offer of software solutions. It does so by executing the mathematical modeling of customers' needs and developing algorithms and applications that address them. "What we do is focus on mathematical algorithms in order to produce software solutions," says team leader Viorel Marcu, head of data science and machine learning. "The rest of the solution, aspects connected to front-end programming, database and more, is done in collaboration with SAP."
The average age of team members is 33, and a quarter are women. Their backgrounds include pure mathematics, informatics, cybernetics, electronics and computer science and their activity is built around three cornerstone fields: data science, mathematics and programming. "Each team member brings to the table their own expertise. There are people with a strong background in programming, while others have it in mathematics or economics. Team members are grouped and matched with a project according to their abilities, and they rotate. This is how they fuel their motivation. The end goal is to equalize their competencies, so those who are experts in mathematics will want to learn to do more programming," Marcu explains.
"We have team members with different levels of experience. We have both juniors and seniors, and developers. Our senior colleagues are project leaders and make their contribution to sales, by identifying opportunities and helping generate new projects. The juniors and the developers deliver the projects, and after a few years they will be ready to represent the team in dealing with the clients," says Alexandru Biticiu, principal data scientist.
Soft skills are key
Combining hard data with soft skills is crucial when having to advance highly innovative solutions in an emerging sector. That is why, the common denominator among team members, SAP Romania representatives agree, is a combination of soft and communication skills. The team is involved end to end in their projects, from the introductory workshops to the post delivery phase, and this, Marcu says, is a very important aspect of their activity. "It is a new field, both in Romania, and at a global level. That is why we meet with the clients in all phases of the project. Our colleagues from the sales department identify the opportunity to apply machine learning to customer needs but it is us who present the solutions and the technology in order to persuade the client to explore our solutions. We are conducting innovative projects, so if the person who signs the contract does not know the current limits of the technology available, there can be discrepancies between what is possible and the expectations," he notes. "Our solutions lead to strategic decisions for our clients' businesses; therefore their entire team that will implement and work with our solutions must be on board. That goes for us too; we need to get involved from the beginning and until the post delivery phase," Biticiu adds.
SAP Sales Insights for Retail
The Romanian team is one of three within SAP, with the other two being located at the company's Waldorf headquarters in Germany and Scottsdale, Arizona. While the sizes are comparable, what sets it apart is its global outreach, compared to the other two, which focus primarily on their local markets. Solutions developed in Bucharest answer the business needs of clients in various countries around the world, active on markets with very diverse characteristics, serving unique cultures. Each new project on a new market is a challenge and brings with it an immersion into new legal, social and organizational systems, SAP Romania representatives say. And sometimes, one highly customized such solution will answer a need that comes up on markets across the globe. SAP Sales Insights for Retail is one such product, which, after being fully developed in Bucharest, entered SAP's standard solutions range. Recently presented at the NRF 2018 Retail's Big Show&Expo in New York, the world's top retail conference, it has been implemented from Mexico to New Zealand.
The way SAP representatives describe the start of the process is common to many such processes. In developing their customized solutions, the team looks for insights in the vast amounts of data gathered and provided by clients. "We work with very simple data. But the volume is impressive and we can access it at high speeds. Starting from this huge amount of information we can develop a wide range of applications. We put order into chaos and help clients understand why things happen the way they do and predict how they will evolve, Biticiu says."
For the project that led to the creation of SAP Sales Insights for Retail, the information used was that displayed on the receipt every shopper gets after completing payment. It includes no more than the items purchased, quantity, time and date and the price paid. From billion of transactions, the insights obtained included frequent pairings of items that were most sold together. "The retailer wanted to know what makes bike buyers also purchase accessories for protection, such as helmets and bike knee pads. What we saw was that the smaller the bike wheel, the likelier it was for shoppers to purchase protection accessories, because they were buying them for children," Biticiu explains.
For another feature, the team created specific algorithms that measured the efficiency of a promotion. "When a retailer was running a promotion it was difficult for them to see exactly how many extra clients it got. In addition, there were hidden effects that could only be seen by looking at the data. For instance, when a supermarket has a promotion for detergent: the client will buy more, but, if that person comes to the store mainly for that, they will stock up and not return for a long time. However, if the customer buys a large quantity of detergent, the money is paid at once today and not next month. There are a lot of variables to take into account and they can be translated into algorithms," Biticiu says. "The marketing director, the buyer, may have 20 years of experience and they work independently with the purpose of maximizing sales. What we do is show the truth through data. And we come and tell them something new."
Striving for innovation in technology amid hiring challenges 
The idea to set up SAP's data science and machine learning team in Romania came from a Germany-based executive, whose former Transylvanian Saxon colleagues, top of the class in math, had left a lasting impression. That is how Bucharest made the shortlist, alongside two other locations in India and Brazil. In the end, the Romanian capital won due to the unbeatable advantage of sharing the same time zone and a greater cultural affinity with Germany, where the firm's headquarters are located. But SAP's unexpected Romanian connection does not end here. Hasso Plattner, co-founder of the software company, comes from a family of Saxons who left Sibiu and settled in Berlin.
Despite working mainly for global markets, one local challenge they face now is the hiring process. As the selection process often involves contacting Romanian professionals living and working abroad, "we find it difficult to persuade top experts in their field to come to Bucharest, given the fiscal changes made recently, which were quite sudden," Marcu complains, adding that he has had to freeze the selection process until April, when things will become clearer, risking losing the trust of a US-based prospective team member over the fiscal uncertainties affecting the Romanian IT sector.
SAP representatives said, "As a team, we would love to do more innovative projects in Romania. Local businesses often ask us to replicate the solutions we have created for players elsewhere, forgetting that companies everywhere want to protect their competitive advantage by not disclosing the solutions they use."
Working on such innovative projects is a great opportunity, especially for young graduates in mathematics, IT and similar. "Young people in Romania today have the chance to do an internship at Google, Instagram or Bloomberg. They have so many more options," says Marcu, who recalls that, unlike his younger colleagues, when he started out, he would browse not online job platforms, but the worn out classified ads pages of local newspaper Romania Libera. "They have a great chance to something innovative at such an advanced level, and be part of solutions that shape an emerging industry" Marcu concludes.