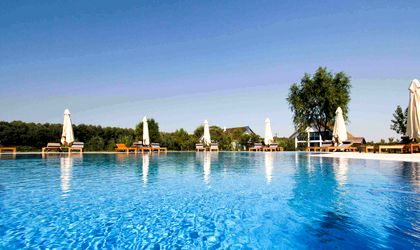 Despite its vast natural landscapes, Romania still lags far behind its European peers when it comes to attracting foreign tourists. Its poor infrastructure and the lack of a clear tourism strategy makes it more difficult for Romania to compete with more attractive destinations worldwide.
By Anda Sebesi
The number of foreign tourists that visited Romania has grown steadily in the past years, from 1.71 million in 2013, to 1.91 in 2014 and 2.23 million in 2015, reaching a peak of 2.47 million last year. There's an increase of 10.6 percent compared to 2015, according to the National Institute of Statistics (INS). While most of the foreign tourists came from Europe, Asia and North America, about half of them, or 1.1 million, also visited Bucharest last year.
However, despite the many foreign tourists, Romania was still one of the less visited countries in the European Union in 2015, along with smaller ones like Slovakia, Latvia and Luxembourg, says Eurostat, the statistical office of the European Union.
Just 5 million nights booked by non-residents were registered by local accommodation units in 2015, two times less than Bulgaria and Hungary, according to the same source. For example, Bulgaria alone attracted around 8 million tourists last year, more than the country's population, according to the data of the Bulgarian minister of Tourism.
On the opposite spectrum, Spain (270 million nights), Italy (193 million nights) and Great Britain (118 million nights) were the most popular destinations in 2015, cumulating 56.2 percent of the total nights spent by non-residents in the EU, says Eurostat.
A successful case study
From the CEE states, Slovenia became one of the most visited destinations in Europe in the past years, from a percentage perspective. The country managed to attract 2.5 million foreign tourists around the world last year, up by 25 percent compared with its total population. Slovenia managed to attract foreign tourists by implementing a strategy based on the concept of a "green country", positively using its natural resources toward the benefit of the local economy. Under the umbrella of "Green Slovenia", they transformed every part of their nature into a touristic destination, thus creating a complete touristic concept around this idea. For example, bee culture became a real brand for the country, as it created the so called "international bee day," recognized by the United Nations (ONU) as such.
Landscape is not enough
In a complex context where tourists have plenty of travel choices, how can Romania be seen and how can it benefit from its yet uncapitalized tourism potential? The international experience, of both Eastern and Western European countries, shows that the diversity of the natural resources and landscapes are not enough for Romania to become an attractive destination for foreign tourists.
"Many think that Bucharest is Romania. Bucharest is a beautiful city in Romania, but Romania has plenty to offer: its mountains, Transylvania, the Danube Delta, its citizens and its gastronomy. It is a complete world. It is more than a country," stated Taleb Rifai, the secretary general of the World Tourism Organization at its annual meeting recently organized in Madrid, quoted by digi24.ro.
Similar comments show both the huge potential for developing its travel industry as well as the positive perception that Romania has abroad. However, this is not enough to attract foreign tourists, as the poor road infrastructure places a serious brake on the development of this sector.
"Romania is a complex travel destination with a diverse landscape and a potential for both nature and cultural tourism, suitable especially for groups of 10-20 tourists as well as individual ones. Tourists should visit specific destinations like the Danube Delta (by landing at the Tulcea airport) or castles and mansions in Transylvania (by landing in Sibiu or Cluj-Napoca)," says Carmen Pavel, president of J'Info Tours. She adds that the revival of spa resorts like Felix or Techirghiol by offering promotional packages for seniors is a valid option for Romania in order to develop its travel sector.
In her opinion, the yet unpolluted nature and a diverse range of travel objectives and landscapes, along with the Danube river, are some of Romania's main advantages. As Pavel says, the potential of the Danube river is still unexploited. Developing cruises on the river along with the creation of resorts that can entertain tourists during the whole year, would be a solution to reviving the local tourism. For that matter, promoting the Danube Delta is one of the top goals on the agenda of the Romanian authorities. Starting this fall, the representatives of the largest tour operators worldwide, journalists and bloggers will be invited to discover Romania. As part of their strategy to attract foreign tourists to Romania, local authorities will organize info trips. "The Danube Delta will be one of the most important destinations for these info trips. We need to gather all these touristic destinations and show their value," stated Mircea Titus Dobre, the minister of tourism, earlier this year, quoted by digi24.ro.
Local holiday season opening shows promise
Up to 70,000 tourists visited the Romanian seaside during the short holiday season for May 1st celebrations, almost double compared to initial estimates of tourism operators. Each tourist spent on average EUR 300, according to Corina Martin, the president of the Association for Tourism Promotion in Romania and vice president of the Seaside-Danube Delta Association. She told Agerpres newswire that Mamaia and Vama Veche were the most popular destinations for young people.
"I am especially glad that there were over 7,000 foreign tourists in Mamaia coming from Great Britain, France, Germany and Italy for the Sunwaves Festival (electronic music festival). In addition, during this period, the Israeli tour operators are assessing Mamaia for companies that handle the Tel Aviv-Constanta charter," said Martin. She added that Mamaia resort will be advertised as the best destination for the night-clubbing scene.
According to the first estimates, the number of tourists recorded in the Romanian seaside resorts grew by 15-20 percent versus last year, considering that 2016 was the best year out of the last ten.
What Romanians look for when on holiday
According to a recent study conducted by MKOR Consulting, 77 percent of Romanians will go on vacation this summer. While half of them prefer to spend their holiday in Romania, the remaining ones choose destinations from abroad. The same research shows that the Black Sea coast remains the favorite Romanian destination for local travelers. While for 25 percent of the respondents the price plays a significant role when choosing a destination, for 41 percent of them landscapes and touristic objectives are more important. "Romanians' behavior when it comes to spending their vacation has changed in the past years, despite the fact that financial constraints remain a constancy – like frequency, the budget allotted for a vacation and their conservative behavior. The results show a clear increase this year compared to 2016, but the market is still far from achieving its potential," says Corina Cimpoca, senior consultant and founder of MKOR Consulting.
As for the destination, the study shows that 33 percent of Romanians choose a new destination this year, while the remaining ones will choose a place that they already visited at least once so far. Last but not least, 31 percent of Romanians say that they go in vacation once a year, while 36 percent of them twice. "Romanians want much more privacy when on vacation, travelling with their family or in small groups of friends or joining groups of tourists similar in age or interests," says Pavel of J'Info Tours. She adds that, while Romanians prefer seaside destinations – especially the Mediterranean coast – during the summer, exotic and winter sports are preferred for winter stays. "We see an increasingly interest in city-breaks and cultural tours. Spain, Greece and Cyprus are preferred for vacations while Israel, China, North America, Brazil, Argentina, Vietnam, Cambodia and Japan are looked at for tours," concludes the representative of J'Info Tours.