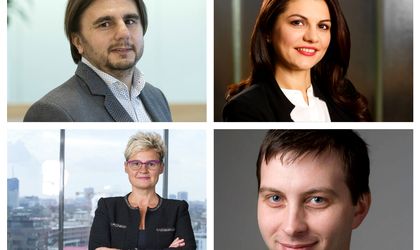 With the potential start of the United Kingdom's exit from the European Union and Donald Trump assuming the presidency of the United States of America, the outlook for Romania's mergers & acquisitions (M&A) market looks more uncertain in 2017, after climbing past EUR 3 billion in value last year.
Ovidiu Posirca
In 2016, Romania registered a record number of deals worth over half a billion euros, according to Florin Visa, director, financial advisory, at professional services firm Deloitte Romania.
 The biggest transactions last year
He mentioned China Energy Company Limited's acquisition of a 51 percent stake in KMG International Romania and Mid Europa Partners' purchase of retail chain Profi from Enterprise Investors for EUR 533 million. The Deloitte director included in the mega-deals category Asahi's decision to buy Romanian-based Ursus and five other Eastern European beer brands from Anheuser-Busch InBev in a EUR 7.3 billion move.
Aside from the big deals, the market recorded transactions with average values of EUR 30 – 40 million.
M&A consultants told BR that the Romanian M&A market has continued to expand, although the global figures point to a slowdown in deal making.
According to preliminary data by Thomson Reuters, the global M&A volume fell by 17 percent to USD 3.6 trillion in 2016 vs 2015's record.
USD 3.6 trillion – the value of the global M&A market in 2016, according to preliminary data from Thomson Reuters
In Romania, the market saw just over 100 transactions with a total value exceeding EUR 3.4 billion, an increase of 35 percent in volume and 25 percent in value, compared to the previous year, according to data from Deloitte Romania.
"The current market level is even more impressive if we look back to see that between 2010 and 2013, the market was stable at around EUR 1 billion," says Visa.
He added that the sectors that saw ten or more transactions in 2016 included real estate, business & consumer services, telecom, media and technology, financial services, industrial goods and healthcare.
"Another catalyst that fuelled the transactions market this year was the increased willingness of the banking community to finance acquisitions (pre-or-post deal)," Cornelia Bumbacea, partner, deals, at professional services firm PwC Romania, and Dragos Atanasiu, senior manager, deals, PwC Romania, told BR.
Meanwhile, private equity funds have continued to play a significant role in financing and educating local companies in a structured and robust corporate culture, according to Bogdan Vaduva, partner at professional services firm KPMG Romania, head of M&A and of energy and natural resources.
"Most of the private equity houses have or are currently clearing their previous funds' portfolio as they have exceeded their normal investment timeline and return yields. But they are also raising additional funds with a clear focus on Romania, encouraged by the positive economic outlook and the fact that companies are getting the right investment scale," Vaduva told BR.
M&A market set to remain in growth mode
More companies founded by Romanians could be part of transactions this year, contributing to the overall growth of the M&A market, suggested the consultants working on deals.
"We would not be surprised to observe an increasing interest, particularly among locally based companies, in the next year (2017 e.n.), as a result of the significant number of local players wishing to explore the value that has been built up over the years, by selling their companies. Additionally, we believe the enhanced medium-term stability brought by December's elections, coupled with Romania's steps towards developing major infrastructure projects, which have been insufficiently exploited until now, will constitute strong contributing factors in raising investors' interest in the Romanian market," commented Vaduva of KPMG Romania.
EUR 3.4 billion – the value of the Romanian M&A market in 2016, according to Deloitte Romania estimates
This year we should also expect to see more private and state-owned companies listed on the stock exchange, according to Florenta Birhala, M&A manager, transaction advisory services, at professional services firm EY Romania.
At the end of last year, private healthcare services firm MedLife was listed on the Bucharest Stock Exchange. The company raised EUR 50.8 million from the sale of a 44 percent stake that marked the exit of private equity fund V4C from MedLife. The fund sold its 36.25 percent stake, while the IFC partially sold its 7.75 percent holding in the healthcare firm.
Visa of Deloitte Romania added that the local M&A market's growth trend is more resistant to domestic shocks, citing the country's macro-economic stability and the fact that Romania's GDP has grown by more than 3 percent in the last four years.
"The domestic risks are rather that consumption will be over-stimulated in the next two years and an economic bubble will inflate and burst sometime in 2018 or beyond," said the director.
The Brexit and Trump effects
With Romania becoming even more integrated in the global economic system, major political shifts that impact corporate behemoths ultimately have an effect locally in terms of appetite for transactions.
In the case of Brexit, Vaduva of KPMG Romania says the impact on the local M&A market has been rather limited so far, and there are still British firms looking to invest in Romania. He said that stakeholders will have a clearer view once the British authorities present the terms of withdrawal from the EU.
Meanwhile, Visa of Deloitte Romania says that the world seems to have come to terms with Brexit and Donald Trump as US president, but further election surprises and populist anti-globalization measures might occur in 2017.
"Events in the UK are not expected to influence Romania significantly, but the actions of the United States, including the ignition of a commercial war with China, will likely discourage M&A activity all over the world. Furthermore, an anti-EU result in the upcoming French elections might raise a question over the future of the EU and discourage investments in Romania and the countries in the east of the EU," he added.
 Sectors driving Romania's deal making this year
The M&A consultants agree that there are still target companies with high potential in Romania and the country's good economic prospects will convince more investors to make a move.
The sectors that will generate deals this year are IT, consumer goods, financial services, real estate, manufacturing and medical services, because these industries have confirmed good returns and still offer potential for further consolidation and expansion, suggested Birhala of EY Romania.
Vaduva of KPMG Romania also sees energy and industry as popular sectors for transactions in 2017.
"The total M&A market value on the other hand will be influenced by how many mega-transactions we'll see, but I would not be surprised to see double-digit growth again," said Visa of Deloitte Romania, who also mentioned telecom, media and technology, and construction as additional sectors with potential this year.
According to representatives of law firm CMS Cameron McKenna, medium and large companies will most likely be more inclined to be involved in M&A operations this year.
Romania's biggest deals in 2016, by sector