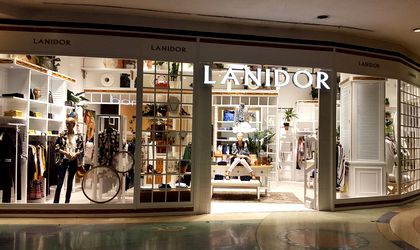 As their purchasing power increases, Romanians are splashing out more on clothing and footwear. One outcome is that more than ten new fashion brands have entered the local market since the beginning of the year.
Simona Bazavan
"We found out that women in Romania like to dress up and go out in the evening. That is always a good sign because in some countries women are more relaxed and more casual, like for example in northern Europe," Ana Paula Matos, international retail manager at Lanidor Goup, told BR when asked about the company's insights into the local consumer.
In early September the Portuguese retailer opened its first franchised store in Romania in the ParkLake Plaza mall following an investment of EUR 200,000. It now hopes to sell clothing worth some EUR 300,000 in its first year and open two new stores per year from 2017.
The reason for expanding to Romania is that the local fashion industry has been growing for a couple of years and there is still plenty of room for further growth, outlined company representatives. Real estate consultants confirm that. Retailers' sales maintained last year's upward trend in the first semester as well, reporting average sales increases of about 15 percent with considerably higher levels for fashion retailers, Mihaela Petruescu, head of the property management department at DTZ Echinox, previously told BR. As a result, retailers are boasting more ambitious expansion plans, say consultants.
"I visited some of the malls here in Bucharest and I saw a lot of good brands present and a lot of shoppers. There is also rapid growth because just last year there was another mall opening. The expansion here in retail is enormous," added Matos.
Other retailers – existing players and newcomers as well – are acting on this potential as well. On the very day Lanidor was announcing its plans for the local market, the same floor of the ParkLake Plaza mall was abuzz with hundreds of shoppers lining up for the opening of an H&M store. One floor below, American fashion retailer Forever 21 was opening its first unit on the local market.
Asked about the competition, Lanidor representatives said that it has gotten fierce on the lower segment of the market which is dominated by fast fashion players such as H&M, Inditex and LPP, but on the medium-high and premium segments there still is more leeway and room for growth. Proof of that is the fact that earlier this year Inditex and H&M introduced locally two of their premium brands, COS and Uterque, respectively.  Uterque is available so far only as an online store, while the COS store was opened on Calea Victoriei, which hosts several other premium and high-end fashion brands.
But this doesn't mean that fast fashion players are taking their foot off the expansion pedal. H&M in particular has pursued an aggressive expansion policy over the past few years. The Swedish retailer opened its first local store in 2011 and reached 42 at the end of last year. According to Euromonitor data, H&M's sales reached approximately EUR 178 million last year which was over 50 percent higher than those of second-placed brand Zara – owned by Inditex. What is particularly worth pointing out is that the Romanian H&M subsidiary recorded the highest sales per store in the entire Central Eastern European (CEE) region in spite of the low purchasing power of Romanian consumers, according to Euromonitor.
It is such results that, should purchasing power maintain its growth momentum, will drive more retailers to expand over the coming years.
EUR 3.5 bln-he estimated value of the local fashion and footwear market at present