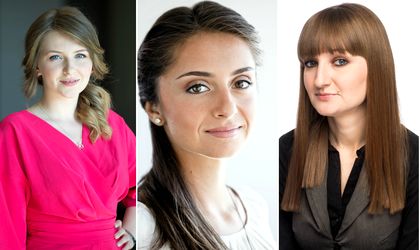 With companies developing more complex projects, the local CSR scene is making significant steps towards maturity. Firms are focusing their strategies on sustainability, making the transition from ad hoc intervention to an integrated approach to local community involvement.
Anda Sebesi
According to a 2016 survey, CSR Trends and Realities in Romania, conducted by EY Romania and CSRmedia.ro, companies active on the local market are increasingly using their corporate social responsibility (CSR) activities as a strategic function that is integrated in their larger policy of sustainability. The study found that in 2015 firms invested in CSR projects mainly for greater awareness and visibility (56 percent) and because such activities are part of their public relations strategy (46 percent). But there are other reasons: their shareholders require CSR involvement (40 percent), the value of their firm increases as a result of developing such programs (25 percent) and company policy involves CSR activities (21 percent). "We're seeing an evolution of social responsibility and sustainability practices that indicates the increased maturity of the market, current policies and professionals in this field. But, more importantly, we're seeing a new strategic understanding of this function at the level of the top management of companies that operate in Romania," stated Bogdan Ion, country managing partner at EY Romania.
Although the same study shows that in 2016, CSR budgets had stagnated since 2015, 47 percent of the respondents still indicated an increased budget. While a quarter of the companies surveyed said they had a CSR budget of between EUR 100,000 and EUR 500,000, 55 percent of them had between EUR 5,000 and EUR 100,000. Research shows that, while education, healthcare and the environment continue to be the most popular fields for company intervention, the social sector posted a significant drop. "Social responsibility needs to be seen from a strategic perspective and has to be integrated within the business. Any disconnection of the two components can generate reputational risks that affect not just the company but its stakeholders too. It is time for all companies – whether private or state-owned, foreign or local – to rethink their approach to their involvement in society and bring CSR to the next level, that of sustainability," said Lacramioara Botezatu, project manager at CSRmedia.ro.
Where Romania stands
Pundits say that while Romania has made significant steps to include social initiatives in companies' DNA, it is still learning what CSR means and how it should be integrated into corporate strategies. "The efforts made by companies to approach a socially responsible business model are more visible than in previous years, also because of consumers who pay attention to the entire process of manufacturing and distribution of a product before buying it. Plus, they are careful of the impact that the company has in the community," says Alexandra Maier, corporate social responsibility specialist at Avon Cosmetics Romania.
At present, two types of firms invest in CSR projects: multinationals that benefit from the expertise of their mother company and invest constantly in such programs, and small businesses that sponsor specific social projects linked to their field of activity. In addition, while both NGOs and companies are running more social campaigns on the local CSR market, this comes with a better understanding of the concept by both business and the public.
In the Romanian CSR field, Alina Stan, CSR programs coordinator at Orange Romania, notes that money or in kind donation campaigns are still first choice. "But we have passed the phase when CSR was similar to philanthropy. We started talking more about sustainability and now we're seeing strategic CSR campaigns developed by companies in connection with their business and expertise," she adds. Stan comments that sustainability and social responsibility are part of Orange's long-term strategy, while social projects are more often transversal within the company. So, while some of the CSR projects that target its employees are developed with the HR department, the operator has added a social part to its commercial campaigns and, in such cases, the marketing department has played a significant role.
"The focus on social responsibility has continued to increase over time, and could become default amongst businesses. This can only prove beneficial to society overall, as each company will wish to increase its efforts to adopt sustainable behaviors, which in return leads to healthy competition in this field," say representatives of Lidl Romania. At present, they add, companies worldwide are tending to implement a comprehensive CSR model that best suits their business profile and produces the desired results for the economy, society and the environment.
Angela Galeta, director at the Vodafone Romania Foundation, says that the biggest success on the local CSR market is the increasing culture of volunteering – both in terms of the number of people involved and the quality of the volunteering activities. "More and more companies are encouraging employee engagement through volunteering or donating to a good cause, which is a win-win situation. People become more aware about matters concerning their community, feel motivated to get involved and are proud to work for a responsible company. NGOs solve different issues with the help of organized teams of volunteers," says Galeta.
Since its beginning, the Vodafone Romania Foundation has fostered employee engagement through actions such as the first Romanian payroll system to allow donations or by volunteering. During its 19-year existence, it built 186 social houses with the help of Vodafone Romania employees. "In 2016, we ran 24 volunteering activities involving over 1,500 volunteers from Vodafone Romania and blood donation sessions were organized in another 39 companies with almost 2,000 donors."
Relevant initiatives flourish
Romanian businesses in general have aligned their practices more and more with global ones. In the last decade, businesses have become more aware that CSR is not just "nice to have," but should be a strategic priority. "We have seen more and more companies stepping outside their direct area of business and using their influence to support solutions to communities' fundamental problems – from education to climate change. Nowadays, companies are looking at which CSR initiative is most effective in producing change in a certain area, be it economy, society or the environment," say Lidl Romania representatives.
Despite the difficulty of evaluating a CSR campaign quantitatively and qualitatively, some initiatives have drawn attention on the local scene. For example, Maier of Avon says that in recent years she has appreciated the integrated approach of ING Bank through its projects that meet real needs in a coherent, constant manner and that are in line with the lender's activity, from the Startarium, a program for entrepreneurs, to Banometru, Urbaniada and financial support provided to the Odesa temporary shelter. Along the same lines, Stan of Orange Romania cited Curatenia Nationala, a campaign developed and implemented by Let's Do It Romania!. "It is a social responsibility action that has developed very well over time and managed to gather both individuals and a large number of companies," says Stan.
For Roxana Colisniuc, corporate social responsibility officer at ING Bank, two projects have attracted her attention: Dupa noi (developed by Coca-Cola) and Romania Meseriasa (by Petrom). "Dupa noi sums up all the company's initiatives and supports future ones. It is a correct platform, CSR wise, in close connection with the company's impact and which involves its main stakeholders," says Colisniuc. As for the initiative developed by Petrom under the umbrella of the Romania Meseriasa project, the ING Bank representative says that it is a bold endeavor, as the current education system discourages vocational schools. "Petrom somehow creates a private structure through which it offers real chances to those for whom this type of education is the sole chance of having a decent life," adds Colisniuc.
Business ethics become crucial
According to a study conducted by EY called, "Is your nonfinancial performance revealing the true value of your business to investors?", 82 percent of institutional investors say that businesspeople have ignored social, corporate governance and environmental risks for a long time now. Some 81 percent of respondents are now more careful about nonfinancial details, as a result of the recent disclosures about non-conformity and expectations about the environment, society and corporate governance. In addition, 89 percent of respondents think that an additional focus on these issues can generate a sustainable profit. Last but not least, 68 percent of those canvassed said that their companies' nonfinancial performances last year played a crucial role in making decisions about investments, compared with 58 percent in 2015.
"Business ethics are being forced to develop from an idealistic phase to an aware and assumed decision of the top management, needed to protect the interests of their shareholders on the long term. Plus, shareholders have found that environmental and social issues can be transformed rapidly into huge costs that affect the company in terms of its profits or even validity," says Raul Pop, senior manager of climate change and sustainability services at EY Romania. The third EY survey about climate change and sustainable services was conducted with 320 institutional investors on the topic of non-financial reporting.