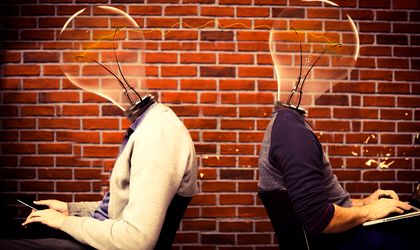 After the fall of the communist regime, during the transition from a planned economy to capitalism, Romanians eagerly embraced entrepreneurship. Many took this path by opening a small retail business such as a corner shop, while others made best use of their skills and background and took risks by venturing into unknown territory.
While many failed, in the early 90s some founded the equivalent of America's successful garage startups in their own communist-era apartments. In doing so, they became trailblazers in a market that offered its fair share of opportunities and challenges.
With a turnover of EUR 1.17 billion in 2016, Dedeman is one such success story. Offering home improvement and do-it-yourself (DIY) goods, it was famously started in 1992 by Dragos and Adrian Paval with capital of DM 10,000, a Dacia and a corner shop in Bacau. What set the business apart, the founders believe, was its openness towards technology. In their shop, the Paval brothers, who had trained as IT specialists, kept the books on a computer they bought in the very first month of activity. A key turning point came a decade into the life of the business, when after visiting several Western European countries, Dedeman decided to change its business model and replace furniture shops with stores selling DIY and home improvement products.
With a team of over 100 lawyers and valued at around EUR 15 million, NNDKP decided to enter the consultancy field in 1990, when private businesses were only just starting to appear in Romania. Using their experience acquired at a state-owned consulting institute, Ion and Manuela Nestor set up their business at a time when their peers were mostly deciding to provide traditional law services. Using their apartment in a communist block in the Drumul Taberei neighborhood of Bucharest, they used technology – such as a word processor, a photocopier copy and a fax machine – early on in order to gain advantage over their competitors.
What's next for entrepreneurship in Romania?
The development of today's entrepreneurship champions was closely intertwined with the evolution of the specific political and economic factors shaping Romania in the past 20 years. The new generations of entrepreneurs are testing their business ideas against a very different background and must deliver solutions for new needs, while enjoying unprecedented access to technology and resources and competing on global markets.
According to 2016 data provided by Eurostat, Romania had the lowest ratio of new companies per 1,000 inhabitants in Central and Eastern Europe, after Serbia, namely 23. That is why experts say that boosting entrepreneurship, the most fundamental driver of economic value creation, is key on a market that could be home to significant wealth creation, provided that it manages to channel its capacity to spawn new solutions to existing problems. With 50 percent of the global population aged under 30, attracting young people to entrepreneurship becomes a crucial aspect, given that, according to a 2018 survey by the World Economic Forum, millennials see the "start-up ecosystem and entrepreneurship" as the most important factor contributing to youth empowerment in a country.
From this point of view, according to experts, as success is increasingly perceived as a two-way street, cities are expected to start competing even more to increase their role in attracting and nurturing entrepreneurs by creating business incubators and accelerators and offering co-working spaces and funding to facilitate a win-win situation. In turn, in order to keep abreast of innovation, more large companies are expected to adopt an entrepreneurial mindset to compete with startups, found a report by the World Economic Forum. Such initiatives, dubbed 'intrapreneurship,' come in the shape of open innovation labs, corporate-sponsored hackathons, corporate accelerator programs for startups and more.