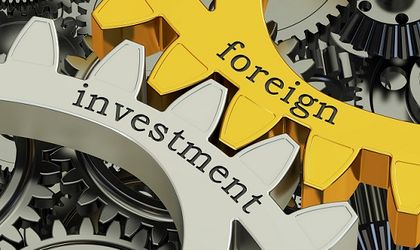 Romanian businesses are showing increasing interest in investing abroad in 2018, after decades of negligible capital export, while trade unions are urging the government to back the internationalization of local firms.
By Sorin Melenciuc
Romanian companies have already made two transactions in the Republic of Moldova this year, and a binding offer with Romanian involvement was submitted for a strategic Greek gas grid operator.
Romanian gas grid operator Transgaz, a state-owned monopoly, took the first step abroad, acquiring a Moldovan gas player in February. The company won the bid for the purchase of Vestmoldtransgaz, which operates the Moldovan section of the Iași-Ungheni pipeline.
The successful bid marks the first step towards the internationalization of Transgaz, which will operate in Moldova through its local branch, EuroTransgaz.
After the acquisition of Vestmoldtransgaz, Transgaz has full control of the gas interconnection between Moldova and Romania, including the future extension of the Iași-Ungheni pipeline to Chisinau.
Vestmoldtransgaz was put up for sale by the Moldovan government for MDL 180 million (EUR 9 million) and the successful bidder is obliged to invest EUR 93 million within the next two years. The same state-owned company was part of a consortium led by Spanish player Reganosa, including the European Bank for Reconstruction and Development (EBRD), which in February submitted a binding offer for a 66 percent stake in Greece's gas grid operator DESFA.
The consortium lost the bid, with Athens accepting a EUR 535 million offer from a rival consortium, led by Italy's Snam, on April 19.
Another major Romanian entity, private-owned Banca Transilvania – Romania's second largest bank in terms of assets – has become a shareholder in Victoriabank, the third largest lender in the Republic of Moldova, with a total participation of over 66 percent alongside the EBRD.
The rapid expansion of BT
Banca Transilvania and the EBRD are now majority shareholders and strategic partners in Victoriabank. In February, Banca Transilvania said it would offer RON 147 million (EUR 31.6 million) for a minority stake of 33.2 percent in Victoriabank, obtaining full control of the lender.
The Romanian bank has undertaken a rapid expansion process in the last few years, acquiring the local subsidiaries of Austria's Volksbank (Volksbank Romania) in 2015 and Greece's Eurobank (Bancpost) this year.
Other Romanian companies have also announced their intention to expand abroad. State-owned generic drugs manufacturer Antibiotice Iasi said in March it would expand to the Republic of Moldova and Ukraine.
A major exporter of pharmaceutics, it recorded last year a net profit of RON 33.5 million, up by 1.1 percent compared with 2016.
Other Romanian-owned firms have ventured abroad over the last decade, the best example being telecom group RCS&RDS, which has extensive operations outside Romania, especially in Hungary, Spain and Italy.
Some analysts claim Romanian entrepreneurs don't have enough trust to invest in other markets, but others say the country lacks a state-backed strategy to support Romanian exports and investments abroad.
"International expansion is a company strategy, but also a government strategy. Compared with other governments, Romania's government has no idea how to support local companies aiming to invest abroad," Cristian Parvan, general secretary of the AOAR (an employers' association), told Business Review.
According to a Romanian central bank study, only 134 local firms had invested in other countries at the end of 2015, a negligible number even compared with other former communist Eastern European countries.  But entrepreneurs point out that internationalization means taking risks and spending money.
"To open up a subsidiary in an Arab country, for example, costs hundreds of thousands of euros in bureaucratic procedures, hiring personnel and other details," Parvan said.
Economists also say the rapid economic growth the country is experiencing in this period is keeping Romanian entrepreneurs focused on the fast-growing local market, already the biggest in the region.
In 2017, the Romanian consumer market increased by more than EUR 10 billion, to EUR 114.8 billion, making it almost as large as the consumer markets of Hungary (EUR 62 billion), Bulgaria (EUR 33 billion) and Serbia (EUR 25 billion) put together.
Regional players
But some local private investors are betting on expansion on such neighboring markets in order to become major regional players.
In October 2017, the biggest PVC processor in Romania, Teraplast Group, began production at TerraSteel Serbia, the first Romanian-owned factory abroad since 1990. The factory, located in Leskovac, specializes in sandwich panels. Last year, Teraplast bought the Serbia-based sandwich panels maker Interlemind for EUR 4.3 million.
"Expanding the activity of the Teraplast Group in Serbia (…) is a new step in our process of development, in line with the group's long-term objectives. In 2018, at TeraSteel Serbia, we're aiming for sales of around EUR 28 million. Most panels made at the factory will go onto the Serbian market, as well as for export in the Balkans," said Dorel Goia, president of the Teraplast board.
The Serbian factory has a production capacity similar to that of the TeraSteel Bistrita subsidiary, one of the leaders on the sandwich panels market, meaning 2.2 million sqm per year, as well as similar equipment.
The new factory will sell its products in Serbia, Bulgaria, Macedonia, Bosnia, Croatia and Montenegro, and secondary markets such as Hungary, southern Romania and northern Greece.
The factory received EUR 2.7 million investment for development and a working capital of EUR 4 million.
Romanian managers are also involved in the regional expansion of multinational companies that choose Bucharest as their regional headquarters. Although they are not Romanian investments abroad, many Bulgarian, Serbian and Moldavian subsidiaries are managed from Romania and their markets are coupled in management strategies with Romanian markets.
Low base
These examples could mean a fresh start for local investments abroad, and 2018 could be a starting point for the internationalization of Romanian businesses.
At the end of 2017, Romanian investors had made total direct investment of EUR 736 million in other countries, a 1.2 percent increase compared to the previous year, National Bank of Romania (BNR) data show.
International statistics reveal that Romania is the smallest international investor in Europe, as local investors prefer to focus on the local market or lack the capital to expand abroad.
In December 2016, Romanian residents' foreign direct investments (FDI) abroad amounted to EUR 727.3 million. Data do not include investments by central banks.
Romania is a very small investor abroad even compared with its neighbors. According to the World Investment Report 2017 released by the United Nations Conference on Trade and Development (UNCTAD), Romania's outward FDI stock amounted USD 910 million in December 2016, the lowest value among the 28 EU member states, far below Hungary (USD 25 billion), Poland (USD 24.8 billion), the Czech Republic (USD 18.6 billion), Estonia (USD 6.4 billion), Slovenia (USD 5.7 billion), Croatia (USD 5 billion) and even Bulgaria (USD 2.1 billion).
FDI outward stock is the value of resident investors' equity in and net loans to enterprises in foreign economies, according to the Organization of Economic Cooperation and Development (OECD), which sets the international standard for FDI.
FDI is an investment in a business by an investor from another country where the foreign investor has control (owning 10 percent or more of the business) of the company purchased. Official data show foreign investors made total direct investments of EUR 73.54 billion in Romania in 2017, a historical high, up 4.9 percent (EUR 3.4 billion) on 2016.
At the end of 2016, the main countries of origin of FDI in Romania were the Netherlands (24.3 percent), Germany (13.2 percent), Austria (11.9 percent), France (6.9 percent), Cyprus (6.5 percent), Italy (6.3 percent), Luxembourg (4.3 percent), Switzerland (3.6 percent), Greece (2.8 percent) and Belgium (2.7 percent), according to the central bank.