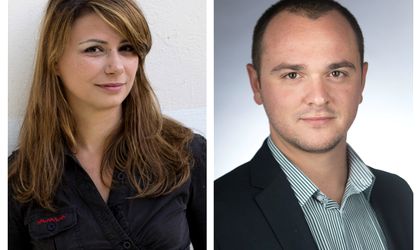 Going international is not a dream anymore, but a reality. The Romanian advertising industry is growing and more and more international clients are taking notice, with successes pouring in. BR spoke to some of the agencies at the helm of this accomplished expansion.
by Romanita Oprea
If a few years ago only the multinational agencies were given the chance to pitch their ideas for regional or international reach, nowadays more and more local, independent ones are starting to cross regional and international boarders, with creative and smart strategic campaigns.
One of the first campaigns created by a local advertising agency to cross country borders was "All the women in every woman" for HAME, in the fall of 2012. Today, agencies such as pastel, SmartPoint, Jazz, etc., are creating successful campaigns for the CEE region.
Dana Nae Popa, pastel
Already experienced in working internationally, pastel counts today almost 9 years of working with both international and regional clients, managed locally. At first, pastel implemented communication campaigns run by companies who have expanded their business in Romania. "Once we managed both the concept and strategy locally, these companies considered it was best suited for us to manage their regional communication as well. The first international project generated a lot of positive feelings considering it was a premiere: a Romanian agency that was not part of a larger company would sign an international campaign. Then, this was also something to be proud of, as that agency was actually us. In 2009, our first project was about developing spectacular displays for our client. Once we delivered the ask – concept, simulations, 3D, mock-ups – these clients based in different countries chose our agency to manage the production services as well. That is how our first international project turned into a campaign that included exporting ideas and sending cargos with displays to several countries in Europe," declared Dana Nae Popa, managing director at pastel. It was this first project that taught the agency's members a set of very important aspects: from designing a product that would work for different retail patterns, to developing the right documentation to send products abroad and to manage the production process of the materials.
At the moment, pastel has clients for whom it developed regional campaigns, such as Mondelez, TCC, Colgate-Palmolive and Renault Commerciale Roumanie. Furthermore, there are other clients for whom the agency's teams manage on-demand projects based on different campaigns they run. The main services offered include strategy and creative services, but also event management.
On its turn, according to its representatives, SmartPoint started its international expansion in 2006, with the opportunity offered by a new client to communicate on a regional level. "For a global brand in the tech industry, it was hard to handle all the countries in this part of Europe one by one and its communication needs matched the capabilities of the recently established agency. The founders had previous experience on the regional markets from executive positions in the IT&C industry, having worked with both partners and media. Another reason for the start of the partnership was the industry and technical knowledge needed to support the communication activities. Despite the limited market size in the region, compared to central and western markets, the industry specific, market context and media landscape are very much different from country to country. It took an in-depth knowledge of how the business works in each country and how media relates to brands to create specific strategies, that would lead to a successful communication," explained Octav Stefan, PR Manager SmartPoint. Ever since, SmartPoint works with NVIDIA in Romania, Bulgaria, Serbia and Croatia.
Beginnings
Established in 2005, SmartPoint is, according to its representatives' statements, the largest independent communication consultancy in Romania, covering regional markets in SE Europe. The agency's headquarters is in Bucharest and it has another office in Belgrade, coordinating the operations in Adriatic region – Serbia, Croatia, Slovenia, Bosnia and Montenegro, and also has a presence in Bulgaria.
"The regional business took a fast pace growing curve from 2008, with the start of new partnerships on the Serbian market. In 2 years, the local business in the entire region was established and soon after, the international business brought in about 10 percent of the total SmartPoint business. Now, this share has grown to more than 20 percent of the total business. We have multiple clients from all industries in each country and also regional clients. In PR, we provide strategic consultancy, media relations, product communication and event management to tech clients such as NVIDIA, Epson, Kingston, Nordeus, Total, Reckitt Benckhiser, Carlsberg and Beiersdorf. Nordeus is a different model and we are handling communications across multiple countries in Europe through our partner independent agency network Comunity.pro." said Octav Stefan, PR Manager SmartPoint.
Zooming out
Taking a better look at the larger picture, Irina Pencea, managing partner Jazz, considers that today we are all citizens of the world, especially in terms of exposure to media. "I have in my regular news feed content from other continents next to local, I buy clothes from international brands and obviously, I see ads from different countries and continents. The majority of the urban populations in most of the countries are interconnected in many ways. But, in essence, for modern societies, humanity is rooted in the same needs, wishes, desires, frustrations, in similar lifestyles and daily routines," said Pencea. And, in this context, "whenever we are given a business problem, we look at the human side of it, we seek for the human insight. Most of the time, it is a universal insight that is valid in the majority of the countries of the modern world. It was a natural consequence that some of our clients saw an opportunity in exporting our creative work developed in Romania to other countries," added Pencea.
In fact, after more than four years of collaborations and numerous creation and efficiency awards, the successful Provident-Jazz partnership continued also in 2017, with a series of new executions, under the platform "Merita sa faci un pas inainte" (It's worth it to take a step ahead): the swimming lessons, the tailor shop and the driving school. The campaign created by the advertising agency Jazz, was also exported in Hungary, from concept to creation,
"The success with Provident confirms to us that it is not the status of a multi-national agency that makes the difference, but three factors: the universality of an insight, the courage to challenge the creative patterns of the category and a hand in hand partnership with a client that has the same ambitions and standards as us," said Irina Pencea, managing partner at Jazz.  On their turn, representatives of the marketing department of Provident Financial Romania explained their  decision by declaring that: "No matter the age, the nationality or the preoccupations, people make the effort of taking a loan for the joy they will feel when they will put their idea or materialize their or the loved ones' desires. We chose the platform proposed by Jazz because it's anchored in this universal insight, available for Romanians, Hungarians and any other nationality." "Hungary is a country like Romania in terms of the small loans category, hence the fit of the campaign for their potential customers. But most of all, the joy that you feel when you realize that you made the right decision to take the loan is what makes it worth it. The mother of the little swimmer who feels like a fish in water thanks to swimming lessons she could pay with a Provident loan, can just as well be a Romanian mother or a Hungarian mother. Or any other European mother. It is something universal that parents feel when they are able to offer the conditions for their children to flourish," explained Pencea further.
Eyes on the future – international game
However, do all of those successes make the agencies concentrate on a regional level now?  While it concerns SmartPoint, the Adriatic office is a fully-grown business with about 20 employees coordinated by a local manager, with a separate growth plan than Romania and based on its own investments. "In this respect, we look more into ways of attracting new clients and expanding each business according to its market context. We have in plan to open local operations in other countries in the region," said Octav Stefan.
After several cases, such as the latest with Provident, the Jazz team realized that indeed they could move on to thinking regionally, even though they are not part of a regional network. "It felt great when we had our first international confirmation with the Gold award in Cannes for Save our songbirds campaign, but it feels just as good to see that our quest for human insights and authentic storytelling works beyond Romanian borders," declared Irina Pencea.
Taking a step back, it seems that it's a good moment for Romania to take a more decided step towards the regionals and going international, as the trend that we are seeing seems to be working really well in its favor. "There are multiple opportunities in industries related to new technologies, gaming and e-commerce, industries where the country and culture barriers are less prevalent. We have developed regional campaigns for one of the most productive gaming companies in Europe, Nordeus, for e-commerce players and our regular clients. We see a good potential in both the regional market and the European one. They are open markets and this is a good opportunity, not only for us but also for the local communication landscape in general. The borders are thinner and we have many talents in the local market to design and deploy large-scale communication campaigns," said the SmartPoint representative.