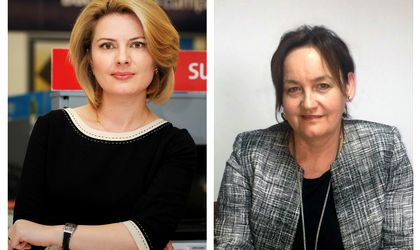 Some ICT employers praise their female workers' attention to detail or their problem-solving skills. Others want to get them onboard to use their viewpoint as end-users of a product or software, or simply to have a balanced mix in the team. In the future, hiring more women in ICT will become a matter of necessity, rather than choice, since European trends mean that by 2020, there will be an estimated shortage of 900,000 skilled ICT workers across the EU.
Otilia Haraga
"Jobs in IT are mostly based on problem solving. If everybody in the team thinks in the same way, the implementation of solutions takes longer or even reaches a standstill. So making sure there are at least 50 percent women in a team can be considered a way of optimizing the group," Silvia Cristina Stegaru, co-founder of Codette, tells BR.
Some employers have come to appreciate the added value that women can bring to the team. "It's very important to have a balanced mix in an IT company. A woman pays greater attention to detail and a sizeable proportion of the final users of a software product are female," says Cristi Badea, co-founder of MavenHut.
MavenHut comprises 30 members, 45 percent of whom are women. However, Badea says that the company does not discriminate by gender when hiring. "We tried to maintain a balance, especially since our games target mainly women over 40," he tells BR.
All MavenHut's administrative positions as well as some of the top management roles are held by women. However, the more technical positions on which the development of software products relies are occupied by men.
According to Stegaru, studies have suggested the minimum number of women per group. "These studies show that adding just one or two women will not change the team's productivity. On the contrary, it would result in them being marginalized or even 'becoming masculine'. For this reason, it's important that the number of women in IT&C reaches 50 percent," Stegaru notes.
The actual number of candidates in technical positions differs from one company to the next, reflecting company policy. However, Stegaru points out, there is a higher percentage of women (which comes close to 50 percent) in firms that have well-defined policies to encourage women, create mixed teams and maintain a good working atmosphere. "These are generally the international companies that understand the benefits brought by growth in the number of women. In companies that are not actively looking to attract women, the percentage drops a lot, even to below 10 percent, and in startup environments, these figures can even reach zero," she adds.
With a projected shortage of 900,000 skilled ICT workers across the European Union by 2020, there is a huge untapped reservoir of women who could be guided onto the ITC path, since only 30 percent of around 7 million people working in ICT belong to the fairer sex, according to an article in the Digital Single Market. Women are under-represented at all levels in the ICT sector, especially in decision-making positions. The sector is rapidly growing, creating around 120,000 new jobs every year.
Furthermore, allowing more women to enter the digital jobs market could create an annual EUR 9 billion GDP boost in the EU, according to the European Commission. A policy change is needed, particularly because of an alarming drop in female ICT graduates, according to the Digital Single Market article, quoting a European Commission (EC) survey.
"There is a need to compensate for the unwanted effects caused by stereotypes and discrimination. (…) The state and educational institutions could start by revising the image promoted to women as well as training teachers regarding the career possibilities girls can also pursue," says Stegaru. She also suggests that the business community can get involved by supporting programs encouraging girls and women interested in IT, offering them scholarships and improving employment policies.
The EC survey also shows that women who work in the ICT sector earn almost 9 percent more than women in other parts of the economy, have greater flexibility in arranging their work schedules and are less vulnerable to unemployment.
"Although the figures show a small percentage of women pick a technical or scientific career, I believe discrimination is not the cause, but that we are dealing with a context that does not encourage greater female participation in the field," Violeta Luca, marketing & operations director at Microsoft Romania, tells BR. She speaks of cumulative factors, none of which is defining in itself, but overall contributing to the situation.
"The challenges I have had throughout my career did not have anything to do with the fact that I am a woman. Today, technical domains are very generous and versatile, and if you wish to be part of the industry, there are more motivating opportunities than insurmountable challenges," Luca tells BR.
According to Digitaljob.ro, in Romania 13 percent of women study IT in high-school and university. This is actually the highest rate in Europe: for Germany and France, the figure stands at 0.58 percent and 0.68 percent, respectively.
Last year, 75 percent of students at the Cybernetics faculty were female, as were 42 percent of Informatics students. At the Politehnica Faculty, half of the Computers and Information Technology students were women, and at the Science of Computers it was 26 percent.
Women currently hold one third of the IT jobs in Romania, according to Digitaljob.ro. Entersoft, for instance, slightly exceeds this proportion.
"I cannot talk for the entire market but in our company, the percentage is fairly aligned both in the implementation and business consultancy teams. We have roughly 60 percent men and 40 percent women in the company and I am personally also part of the top management," Erica Voivozeanu, implementation director at Entersoft Romania, tells BR.
At Entersoft, the financial benefits depend on the nature of the position and the experience of the person who holds it. "In our company, these are the criteria based on which remuneration is calculated. Probably for this reason, we have so many women in the team," she tells BR.
When companies proactively seek to employ women, this can only bring benefits to that firm, says Stegaru. However, an active search is often mistaken for favoring someone unfairly and Stegaru feels the need to clarify this. "An active search does not mean that women will be favored for employment due to their sex and it clearly does not mean compromising on training. It represents, by contrast, an active means of attracting women to interview in order to increase the chances of hiring women. There are prejudices that the respective person obtained a position just because she is a woman, which is harmful both to her self-esteem and to the image of the company," she tells BR.