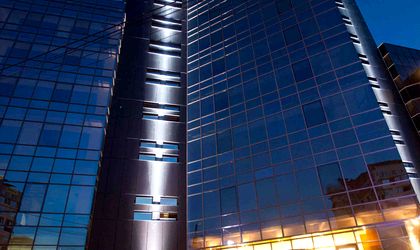 In a market bucking the trend of growing interest rates, Romania's commercial real estate sector will continue to attract bank financing, and although lenders are venturing into the sector carefully, players claim the positive economic outlook will fuel new investments.
"During the last two years, I can tell you that the situation is far better. Banks are more willing to give money, even to development projects. Of course, they prefer to give money for investment opportunities," Thanos Efthymiopoulos, managing director, head of asset management & finance for Romania and Greece at Sonae Sierra, told BR.
The company might be looking to expand its commercial presence in Romania, after launching Parklake shopping center in 2016. The project, jointly developed with Caelum Development, required an investment of EUR 180 million.
Romania's real estate market continued to attract investments across the board throughout 2017. Yields in Romania have remained above the figures in Central and Eastern Europe. For instance, prime yields for office stood at 7.5 percent, while for industrial they reached 8.5 percent, according to data from Knight Frank. The real estate consultancy said that Bucharest's office market alone recorded over 170 transactions involving more than 310,000 sqm in 2017, close to the record value in 2016.
"We expect the accelerated rhythm of real estate development to be maintained in 2018," Alina Stancu Birsan, partner at law firm PeliFilip, told BR. She adds that this means lenders will get even more involved in the sector.
Banks deep diving on loan assessments
Commercial real estate loans as a share of lenders' total portfolios fell to a nine-year low of 66 percent, according to the National Bank of Romania (BNR). The volume of loans recorded in this sector reached RON 70.5 billion (around EUR 15 billion) at the end of September 2017.
Rates of non-performing loans in the real estate sector fell by 7.5 percentage points to 19.3 percent at the end of September 2017 year-on-year, according to BNR statistics.
Furthermore, banks have enhanced their assessment capacities, which means that developers might have to wait longer to get the green light.
"For instance, we're seeing more projects in which banks did their own due diligence on the main aspects that might impact them (urbanism, construction, contracting) rather than relying solely on the reports supplied by borrowers. Although this might prolong the transactions, banks prefer this prudent approach, as they are more aware of the risks of real estate projects," said Birsan. Real estate developers with a strong track record are more attractive to lenders, suggested the lawyer.
Banks' cautious approach is confirmed by Geo Margescu, CEO and founder of developer Forte Partners.
"As happened in 2016-2017, only sustainable projects, of quality, will receive financing," Margescu told BR. His company has an office portfolio valued at EUR 200 million, but Forte Partners has also expanded in the residential sector. In December 2017, the developer got a EUR 12 million loan from Banca Transilvania for Aviatiei Park, which will feature 352 apartments and studios in four buildings. The overall investment stands at EUR 37 million.
On the firm's financing strategy, Margescu said that Forte Partners seeks support from banks, but "we take care to invest enough from our own resources."
 Financing options for real estate
Meanwhile, the lending costs for commercial real estate might grow this year as the central bank becomes more hawkish on the key interest rate.
"Despite improving economic growth, the European Central Bank is expected to keep interest rates on hold at their current record lows until 2019. Government bond yields are likely to edge upwards during 2018, but the margins to property yields should remain attractive. There is the potential for further moderate prime yield compression in select European markets in 2018, but a general stabilization of yields is anticipated by the year-end. Interest rate rises may start to put upward pressure on prime yields from 2019," said Knight Frank experts in a report.
In early January, the BNR decided to hike the key interest rate from 1.75 percent to 2 percent, with analysists expecting the process to continue this year.
"We expect the BNR to hike the key rate again at the February 7 meeting. This is likely to be accompanied by surplus liquidity conditions," said Ciprian Dascalu, chief economist, ING Bank Romania.
Nonetheless, developers with regional clout have been able to finance their expansion by tapping the bond markets.
For instance, real estate investment fund Globalworth raised EUR 550 million from a bond sale in June 2017.The bonds were also listed on the Bucharest Stock Exchange and the funding will back new investments. Overall, Globalworth raised over EUR 500 million in equity between 2013 and 2016.
The company's portfolio value stood at EUR 979.5 million in Romania, its main market, as of June 2017. Most of the income-generating assets are office buildings in Bucharest.
NEPI Rockcastle, whose local property portfolio is valued at EUR 1.8 billion, raised EUR 325 million in equity in the autumn of last year. In Romania, the company owns a total leasable area of more than 853,000 sqm with a strong retail component.
Meanwhile, Impact Developer & Contractor, which has a heavy presence in the residential sector, said in December it was looking to raise RON 30 million from a bond sale. The funds will help the company expand its greenfield projects in northern Bucharest and also to kick off new investments in the Romanian capital.
House asking prices in Romania gained 9.1 percent in 2017 year-on-year, according to an analysis of classifieds real estate portal Imobiliare.ro. In the previous year, prices rose 12.4 percent.
The PeliFilip partner suggested that aside from tapping the bond markets, developers could also continue to rely on equity financing due to the high profitability of real estate projects.
Planning long-term investments in the real estate sector must take into account the political risk, which has grown sharply at local level in recent years. Romania is set to have a third PM in little more than a year, following disagreements between the heads of government and the ruling PSD-ALDE coalition.
In Romania, the property market is among the strongest in the region, "despite the political situation," while investors continue to find it "interesting," said Remon Vos of Czech industrial park developer CTP, at the start of 2018, according to Bloomberg. The developer aims to deliver another 236,000 sqm of logistics space in western Bucharest, alongside expansions of other projects across Romania.
Experts at Knight Frank conclude that significant amounts of capital continue to be allocated to real estate in Europe and the investment volumes will be helped by large-scale platform and portfolio deals. The consultancy points out that flexible offices are gaining ground rapidly in Western Europe and this trend is set to continue in the years to come.
In 2017, European commercial property investment volumes were estimated to beat 2016's total of EUR 216 billion. In 2018, values are expected to be similar to the previous year.