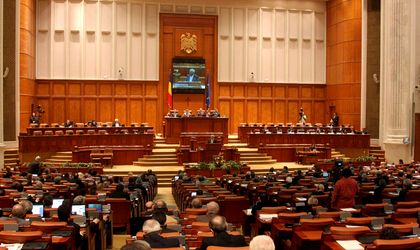 Parliament is set to vote on a bill that would bring in pay grades for public workers, which could see their salaries increase by 56 percent on average by 2021.
Simona Bazavan
The government has allocated RON 32 billion to increase public sector pay by 2021 through a bill that is also supposed to balance wages between different categories of public workers based on a unitary set of pay grades.  The draft public sector wage bill is backed by the ruling Social Democratic Party (PSD) and its allies, the Alliance of Liberals and Democrats (ALDE). It was supposed to be launched for debate and a final vote in Parliament in April, but by the time BR went to press, the initial deadline had been postponed indefinitely.
"This unitary pay law and the principles behind it shouldn't be a surprise to anyone as these were included in the government manifesto. We have allocated RON 32 billion to increasing public sector pay over the next four years, meaning an average increase of 56 percent over the period," said labor minister Lia Olguta Vasilescu.
The law is meant to bring order to a complicated and entangled payment system which many unions say has led to injustices over the years. Wages should go up, especially for junior employees, while some senior public workers will see their monthly salary cut, according to the governing coalition. The first to enjoy a pay rise from July 1 will be military and police personnel and teachers. Public administration workers and healthcare staff will also see their wages increase. Except for doctors, whose earnings will go up by 50 percent next year, the increases will be made gradually until 2021, by when public sector pay will have risen by an average of 56 percent, said Vasilescu.
While bringing all public workers under the same payment rules is welcome and some wage increases are needed, especially in areas such as healthcare and education, the private sector has expressed worries about the government's capacity to actually come up with the money to raise pay in a sustainable way for the rest of the economy.
According to the president of the Fiscal Council, Ionut Dumitru, the budgetary impact of the law has been significantly underestimated. Public wages now represent 8.4 percent of GDP, and should the law come into force, forecasts are that it will increase to 10 percent in 2020 and 12 percent in 2022, by far the highest allocation ever made in Romania and above the European average, Dumitru told Agerpres.
To put things into perspective, the 12 percent share forecast for 2022 would represent about half the state's collected revenues, which would mean there would be little money left for anything else, he pointed out. Moreover, the comparison with the 10 percent EU average is not relevant given that in Romania collected revenues to the state budget represent only 25 percent of GDP, against a 40 percent share in the EU.
"Our main concern is the budgetary impact. We must make it very clear: wage increases through emergency ordinances are an illusion. Living standards cannot increase based on a discretionary decision. Wage increases are possible only with economic growth or productivity increases," Dumitru previously told Hotnews.ro.
PM Sorin Grindeanu has addressed the business community's concerns about the public sector wage hikes by saying that the private sector should not be worried and that it too has been benefitting from support measures since 2014, which have had a similar impact. These include all the fiscal easing measures such the VAT cut between 2014 and 2015, Grindeanu said during a press conference in Bistrita-Nasaud, according to Mediafax.
Given that the PSD and its allies hold a majority, the draft should pass without any surprises when it is eventually voted on in Parliament. Its coming into force, however, could be delayed by the president, Klaus Iohannis, who would finally sign it into law. He has the option to send it back to Parliament to be reexamined and later challenge it in the Constitutional Court.  The PSD has already anticipated this scenario, as Olguta has previously said that the government will have enough time to restart the procedure in Parliament should it happen.