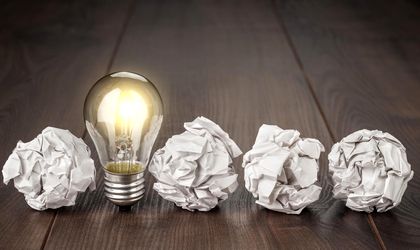 With Romanian entrepreneurs confident in the future progress of the business environment, the state needs to support entrepreneurial initiatives and innovation more, as the next generations will prefer to become entrepreneurs or be self-employed.
Anda Sebesi
According to the 2016 Barometer of Romanian entrepreneurship, conducted by Raiffeisen Bank and EY, 66 percent of local entrepreneurs think that Romania will offer a friendly business environment in less than ten years, compared with 55 percent in 2015. The same research shows that experienced entrepreneurs consider the fiscal and legal framework, along with its instability and bureaucracy (70 percent), tough access to financing (8 percent) and poor education including in entrepreneurship (4 percent) the biggest three obstacles to the development of entrepreneurial initiatives in Romania. In addition, 36 percent of entrepreneurs think that fiscal relaxation is the measure that would have the greatest impact on supporting entrepreneurs short term. This is followed by a clearer, effective and simplified legal framework (15 percent) and a better attitude from state institutions towards entrepreneurs (12 percent).
How to support entrepreneurship?
From his entrepreneurial perspective, Lucian Miess, owner of Gett's Salons, says that there is a need now for a more dynamic business scene in order to encourage companies on the local market. "A more active business environment should put more pressure on the political scene in order to change the paradigm of the Romanian state regarding the private sector and to improve initiative, local capital, direct investments and increase competitiveness on external markets." He warns that, although local entrepreneurs know what to do in these areas, they are organized in less vocal confederations and are not consistent within their industries.
In a very competitive market such as today's, innovation is a key element in the success of any business. But for firms to be innovative and come up with new and fresh ideas or products, innovation needs to be truly supported by the local economic environment. And this, unfortunately, doesn't yet happen here. "In Romania, we do not respect the Romanian innovator, we don't respect Romanian ideas, we do nothing to help these ideas come to life," said Cristian Parvan, general secretary of the Association of Romanian Businesspeople (AOAR), earlier this year, quoted by Ziarul Financiar.
According to Sergiu Negut, business angel and associate dean at Maastricht School of Management, in order to support local entrepreneurial initiative, there is a need to stop disincentivizing and to rationalize bureaucracy. "This is quite easy to do as technology is a great facilitator of automatic processes. Public servants tend to have robot jobs, with limited, if any, authority to make decisions. So you would just need to replace them with a mix of software and humans – people able and willing to use their own judgment to make complex decisions." In his opinion, a second major step is to allocate funds for development in a way that best facilitates value creation. This means co-investment with entrepreneurs, rather than giving grants and distorting competition. "We are still far behind in the availability of capital. This can be fixed in two ways: first, replace government grants with government investment and create sovereign funds ready to co-invest alongside private money. Second, change regulations to allow pension funds greater access to investments in illiquid equity," adds Negut.
Who is the Romanian entrepreneur?
George Alexe, business consultant and serial entrepreneur, says that the Romanian entrepreneur has started to make medium-term projections. "A few years ago, few people who knew what they wanted to become were interested in starting a business. Now, entrepreneurial education programs have more participants, the networking is stronger and the number of business events in Romania has increased significantly. The know-how transfer and connections created have reshaped the profile of the Romanian entrepreneur: oriented towards his or her business, employees and partners and open to new things in a constantly changing economic environment," says Alexe. He adds that, unlike Romanians, entrepreneurs from more developed countries are more conservative and operate, even from the start, in sectors where they have expertise.
Entrepreneurial education is the Achilles' heel
The same barometer conducted by Raiffeisen Bank and EY shows that 61 percent of entrepreneurs think that the new generation of Romanians does not get the proper education in terms of entrepreneurship. This is quite alarming as, according to OECD data, 51 percent of Europeans between 15 and 24 would prefer to become entrepreneurs or be self-employed in the future.
In such a context, the foundation of The Entrepreneurship Academy (EA), the only accredited faculty of entrepreneurship in Romania, seems to be part of the solution. The institution has put forward a new educational model implemented in countries such as Finland, France, Germany, the UK, Spain, Hungary, Argentina and Peru, based on a mix of courses with experts from the business environment, annual internships in foreign countries and the opportunity to run real businesses. According to the EA, over 91 percent of the graduates of this educational model get a job in the first six months after graduation, while 47 percent have a sustainable business within two years of graduation.
From the entrepreneurial perspective, Alexe says that the introduction of entrepreneurial education courses in high schools and colleges could have positive results. "There is a need for programs for entrepreneurial development involving entrepreneurs with real business experience." Along the same lines, Miess of Gett's Salons says that it is important for education to be closely linked with practical internships within companies. "Strategic, ongoing education, with the aim of creating and promoting value and using it to train the next generations is the key to both the present and future."
Which sectors are attractive to entrepreneurs?
At present, Prahova and Brasov counties are two of the most important industrial centers in Romania, both from the production perspective and the number of Romanian entrepreneurs who have managed to create businesses in this sector. While in Prahova entrepreneurs have focused on the oil industry, as the county attracted investors like OMV Petrom and Lukoil, in Brasov County, many entrepreneurs became suppliers for large companies like Continental. Last but not least, Covasna and Harghita counties are known for their businesses in the wood and furniture industry.
Miess of Gett's Salons thinks that current problems lacking a solution could be a good opportunity to start a business in Romania. "A big problem for Romania now is that a significant part of our industry has low added value. We just extract the raw stock, export it at a minimum trade margin and then import the processed products with high added value and trade margin," says the entrepreneur.
Another weakness of Romania is that it is not a great source of capital. "Resources are naturally limited, and immediate applications that come to my mind are agriculture (with high value added intensive farms slowly replacing traditional corn fields) and tourism (low-cost, scenic destinations, still hard to get to with mediocre infrastructure)," says Negut. But he says that the big opportunity still lies with labor. "We can continue to build service centers of higher and higher complexity and added value. Practically, the service industry is still below potential, whether we're talking about local or international clients, B2B or B2C. What's truly missing is intellectual property, new branded products and services."
However, he warns that while it may seem a huge opportunity, Romania still lags behind international best practice when it comes to marketing, branding and commercialization. "We are stuck with creating brands for the local market. Furthermore it is still quite easy and safe to make money from labor, without the more sophisticated and riskier layer of investing in international branding and IP," says the business angel.