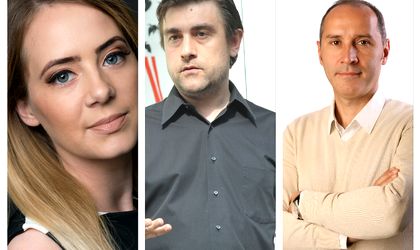 The Romanian e-commerce market hiked by nearly one third last year, which can also be traced in the rising average shopping cart value. Online store pundits are optimistic but the sector still must overcome obstacles like low public digital literacy, online stores' slow upload speeds and a still high purchase abandon rate.  
Otilia Haraga
Last year alone, Romanian e-commerce soared in value by 31 percent to RON 8.4 billion. "The online payments market significantly hiked over the course of last year. The average value of Romanians' online shopping carts jumped by approximately one third, to over RON 260. The largest online transaction was registered in e-tail and exceeded RON 140,000," said Marius Costin, country manager at PayU Romania.
Between April 2015 and March 2016, PayU Romania processed online transactions worth over RON 1.2 billion, 44 percent up on the previous tax year, according to company officials.
"An overall analysis of online payments in Romania shows us an unpredictable, sometimes spectacular evolution for this year. The main engine will be the fact that traders are promoting online payment means to the detriment of cash, against the backdrop of a decrease in interchange commissions. I estimate that the volume of payments processed by PayU will increase by 40 percent versus the previous fiscal year," predicted Costin.
IT&C is the trail-blazing category of the online domain, with over 40 percent of the total number of orders. The IT&C shopping cart is three times more expensive than average, reaching over RON 700.
Fashion and beauty products are in second place, followed by home & deco, children's products and books.
"I estimate that in 2016, online sales in Romania will surge to EUR 2 billion," Adelina Oprea, FashionUp marketing director, tells BR. She forecasts that more than EUR 200 million of this sum will be on the fashion niche.
At the moment, 10 percent of Romanians pay by card –  both standard payments and payments in installments – and 1 percent use other online payment methods such as wire or iTransfer. However, the majority (89 percent) still choose to pay cash upon delivery.
"Cards with installments continue to top the preferences of those who pay online. The value of an average transaction carried out with this type of card is three times higher than an average card transaction," said Costin.
Payment from mobile devices is still in an early stage: only three out of ten Romanians paying by card choose to make their order from a mobile device.
NETOPIA mobilPay processed over 2.6 million online and mobile transactions in 2015, 25 percent up on the previous year. The overall value of the sums paid digitally increased by over 60 percent on the previous year, reaching more than EUR 135 million, Antonio Eram, CEO and founder of the company, told BR.
"Of the total transactions we intermediated, more than 45 percent were carried out from mobile devices. These were both online payments carried out from smartphones and SMS payments processed by NETOPIA mobilPay," Eram added.
In spite of these encouraging statistics, the e-commerce market faces some serious obstacles.
Firstly, Romania ranks very low on the digital literacy scale, which is keeping the adoption rate down.
In the Digital Economy and Society Index 2016, Romania came last out of the 28 European Union member states. In terms of the propensity of people to use internet services, Romania scores 0.34 (up from 0.31), putting it second to last among EU countries. For the integration of digital technology by businesses, Romania scored 0.2, its lowest score, landing last in the EU.
"It is true that we have the lowest percentage of consumers who have bought online, only 11 percent. I see this as an opportunity, since the market has a high growth potential and online stores have the chance to educate consumers," Razvan Pop, marketing director at PC Garage, tells BR.
Another potential impediment to online shopping is the fact that the upload speed of Romanian online shops is below the European average, according to research by online marketing agency Today's.
The company analyzed 556 local shops to see how many of them offer optimized platforms for mobile devices and the average time web pages take to upload. The analysis found that the average upload speed of the scrutinized stores was 8.4 seconds.
Even the biggest and best-known online stores in Romania have an upload speed between 3 and 6.5 seconds, while Google recommends a maximum of 2 seconds.
The analysis also revealed that 38 percent of online stores were not mobile responsive, which poses a problem because, globally, there are more mobile users than desktop users.
The main reasons for abandoning a purchase are that the order flow was ambiguous and untrustworthy and the check-out page had many fields to fill in and required too much information (some stores still ask for a personal identification code), says Oprea of FashionUp.
She cites secondary reasons such as that customers fear products will not meet their expectations or that they will be delivered too late. Also, the customer may have added the products to the purchase basket on instinct, but keep them in the basket until they can afford to buy them, adds Oprea.
The lines between the respective advantages of online shopping and traditional shopping are starting to blur in people's minds, according to a GfK FutureBuy survey.
Traditionally, online shopping was known to have certain perks such as the best price, time savings and a wide choice. Shopping in bricks-and-mortar stores comes with advantages such as a better interactive experience and immediate product receipt.
Romanians choose online stores because they save money (52 percent), they can find the best product variety (43 percent) and for the ease of shopping (37 percent).
Marian Alecsiu, co-founder and GM of F64, tells BR that price is an important factor which can influence the decision to buy. "If the payment process is hard or difficult, there are high chances of losing the customer to the competition. If the buyer is just undecided, it is recommended the retailer offer him/her the possibility to return to the decision (leave the product on the wish list) or persuade him/her to finish the order."
"Many people use the shopping cart as a wish list. They are 'hunting prices', evaluating other offers or delivery conditions and only decide later, after they have probably added the same products to the baskets of several other online retailers. We have noticed that users are willing to pay more if they know they will benefit from a complete, safe and fast service," Marius Panait, managing partner at Entelion Software, which develops the Teamshare platform, tells BR.
On the other hand, some Romanians prefer to go shopping the traditional way, for advantages such as being able to try before they buy (56 percent). Secondly, they like that they can get their hands on the product immediately (51 percent) and thirdly, they are in the habit of it (30 percent).
In the case of online shopping, it also depends very much on the profile of the consumer, Pop tells BR.  "An experienced consumer will base the decision on the reputation of the store, pre- and post-sale services that it offers, and the previous experience they have had with it," he says.
Lack of trust in payment security has often been cited as a reason why consumers do not buy more online.
"When a customer has a card enrolled in the 3D secure system, there is a greeting message and a password that only they know, so the chances of someone else using it for online shopping are nil. The only security measure would be to limit the chances of the phone or card being stolen," suggests Pop.
Alecsiu recommends customers make sure that the online store provides all identification data, is registered at the Trade Office and has trusted .ro online certifications. If not, he suggests customers look for opinions, reviews and comments on the online store before paying for anything up front.
"What consumers have started to understand is that the market of online payments by card is the safest method; it's how the system protects them. When they acquire something, and the products they receive are not what they ordered or are in bad condition, and the trader refuses to give the money back, they can always recover the money from the bank via online payment. However, with payment upon delivery, the problem can be solved exclusively with the trader (or not)," Eram tells BR.
Another deterrent is a complicated purchase process. Unlike in a bricks-and-mortar store where customers just pay for what they buy and leave the store, in an online store they often need to enter personal data.
"According to the data we analyzed, between 60 and 80 percent of online customers abandon the shopping cart. The price, indecision regarding the acquisition, lack of details about the product, incomplete information regarding delivery cost, and the online store's lack of certification are the main factors that make Romanians not complete payment. Complicated checkout processes can also make users change their minds, especially when they have alternatives," Panait tells BR.
However, in spite of all these drawbacks, online stores see the silver lining and say that things are looking up for local e-commerce. "In Romania, definitely fewer online orders are being carried out than in other states, but we have noticed a continuous increase in online transactions and even the migration of some clients from offline to our websites," Ioana Molnar, GM of Magnolia, tells BR.