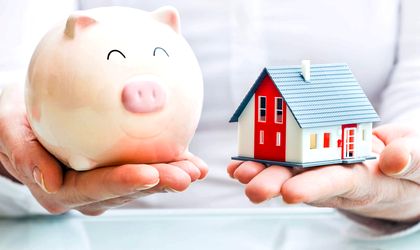 After banks issued a common warning that the residential real estate market could come to a standstill due to the debt discharge law, months after the controversial legislation was signed into law lenders have taken different paths.
Ovidiu Posirca
While the larger banks are starting to reduce the down payment for new mortgages, some smaller players are sticking to their guns and asking for higher guarantees. In a separate case, Austrian Raiffeisen Bank is planning to sue Romania because the law, which applies retroactively, is generating losses for its operations.
Around 3,400 debtors have notified 24 banks of their plans to use the debt discharge law. These borrowers were willing to return their homes to the banks from which they had taken out the mortgages to buy them in the first place. However, some of the banks are challenging these procedures in court and constitutional judges have been asked to decide if the law breaches any provisions of the Constitution.
As of early August, borrowers were seeking to have written off loans with a combined value of RON 1.13 billion, making up 2 percent of the total mortgage market, under the new law, according to Mugur Isarescu, governor of the National Bank of Romania.
At that time, he pointed out that less than 60 percent of borrowers who had notified the banks of their intention to use the new provision were 90 days late with their repayments. Discussions regarding the law have since lost traction as the BNR was faced with its own crisis, after critics in the media called for Isarescu to say how much he earns as governor. Eventually, the banker said he was paid EUR 13,601 a month.
The law applies on loans of up to EUR 250,000 but excludes mortgages taken out under Prima Casa, the government-backed program for first-time buyers.
Liberal MP Daniel Zamfir, who initiated the bill, announced that he was thinking of a new law that would apply to Prima Casa clients with repayment issues. In parallel, he is working on legislation to ease the conversion of foreign exchange loans at historic rates, which would help primarily the 70,000 Romanians who took out loans in Swiss francs and are struggling to meet their installments after the CHF almost doubled in value.
Zamfir is confident that the Constitutional Court will not throw out the law, because it has issued favorable decisions in the past few years in several cases with the same motivation.
"A law is not retroactive when it changes for the future a state that had previously emerged and when it stops the future generation of effects of a legal situation under the old law, because the new law only regulates the actions after it was enforced," wrote Zamfir on his Facebook page in early September. He added that EU legislation further enforces the principle that the law can apply to ongoing contracts, a provision that has been vigorously rejected by banks.
 Banks adopt different strategies for mortgages
Less than two weeks after the debt discharge bill was signed into law, 15 banks out of the 28 that had provided mortgages increased their down payment requirements. But now, for instance, Greek Piraeus Bank has cut its deposit in half, to 20 percent.
In May, prior to the enforcement of the law, BCR, the biggest lender by assets, controlled by Austrian Erste Bank, increased its mortgage deposit for home buyers to 35 percent, while reducing the repayment period to 25 years and increasing the minimum financing limit to RON 45,000 In August, however, BCR said it was cutting its required deposit by 10 percentage points in the biggest cities, expanding to other locations later in the month. The lender was ready to accept even a deposit of 15 percent under certain conditions.
Analysts said that banks have started to ease their lending conditions due to plummeting demand, as Romanians could not come up effectively overnight with additional money to secure loans.
French BRD-Groupe Societe Generale also moved to cut its deposit to levels last seen before May but has asked for additional guarantees, while state-owned lender CEC said the reduced down payment was valid only for a few months as part of a special campaign.
However, not all banks have taken this approach. Austrian Raiffeisen Bank moved to increase the deposit required for mortgages to 30 percent (for loans in local currency) and 40 percent (for loans in foreign currency) months before the law was approved.
The bank has not backed down and is currently considering legal action against the Romanian state.
Raiffeisen Bank had already announced that its profits had fallen by EUR 12 million to EUR 36 million in the first semester of this year due to higher provisions for loans as a result of the debt discharge law.
At present, Raiffeisen is a party to 360 court cases involving the debt discharge law. In total, there are around 3,100 cases ongoing in Romania due to this law.
In a letter submitted by Raiffeisen Bank International to several decision makers, including the president Klaus Iohannis, PM Dacian Ciolos and representatives of the Austrian Embassy in Bucharest, the financial institution said it was ready for negotiations on a "neutral field". According to profit.ro news portal, the lender said that if no deal were reached by the end of September, it would commence legal proceedings against the state.
Residential market feels limited impact of controversial law
Asking prices for homes fell slightly in August, but not in all cities, according to Imobiliare.ro, a real estate portal.
The average sum requested by sellers of old and new apartments across the country fell by 0.7 percent to EUR 1,028 per sqm – 8.2 percent higher than in the same period of last year. The portal pointed out that the market was impacted in August by the holiday season and the more difficult financing environment.
For instance, the price per sqm of apartments in Bucharest was EUR 1,123, up 3.4 percent against August 2015. In Cluj-Napoca, the asking prices of apartments were up 11 percent to EUR 1,224 per sqm versus the same period of last year. The biggest decline was recorded in Iasi, where prices fell by 1.3 percent to 879 per sqm in August, but were still up by 2.6 percent compared to the same period of 2015.
0.7 percent – the average reduction of asking prices for apartments in Romania in August, according to Imobiliare.ro
 70,000 – The number of Romanians who took out loans in Swiss francs