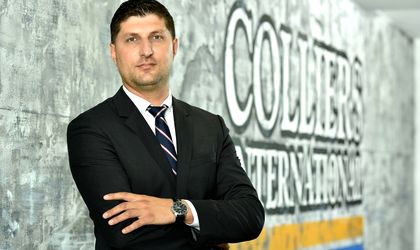 Some 500,000 sqm of logistics and industrial space are forecast to be delivered this year in Romania, which is up by 40 percent y-o-y and the highest post-crisis level, according to real estate consultancy Colliers International.
Demand for new logistics and industrial space from FMCG companies and online retailers is set to remain strong throughout 2017, thus fueling the development of new such projects, says the consultancy.
"Given the last three years' high demand, we estimate that the current logistics and industrial space stock of 3 million sqm will increase by 500,000 sqm in 2017 (about 17 percent), marking the highest level of post-crisis deliveries. About 40 percent of the new deliveries will come from FMCG companies, 20 percent from online retailers and 10 percent from IT and electronic warehouses," said Laurentiu Duica, associate director of the industrial division within Colliers International.
About 80 percent of this year's new stock will be delivered in Bucharest alone, where players such as WDP, P3 and CTP are due to boost their presence, but there is growing interest in regional cities as well.
This is especially the case as this year could see new players from the manufacturing sector entering the local market, given that in 2016 several were looking at the Balkans region and also given the structural changes to the local economy, added Colliers International representatives. Not only is Bucharest targeted by such potential newcomers, so too are secondary and tertiary cities with a well-developed retail scene and which also benefit from infrastructure developments.
"Western Romania remains extremely attractive to auto manufacturers, with one of the main reasons for that being the investments in infrastructure set to be carried out this year. The 180 km of highway which will be delivered in 2017 will ensure a faster connection to Hungary and the rest of Europe and will also improve connections between the big cities and therefore labor mobility," Duica told BR. There is high interest in the region of Moldova as well, as there are manufacturers for which low labor costs are more important, he added.
As for retail players, Duica doesn't expect any major changes in 2017. Altex and Flanco remain the most important offline retailers, while online eMAG, FashionDays, evoMAG and Cell.ro are driving up demand. There are also regional players taking an interest in the local market, but for now they are only analyzing it, he went on. "If we consider the largest retailers on this segment – Amazon and Alibaba – they haven't yet set up a logistics center or a warehouse in Romania, even though their sales on the local market are growing. Nonetheless, such companies are interested in the region and Alibaba, for example, is considering setting up distribution space in Bulgaria," Duica pointed out.
In the long run, online retail in particular is forecast to become the main growth engine for this real estate segment over the next five years, which in turn will lead to a doubling of the existing stock, he predicted.
The vacancy rate for industrial and logistics space in Bucharest dropped to 2 percent in 2016 from 5 percent the previous year, and remained around 5 percent for the rest of the country, according to Colliers International. Despite the high volume of new deliveries, consultancy representatives don't expect the vacancy rate to fluctuate much through to yearend, arguing that only a small share of this year's stock, meaning about 60,000 sqm, will be speculative developments.