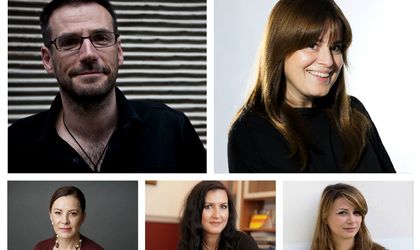 Which works better on the local advertising industry – the clout of the big international player or the agility of the little guy? Representatives of independent agencies active in Romania told BR why they believe they hold the advantage.
Romanita Oprea
Being an independent marketing agency has never been easy in Romania. Times were hard during the economic crisis, but even today, in the context of the major groups' consolidation of power and resources, surviving isn't easy. Still, Romania is no different than other countries in CEE or the rest of the world, say pundits. There used to be times, indeed, when opening one's own agency was the normal move after years of experience in a big, multinational company or agency. This is not so common now. The economic situation in recent years has proved to be a good auto-selector of the good from the bad, the talented and creative, strong and determined from the rest of the pack. It has taken a lot for independent agencies to survive and not get "sucked" into big groups or corporations, say players. Remaining independent and financially self-sufficient was a demonstration of a lot of skills, including agency teams' effort and motivation.
Smart and intuitive companies will always look to hire agencies that offer quality products, in an innovative way, say industry players.
Experience is power
Romania has independent agencies that have passed the ten-year mark and carry on developing campaigns that bring results for their clients. The proof lies in the awards haul, both locally and internationally, as well as in the agencies' revenues and number of clients. "I know it seemed like a moment that would never be reached, but Romania has managed to resemble mature markets. Look at Cannes Lions: the Romanian winners list this year shows the domination of networks in terms of number of prizes, yet the gold awards went to independent agencies. Next to Cohn & Jansen, we grasped the only two gold awards for Romania in 2016. However, we should not forget that the bulk of Romania's presence at Cannes is made up of network agencies," said Irina Pencea, partner at Jazz, an agency set up in the midst of the economic crisis by three friends with more than 16 years of advertising experience.
"Slowly, Romania has embarked on the same trajectory as Western countries: a trend of consolidation for network agencies which is strongly counteracted by an explosion of independent agencies that make a difference. The Goliaths are stronger, yet the Davids are many and more agile," added Pencea.
According to Serban Alexandrescu, creative director & managing partner at Headvertising, an independent agency, assets today consist of honesty and drive for "real world" results, not "unicorn" awards. "A unicorn is nice but you can't eat one, because it doesn't really exist. As an independent agency, you tend not to fritter away resources at the phony award circus – you can't even afford to do this, with today's slim margins. You are the service that you provide. You do not deliver – you find yourself in the gutter. So you're forced to be relevant and (street) smart, and you have a low tolerance for bulls**t and bulls****ers," said Alexandrescu.
Headvertising, founded by Alexandrescu, Mihai Cocea and Mircea Staiculescu, is one of the long-term agencies, having marked 18 years of activity this year. Another creative agency that stood the test of time and is known on the market for its creativity and outside-the-box approach is Cap, which was founded in 2000. "The independent agencies are most of all faster and more flexible, with fewer procedures and more attentive to the quality of work they provide, to services and differentiation, because this is what gives them their reputation given that they cannot rely on the equity of an international brand. Sometimes, when you take a closer look at the portfolio, it might even be difficult to spot the differences between a multinational and an independent agency," argued Cristina Purcarea, managing partner at Cap. "Think Rue du Pain versus Paul, an entrepreneurial business created and managed with personal involvement by its owners versus a multinational."
According to her, Cap hasn't changed its strategy throughout the years for clients such as Molson Coors (for the brands Beck's, Stella Artois, Corona), Regina Maria, Promenada, Toyota and start-ups in Artificial Intelligence and other fields. "I believe that no matter the agency's claim, the moment of truth is represented by its portfolio. The work and the clients. This is where one can see the way the agency approaches strategy, what its creative power is, what type of clients it can work for, for how long and what results the agency brings the client. Clients come to us for strategy and creativity, for craft, originality, the ability to stand out in meaningful ways for their brands," concluded Purcarea.
Meanwhile, Corina Grigoriu, executive director of Tempo Advertising, an agency that marked 20 years on the market this year, believes that an independent agency should prove at least three essential points of difference in order to be successful. The first point is agility which comes from a higher entrepreneurial spirit to chase and grasp all sorts of opportunities. Secondly is effort – going the extra mile beyond obviously safe ideas, beyond classic solutions. "An independent doesn't risk a whole network's​ relationship with a client, therefore we must dare more, and we must experiment beyond boring. Thirdly is local knowledge and international quality of execution – we must prove a superior understanding of the local market, but deliver international standards of execution quality. Being local doesn't mean being professionally backwards," said Grigoriu. Tempo is always looking to better its work and reach excellence, she says. The agency offers the entrepreneurial experience of problem-solving experts that add a human touch to daring ideas, executed at international standards.​ In its 20 years, Tempo has gone through big changes, going from a full group of advertising services to a single agency, and from an agency linked with a big international network to an independent agency. "We sold three companies successfully  in the process, meaning that we are able to build solid businesses that attract international and entrepreneurial attention and we are able to manage change in a very smooth way, leaving our client roster untouched. Surprisingly for many, Tempo is still here after 20 years​, delivering satisfying advertising products to their clients, making profit continuously," added the Tempo representative. ​
The Romanian PR industry also has some old timers. While Image PR has celebrated 20 years, this year in November, Premium Communication will mark 15 years of activity. This milestone is not easy to achieve nowadays, say pundits. Periodically, Premium agency's managers say they check whether the pillars of the profession have really changed. When blogs appeared. When online became the most popular resource for information. When Facebook became the largest communication platform in Romania. When video content started to gain ground. When the job officially became 24/7. When media channels were divided between owned, earned, paid or borrowed. "And the truth is, the principles of PR have never changed. We still need to be open, honest, brave, brief, polite, respectful towards our clients and partners in the media – be it traditional or social – sensitive, reasonable, empathetic, informed, sharp, quick, to the point. We still need to start meaningful conversations with a company's stakeholders and maintain them, for the benefit of all those involved," said Sorana Savu, owner of Premium Communication.
Moreover, she points out that PR has become more complex and more diverse, but its DNA is still the same. Therefore, if one masters the principles, it is easy to ride whatever tide comes your way. "We have extensive expertise in corporate and financial communication – hands on experience in issues and crisis management and the ability to strategically manage sophisticated content from a variety of 'heavy' industries – from metallurgic and construction materials to automotive, retail and IT. We are also able to integrate our corporate and business knowledge with marketing and digital expertise – we see social media and digital not as tactical tools of engagement, but as strategic assets that contribute to brand building and the corporate profile. When we talk about integrated communication we really mean it, not just 'integrated marketing communication' or mixing PR with tools of ATL or BTL. It is a distinctive approach which works great with companies who truly see communication as a strategic management function, not just as a promotion tool," added Savu.
According to representatives' statements,  Premium hasn't changed during its 15 years of activity. Whenever the firm wanted to change, to follow a trend or a fad, the business realities or demands of its clients told its representatives that they needed to keep it steady, as their work processes and ethics seemed to work fine. Still, Premium's representatives are always keeping an eye on what is new, but they don't want to change things for the sake of change or a press release.
International versus local model
 According to Pencea, for most of the experienced talent in any country, after years and years of playing the international network model game, it no longer makes sense. It's either impersonal, or oppressive for creativity, or inflexible, or too complicated in terms of politics and career paths. "There is always the option to run away and change your profession, or switch to the client side. I've heard of so many trying to build completely opposite businesses, or running into the world as nomads, or doing charity work. Looking for meaning, for the motivation they had years ago, when they started, or simply running away from the imbalance between the huge effort and little reward for their souls, minds or bodies," said Jazz's representative.
The latter is Jazz's case: born from the partners' determination to demonstrate that they could make it on their own, without the support of a group or investor. "It's probably ego, or simply the belief that really good work doesn't need systems around it. We are at the same time aware that this model requires a small scale. We can select people who are like us, but there are few crazy enough to take on the journey, honestly. We need to be small and agile to keep this vibe, our culture. We need to keep doing it for the kick, for the passion for advertising and not only for the bottom line," added Pencea.
Moreover, when it comes to Jazz, the differentiation on the market is in the 'how' more that in the 'what'. "It's in our culture, motivation, talent and eagerness. After all, we all use pretty much the same media as everybody else. But we strive so that our message is more empathetic and more surprising than others'. We strive to give our people a culture that nurtures their spirit and their motivation, to be a group where various typologies can express themselves, a jam session of talents, just like jazz. And we do it by being there every day with them, from nights before pitches, to cooking lunch, to drafting presentations, ideas and proposals," concluded Pencea.
In turn, Grigoriu explains that, at Tempo, staff members don't fear the confrontation of independent vs. multinational agency as long as it stays in the arena of ideas and not behind the closed doors of political games. "I have the feeling sometimes that, in advertising, there are even more politics than inside Parliament. The big groups​ have the sheer force to hammer their big resources upon you, but ​we have the sharpness of a little strategic sting in the right place that can kneel a giant," commented Grigoriu.
How can an independent agency survive and fight in a market dominated by small group consolidations into large groups?
"It's that 'we try harder' attitude that helps us compensate with the more delicate services' footprint in place of the supposedly unlimited resources of a corporation. Also, an independent agency carries a stronger mark of its creations that gives it a certain vision. They are the ones writing the manifesto of the organization and are involved in the running of the day-to-day business. This means differentiation and also a more authentic personalization, a more honest relationship between the clients and the agency," said Purcarea.
According to Grigoriu, the personalized services of a boutique style agency will never be rivaled by a big multinational group. There are plenty of local clients that the agency wholeheartedly welcomes with personalized services and ideas.
"Consolidations doesn't write ads. Mergers do not solve briefs. And last time I checked, our industry was still essentially about making effective ads. We try to somehow keep our culture, the one that saved our ass through the nasty downturn. This is a lot more important than we thought. And a lot more difficult to do than we thought. We try to get or raise the fresh guys that will write the next great campaigns – the ones that the mergers won't write, as I mentioned before," commented Alexandrescu. Moreover, he considers that advertising is more of a "people business" than is assumed, like the entertainment and movie industry. "The ad guys that are bad at identifying and growing talent are foaming at the mouth about algorithms and the savior ad software, but an algorithm never had a brand idea. (Though ineptly used algorithms made re-re-re-re-targeted people promptly run for their ad-blockers)," added the Headvertising representative.
Alexandrescu says that his firm focuses on real work, something that is crucial and increasingly rare. "It sounds obvious to throw everything you have at the really big briefs, but these days most agencies use their best people for unpaid non-commissioned work for festivals, while they put their bored, overworked juniors on the real briefs of the paying clients. I find this absurd, therefore we don't do it. Also, by now it is obvious that film/motion/video is the ultimate communication tool; 'digital' will increasingly mean 'distribution of wow films'. Therefore you will have to be super-good at telling stories through film," concluded Alexandrescu.
When it comes to PR's side of the things, Savu has strong doubts about the notion of the "full service" PR agency, as nowadays event management and media buying for special projects tend to account for a sizeable chunk of turnover. Like Alexandrescu, she also believes in people and agencies that specialize in PR, and that, because PR is such a vast field in itself. "It is considered leadership and strategic counsel to the top management, issues and crisis communication, internal and industrial relations, financial and investor relations, digital and marketing communication, custom publishing and so on… It is vast enough to enable you to build a serious career without having to 'reinvent' yourself every other year in an attempt to capture other sections of the communication market with which this profession has very little or nothing in common," said Savu.