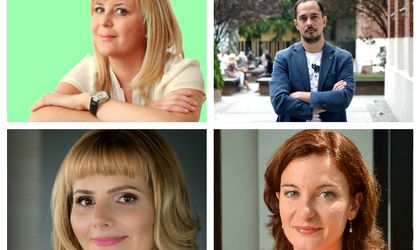 For years skeptics and advertising critics have argued that the role of advertising is small, limited only to entertaining consumers and helping increase companies' sales through manipulation. But a recent European study conducted by Deloitte asserts the opposite, praising the role advertising plays in the overall economy.
 Romanita Oprea
Romania's GDP went up by 4.8 percent in 2016 versus 2015, according to the flash estimate published earlier this month by the National Institute of Statistics (INS). For this year, estimates of Romanian economic growth range from 3.7 percent (World Bank forecast) to 5.2 percent (the National Commission of Forecasting).
Meanwhile, the European Commission revised its growth forecast for Romania to 4.4 percent. The increase is set to slow to 3.7 percent in 2018.
"The European Commission forecasting reveals a positive macroeconomic outlook for Romania in 2017, with GDP growth, domestic demand, exports and imports accelerating. At the same time, annual average inflation is to turn positive while the current-account deficit, structural deficit and general government deficit are predicted to increase. Furthermore, retail sales are rising in Romania, while in the euro zone they are stable. E-commerce is registering a significant increase y-o-y, with mobile online still underdeveloped. Companies and agencies have become more big data-savvy and skillful in targeting consumers, especially in digital," said Adina Ionescu, communication director for Renault Group.
So what is propelling this growth? A recent European study, financed by members of the European advertising industry and conducted by Deloitte, reported that every euro spent on advertising yields a seven-fold bonus for GDP, encourages innovation, underpins employment and supports investment in important services.  Value of Advertising identified a series of multiple benefits generated by advertising for the global economy, civil society and jobs. It is the first report created at EU level that isolates the economic and social contribution of advertising for the EU's economic growth. The study was commissioned by the World Federation of Advertisers and supported by other partner industries and, through econometric modeling, showed that advertising contributed to almost 6 million jobs in the EU and 4.6 percent towards the EU's total GDP. Moreover, there were three key areas identified where advertising generated direct or indirect benefits for the European economy and EU citizens: economic, social and workforce.
Advertising influences the economy
What about the influence of advertising in Romania? Although there aren't yet any relevant studies being conducted solely on the impact of advertising in the local market, according to its representatives, the IAB (Interactive Advertising Bureau) is planning to conduct a study on the human resources involved solely in the digital advertising sector – number of employees, employment level and education level.
In the last ten years, the organization rolled out the Romanian Online Advertising Study (ROADS) study, highlighting the value of the digital market, trends, the most active industries that invest in digital, the opportunities and the most used display formats. It is preparing a Quality Mark for websites that are aligned with IAB standards that respect users' interest in accessing the content and those doing their best to offer a non-aggressive experience on their website, and have best practices in content creation.
"This way, we are encouraging websites to be more diligent regarding users' experience and advertisers to be more aware of the quality of the environment – it's a first step in a broader plan to enhance the awareness and importance of quality digital advertising within the economy," said Ioana Anescu, managing director of IAB Romania.
Another project supporting the role of digital advertising within the economy is the Digital Marketing Qualification (DIMAQ) that will arrive in Romania in April. This is a complex education program of certification and development of human resources in the sector with the role of setting the industry's standards in terms of knowledge needs and evaluation within digital communication.
"It will help evaluate the existing knowledge and develop digital skills for people already working in the advertising market or those looking to start a career in it. DIMAQ is an important project, as it is the only one on the market developed and endorsed by the industry. It will help agencies make a difference among many, it will help marketers and advertisers have a unified language and a more prosperous relationship with all the stakeholders in the market," added Anescu.
According to Ionescu, when one talks advertising, one refers to media strategy as well.  In Romania, advertising is influenced by macro and micro factors, and has grown and developed in terms of influencing brands' perception and consumers' buying decision. She notes that advertising reflects consumer trends, which in turn are influenced by the micro and macro environment. "I don't think that digital has reached its tipping point in Romania yet and this represents an important opportunity when establishing advertising and media strategies. In Romania, while e-commerce has just begun growing, digital natives will seek adapted channels, messages and tools to relate to reality, maybe in a 4.0 Store," added the Renault Group representative.
Drive, dynamism, creativity
The marketing and advertising industry is one of the main motors of the economy in Romania, as in any other country, believes Eugen Suman, executive creative director at MullenLowe. "I don't think that we're lagging behind on general principles or how advertising is consumed in Romania. There aren't too many differences between our market and the whole European market in terms of the industry's way of working. However, there are things that are not quite where they should be. I wish the overall quality of work were better, especially when it comes to the craft in our work," said the executive creative director. Romanian advertising is not only currently losing talent to Europe and the US, but also other fields, such as tech and IT.
"I think we, as an industry, need to take a step back, take a good look at the situation and agree that you cannot always have fast, cheap and good work. I think we need to understand that good work costs money, but also that the ROI of a good campaign is exponentially better than that of a mediocre one. So let's up those budgets a bit, let's give people time to actually do the work and let's all enjoy the growth and the great numbers that come from that attitude. If we drive the costs and the quality underground then we drive our marketing ROI and brand health metrics underground. It's like trying to cook a really good pizza but instead of mozzarella we use artificial cheese and instead of salami we use canned dog food. It'll probably still be edible, but nobody's going to enjoy it," concluded Suman.
In turn, Ioana Anescu, managing director of IAB Romania, believes that the advertising market, in general, and the digital segment, in particular, is, perhaps, one of the most dynamic sectors of the economy. "We cannot exclude digital from advertising, even if we talk about radio, TV and outdoor. As such, the evolving trend of this market will not only engage more and more specialists, but there is also a growing need for digital education. The economy will benefit from this growing education trend, because the need for digital knowhow and digital communication skills will grow, even in the public sector, industry and medicine," predicted Anescu.
Her expectations for the growth of the market and the digital sector are shared by Elena Visan, HR manager at Tempo Advertising. She points out that online media has exploded in recent years, diversifying at the same time and taking over parts from other media. "Thanks to the power of advertising and its channels, alongside the obvious economic benefits that generate competition and innovation, advertising succeeds in influencing the Romanian social and political environment. The events at the beginning of February are the most recent proof of this fact," said Visan. "At the end of the day, advertising is just a means of promoting and communicating in a manner as direct and fast as possible with the final consumer. In this context, talent and technology became a strategic differentiator on the communication market. Moreover, from a purely HR angle, the development of new channels has created specialized companies, new positions and new specialists in different fields that didn't exist ten years ago – positions that require the hiring and training of personnel from IT departments or connected fields of expertise."
Last but not least, advertising is about influencing people and shopping trends, and has a strong impact on consumption patterns and habits. The IAB Romania representative cites advertising's responsibility regarding information and quality content. "Advertising influences the entertainment industry and the available information on media channels. Its impact is not just at the level of how many people are engaged or employed in the sector, but also consuming patterns, trends, news and content creation. Additionally, advertising helps to differentiate [you] from the competition and increases creativity in communication," added Anescu.
In the years to come
When considering the future of advertising, Eugen Suman sees the industry evolving in parallel with new technologies and the new global consumer and trends. Advertising is an integral part of pop culture and therefore has to stay sharp, to be ahead of the pack at all times. However, balance is needed in order to not lose relevance. Therefore, regardless of what new media pops up, what new technology dazzles people, what new forms of art and entertainment awe the world, agencies have to use it to create relevant and persuasive stories that people will enjoy "in order to meet clients' goals, be it to sell more products or change the world for the better. Advertising is an integral part of our economic system, no matter how the industry changes with the times. In the end, and oversimplifying, you cannot sell something that nobody knows exists," said Suman.
Even the future is impossible to predict and one can only make a projection based on information currently available. As Elena Visan points out, the need for specialists will continue to grow in advertising. This is due on one hand to migration (more and more youngsters accessing jobs in Europe), and on other hand, the phenomenon called the "flex economy," or the "gig economy," namely the part time/freelancer workforce that is starting to be more and more accepted and adopted by  current agency employees. "There is an online market where demand meets supply, where freelancers meet their future clients," said Visan.
Meanwhile, the MullenLowe representative puts forward the idea of regional campaigns led by Bucharest as the norm, not the exception, the idea of talent from all over Central and Southern Europe fighting to get a job here instead of the other way around. "Of course, that won't happen unless the whole economy grows – and advertising can only do so much. If the whole economy suffers, we all suffer. We won't be able to do much if the climate isn't stable, if laws get changed overnight or if corruption makes the playing field uneven. These are issues that advertising can help with, but cannot solve by itself," concluded Suman.
The power of advertising
"I am proud to acknowledge Romania's creative potential, even in the most challenging situations. Advertising is at the forefront for this untapped – yet huge – potential." – Adina Ionescu
"Creativity is the main power of the advertising industry in Romania today. We're used to doing a lot with a little. If we put our minds to it, we can build a jet engine out of old bikes and a garden hose. Imagine what we'd be able to do if we had more real parts in our garage. I see it as a growing curve and the international stages where Romanian creativity shines are proof enough. It's very close to how the film industry works – underfunded but with great results at award shows." – Eugen Suman
"Advertisers need to be more and more aware of the power of advertising in supporting content platforms (whether TV stations or websites.) And this impact is a growing trend and comes with a social responsibility of being aware of the kind of content they are supporting. Also, advertising has the role of influencing and informing and will be more and more adapted to the interests of the consumer – the rise of programmatic within TV and outdoor will help brands get closer and more relevant to the target audience." – Ioana Anescu