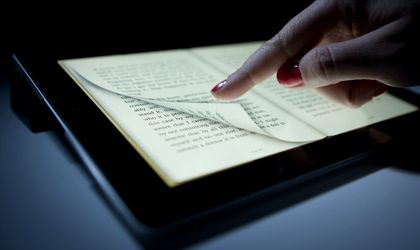 While Romania ranks as low as it gets in the EU Digital Index, some ongoing digital initiatives could have a positive impact on the community. An online workshop, the digital label, and the creation of a digital library for people with visual impairments are some of the more recent projects.
Otilia Haraga
Romania ranked last of the 28 EU member states in the Digital Economy and Society Index 2016, with an overall score of 0.35. While more people have subscribed to broadband networks since last year, low levels of digital skills and trust seem to be holding back the development of the country's digital economy.
However, Romania was placed in the group of "catching up countries," namely those that score below the EU average but whose score grew faster than that average over the last year.
The need for digital skills has never been greater across the EU and CEE, and it will only get bigger still. According to EC statistics, 90 percent of jobs in the future will require digital skills. The EC estimates that there will be 825,000 unfilled positions by 2020, as a result of the digital divide.
Google has launched Atelierul Digital (the Digital Workshop), a free online platform which offers training in various fields, such as digital marketing and business development. The platform is intended to contribute to the spread of digital skills in Romania.
"Internet is essential in today's society, offering development opportunities and tools for entrepreneurs and businesses. We want, with the help of the Atelierul Digital project launched today, to offer a tool that will help future workers and entrepreneurs acquire the digital skills that are so important for the economy. We hope this will help Romania take advantage of the opportunities offered by the digital economy," said Dan Bulucea, country director of Google Romania, at the launch.
The Atelierul Digital platform comprises 89 courses, split across 23 topics, such as how to build an online presence, marketing campaigns in social media and how to use the mobile environment to attract new customers. Users can go through the lessons and can even choose to take a test. If they pass it, they will receive a certificate from Google and IAB Europe.
Another initiative, intended to help Romanian consumers at large, is the digital label. A digital national aggregator of data on products was recently launched under the name "Cumpara Informat" (Informed Purchase). The project is being implemented by GS1 Romania, the national association for standardization, along with the Romanian government, according to Agerpres newswire.
Such digital data aggregators are nothing new in more developed states. At the moment, there are 19 such aggregators of data on products worldwide. In the European Union, they are successfully used in countries such as France, Italy and Germany.
A national catalogue is created with the contribution of the producers, distributors, importers and brand owners that are members of GS1.
It is a database of structured information about wholesale products sold to Romanian consumers, guaranteed by the brand owners. The information is printed on the digital label only after the producer gives an official statement that they respect norms.
Marius Dunca, president of the National Authority for Consumer Protection, said, "We must start from the idea that we are all consumers and the business environment must respect this. Lifestyles have changed: we no longer have time to stand in front of shelves and compare product labels. The digital label is important; we are better informed, and we, as a control body, can better carry out our activity. If fake data is introduced on the digital label, the fine is the same as usual, since this is considered an attempt to deceive," said Dunca, quoted by Agerpres newswire.
Currently, the catalogue can only be accessed by Android users. However, the app will soon be extended to other operating systems.
A more targeted initiative is the Sunetul Paginilor (The Sound of the Pages) project from the Romanian National Library, which aims to create the largest digital library for people with visual impairments.
This project, which will gather all scanned digital documents across Romanian libraries into one single collection, was initiated by the National Library with financial support from the Orange Foundation, according to Agerpres newswire.
Sunetul Paginilor is approaching completion in June, having been started in May 2015.
The total cost of the project will reach RON 316,600, of which RON 221,800 was provided by the Orange Foundation.
"Users with visual impairments will have access to this digital library both offline, at our headquarters, as well as online from anywhere in the country, based on an ID and password, in order to comply with copyright law," said Adriana Boruna, chief of tThe Service for Institutional Development, quoted by Agerpres.
The digitalization of libraries is a European initiative. At European level, the cost of digitalizing libraries reaches somewhere around EUR 100 billion, which is split between the public and private sector, via specific partnerships. However, the digitalization of products and services brings annual revenues of EUR 110 billion into Europe.
In Romania, libraries are starting to make efforts to cater for their digital consumers. The Central University Library in Bucharest (Biblioteca Centrala Universitara, BCU) has a multi-annual project under way to put over 750,000 pages on its digital platform, according to Agerpres.
"By 2020, we plan to have 750,000 digital pages (…) and offer open access to library data and support crowdsourcing initiatives," said Voichița Dragomir, one of the coordinators of the project, quoted by Agerpres newswire.
The process of digitalization not only consists of displaying digital copies of documents from libraries' online archive, but also of creating interactive maps indicating cultural consumption or cultural activities taking place within a country.