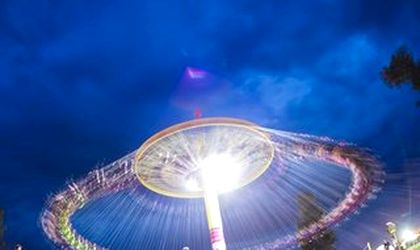 Local BTL strategies seem to be coloring the cultural scene, offering promotions and surprises to those attending festivals and events across Romania. Over the summer, Business Review sat down with some of the most fashionable alcohol brands in Romania, Absolut Vodka, Campari, J&B and Staropramen, to find out how they link their products with the hottest events on the cultural calendar.
Oana Vasiliu
Bean good: coffee tops the beverage charts
According to a GFK study released this June, one out of four Romanians consumes alcohol on a daily basis. Throughout the year, the amount of alcohol drunk varies, peaking in the warm season, April to September. Romanians' favorites are beer and homemade wine, with consumption changing with the season: in summer, beer is most popular, while wine is consumed especially in cold weather. Looking at the general share of consumption, it emerges that Romanians prefer hot beverages, mainly coffee and coffee-based mixes – accounting for almost half of the total number of drinks drunk. Over a third of beverages imbibed are soft drinks, while alcohol represents only 16 percent of the total consumption. The quantity of fluid intake per day is 630 ml, excluding water and milk. Furthermore, 1 in 10 adults consume at least one drink a day in bars, restaurants and terraces, and the daily frequency increases by approximately 20% in the summer.
Viva vodka!
"Undoubtedly, a successful activation of the Absolut Vodka brand for June 2015-June 2016 was our participation in the first edition of Untold, both in terms of awareness and sales. The PR and communication campaign last year secured a reach of over 80 percent of the target group. The activation started with a bus which travelled from Bucharest to Cluj-Napoca, the #AbsolutRoadToUntold. During activation, 'absolute heroes' were challenged to demonstrate the skills needed to become pure absolute fairytale character travelers. During the festival, we invited guests to the Absolut Cocktail Bar, where they were able to customize their own bottles of vodka. At this event alone, more than 240,000 consumers interacted with the on-site brand in the Untold perimeter," Radu Moldovan Petrut, marketing director of Pernod Ricard, told BR.
Through each brand activation, consumers who come in contact with Absolut Vodka should have a memorable experience, starting from the product itself to the universe created around it. For example, this year, the brand offered subscriptions to Untold Festival and accommodation in the special camping zone, everything winnable through an online game, where every action of the player would turn into a real experience at the festival, said officials.
The Italian job
"Over June 2015-June 2016, the Aperol caravan campaign had its biggest success, its purpose being to bring Aperol Spritz to mid-level consumers, and create a pretext for socializing. When you say Aperol Caravan, thoughts immediately turn to the moving Aperol bar, the sparkling symbol of celebrations and atmosphere. Last year, the caravan aimed to find four brand ambassadors and this year, we decided to focus on our special activations at fun festivals such as De La Hoya, JEMF, Airfield and Electric Castle," said Andreea Neagu, brand manager at Gruppo Campari.
Aperol officials say that as it is an aperitif and also a drink suitable for fun, the firm invests in Spritz moments to spread and create recognition for the perfect Aperol Spritz 321 serving suggestion. "Our desire is to improve the festival experience, which is why we invest in everything at the festival, from furniture to other items that visually show how faithful the brand is. The budgets we allocate to festivals do not offer a return on investment, but any combination of this type has long-term benefits in terms of awareness, loyalty or recruiting new consumers," added Neagu.
For example, at this year's Electric Castle, besides the moving Aperol Spritz bar and lounge, the company brought a hot air balloon and rides could be won by buying Aperol Spritz. Therefore the festival experience was connected directly with the drink.
Whiskey in a jar              
"2016 was a busy year for J&B, and our communication has evolved because we wanted to be relevant to the new generations of consumers. In November 2015 we launched the Blending Spirits campaign, inspired by the brand's DNA. Since then, ideas and energies resulting from 'Blending Spirits' meetings can be found on our dedicated platform, www.blendingspirits.ro. Most appreciated by our consumers were blends between original music, between Adda and Macanache, Alex Velea and Robin and The Backstabbers and Delia and Doc. Also part of the campaign was our presence at Electric Castle, where consumers, competition winners at J&B Lemonade Twist, journalists, bloggers and vloggers had an experience at 10,000 meters. The 10 km-high party in the party jet powered by J&B featured Delia and Adi Despot singing acapella for the public inside the airplane. (…) In terms of sales, this Blending Spirits campaign had the greatest impact in the last three years," Raluca Sava, brand manager at Diageo, told Business Review.
A festival is an opportunity to reach the consumer that every brand wants to exploit, but most importantly, the brand wants the benefits from the image, attachment and brand loyalty of consumers, so it can be associated with a moment or an enjoyable experience. "Sometimes, scale campaigns developed for festivals are influenced by previous sales, so the relationship between revenues and investment in communication is very tight. In other cases, for example at Electric Castle, we wanted to provide an original experience for participants, our bet on the festival. (…) At the perimeter of the festival we had a dedicated space accommodation – J&B village, a private jet from Bucharest to Cluj-Napoca, the acapella concert and a special festival kit bag with rubber boots, a raincoat and a bottle of whiskey inside. We believe that through the activation at Electric Castle, we managed to offer a unique festival experience, form loyal customers and generate real engagement", added Sava.
Beer we go
"One of the most successful activations that we have launched so far is the Tapwriter writing machine, the first beer draft that can be controlled by a typewriter. People were challenged to activate the beer tap by typing the continuation of an existing story into the sheets of the typewriter. Then, when certain letters were typed, the tap activated and filled the beer glass," said Teodora Agafitei, brand manager for Staropramen. The beer brand has launched an online cultural platform where news and articles from the Romanian cultural scene can be found. "Beyond beautiful, clear and entertaining communication, a brand today has to come with facts and evidence of love in order to consolidate the existing relationship with consumers and to attract new categories of consumers. A brand needs to go where consumers are and where they would like to be found in order to facilitate new experiences and enrich and improve on those experiences consumers already live," said Agafitei. Staropramen's roots are in the spirit of Prague, a city with a strong cultural heritage. Since it entered urban Romania, the brand has had to adapt to local values.
It did this, identifying here huge cultural potential, which officials want to capitalize on in the long term.
"With each of these events, our excitement grew with the artists and cultural managers with whom we worked. So we naturally wanted more, to expand the list of partnerships and especially to begin to communicate in a more authentic, effective and relevant way with our core target, which puts a high value on experiences with really valuable substance. (…) Thus, the story of Oameni si Gusturi (People & Tastes) was designed from the outset as one of identification and urban revival, addressing both culture creators and consumers," concluded Agafitei.