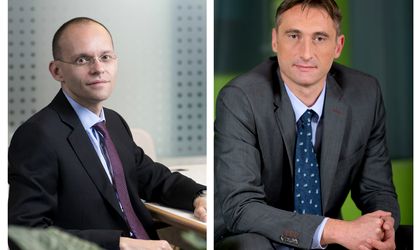 Astra Asigurari, an insurer controlled by Dan Adamescu, is now bankrupt; Carpatica Asig, run by businessman Ilie Carabulea, is on the brink of collapse as the sole investor interested in the company has recently withdrawn; and City Insurance is going through a recovery process. The Romanian insurance market is struggling to find its way to stability.
Anda Sebesi
As Misu Negritoiu, the president of the Financial Supervisory Authority (ASF), commented earlier this year, the Romanian insurance market is now a normal, attractive one. "We have taken notice of the regression  on the insurance market. But we need to avoid artificial or manipulated increases. Stability, competitiveness and a well-functioning market have been our number one objective and we have reached it," said Negritoiu, speaking at the International Insurance and Reinsurance Forum (FIAR) earlier this year, quoted by profit.ro.
The local insurance market is back on the growth track, having reached a six-year peak in 2015. According to the most recent market data, the volume of gross written premiums was RON 8.75 billion, an increase of 8.2 percent on 2014. The general insurance market amounted to RON 7 billion, up by 7.6 percent against 2014. The life insurance market was also up 10.8 percent, reaching RON 1.8 billion. The development of the general insurance segment was underpinned by the MTPL (motor third party liability), which recorded a market share of 47.4 percent. The volume of gross written premiums in this line of business advanced 17.4 percent to RON 3.3 billion. The CASCO segment maintained the same value as in 2014, namely RON 1.7 billion, while property insurance stagnated as well, amounting to RON 1.1 billion.
Health insurance sales increased by 31 percent, while the volume of optional home insurance declined by 4 percent, to RON 336 million. "2015 came with many changes and insurers banked more and more on quality and financial stability," say representatives of Asirom. They add that, overall, the local market is expanding despite still being dominated by car insurance. Additionally, Romanians are becoming more aware of the importance of guarding against risk.
According to Allianz-Tiriac representatives, the growth of the local insurance market is the result of an increase in both the general and life insurance segments. "The life insurance segment recovered to a level similar to that posted in 2012. By contrast, on the general insurance segment, having stagnated between 2012 and 2014 at a level of RON 6.4-6.5 billion, 2015 brought an increase in insurer incomes of about RON 500 million, to RON 6.9 billion of policies," they say. Compulsory insurance propped up the local general insurance market in 2015. "If we exclude the influence of compulsory insurance types like RCA (for cars) and PAD (for houses) we can see that the optional general insurance market posted its third year of consecutive decline in 2015," add the Allianz-Tiriac representatives.
They note that the local insurance market is still very dependent on car insurance. This segment posted about RON 5 billion in policies in 2105 and represents over 70 percent of total gross written premiums on the general insurance segment and about 58 percent of total general and life insurance incomes. In addition, RCA dominates the car insurance branch. "This segment reaches about 50 percent of total annual general insurance policies. If we compare the local market with the European one we see a completely different situation, as the data show that life insurance dominates the European market," add the Allianz-Tiriac representatives.
As for trends, Calin Matei, deputy CEO at Groupama Asigurari, says that forecasts indicate a 10 percent growth in the insurance industry. He quotes ASF data which show that the health insurance business line will fare well and is likely to register a steady growth rate. "The MPTL segment is expected to stabilize, while companies will diversify their portfolios. The intermediation growth pace will slow and small insurers might leave the market or certain sectors. On the other hand, the ratio of gross written premiums to GDP is significantly beneath the European average and there are certain image problems that affect players on the insurance market. These issues do not help accelerate its growth," says Matei. He adds that the market context provides opportunities for insurers if they are flexible and willing to innovate in regards to their products and services. "The main areas in which we foresee growth opportunities for the Romanian market are insurance products against natural disasters, agricultural products, as well as health and life insurance," adds the Groupama representative.
What is the most dynamic segment?
In Matei's opinion, at present the most dynamic segment in Romania is health insurance and, generally speaking, employee benefit packages. "This is a consequence of companies' focus on their employees' well-being, which has made this one of the most important ways to attract and retain professionals at their workplace," adds the deputy CEO.
Allianz-Tiriac representatives say the life insurance market grew by about 11 percent in 2015, which is good news as it shows increasing interest in these products. "But we shouldn't forget that this increase comes after 2013 and 2014, two years when it posted a significant decrease compared to 2012," they say. In their opinion, the local general insurance market trend was evident in the RCA policies, which posted an increase in 2015, for the fourth year in a row. "2015 also saw the highest RCA increase, of over 17 percent or about RON 500 billion in absolute value. The other types of insurance with relatively significant weights, like CASCO and goods and property ones, registered rather stable performances," they say. Health insurance is another segment posting relatively rapid growth.
How are insurers faring?
Matei of Groupama Asigurari says that 2015 was a very good year for the insurer on the Romanian market, as it posted growth on almost all of its major lines of business. "Our turnover amounted to RON 805 million and profit reached RON 23 million, allowing us to keep our position as one of the market leaders. The most active business lines for our company in 2015 were agro, life and health, mainly as a result of our focus on these areas. We managed to create products based on our customers' insights." He adds that, according to a study conducted by IRSOP, a market research company, in September 2015, 77 percent of the company's customers were more than satisfied with their experience with the firm.
At Allianz-Tiriac, meanwhile, most insurance categories posted a positive performance, and customers are also looking at other types apart from car insurance. "The earnings from our non-car general insurance segment posted an increase of over 8 percent in the first semester of 2015. This growth was generated by all of our business lines. Within the general insurance segment, liability and individual insurance (for accidents, travel and health) posted an increase of two digits. From our perspective, this is additional proof that there is significant potential in the non-car segment," say representatives. According to them, the Best Doctors' Clause, a product the insurer launched last fall, did well, with over 1,250 customers having taken out policies at the end of the first quarter of the year.
What's next for the market?
"On the short and medium term, we expect the Romanian insurance market to continue its growth, although the increase will be slight, a single-digit one, in line with the Romanian economy," says Matei of Groupama. Meanwhile, Allianz-Tiriac representatives expect 2016 to be a year of transition, as 2015 was an extremely volatile one for the Romanian insurance market. "The RCA segment will continue to gain ground and we expect 2016 to be the first year when the compulsory car insurance generates more than half of the total general insurance policies," they say, adding that the majority of other types of general insurance (non-RCA) will register variations of one digit. "Health insurance will continue to post a rapid increase of minimum 20 to 25 percent."
Life insurance market
2015 marked the recovery of the life insurance industry, which was back on its growth track, posting solid growth of about 11 percent, to reach RON 1.8 billion in gross written premiums. "The evolution of the economy made a significant contribution to the development of the local insurance market last year. Given that the World Bank forecasts economic growth of 4 percent this year and 3.7 percent in 2017, the life insurance market could expand more quickly than it has until now," says Marius Popescu, general manager at NN Asigurari de Viata.
The local life insurance market has been propelled both by measures like the alignment to the Solvency II European directive as of this year and a change in Romanians' attitude towards individual responsibility for financial planning and their future. "Initiatives like the diversification of solutions for savings and protection that address the more diversified needs of Romanians, the development of strategies for insurers' long-term growth, better financial education and the definition of legal measures to support this industry will play a significant role in the evolution of the market," says Popescu.
The Romanian life insurance market is still an emerging one, less developed than those in other European countries. Both the penetration level and density of insurance in Romania continue to be among the lowest in Europe. According to a report by Insurance Europe, life insurance penetration was 0.3 percent at the end of 2014, while the European average is 4.6 percent and the highest levels are found in Finland (9.2 percent), Great Britain (8.9 percent) and Denmark (6.8 percent). As for the the density of life insurance, Europeans annually allot an average of EUR 1,124 to such products, while Romanians spend on average about EUR 18, according to Insurance Europe. "So there is real potential and opportunities for the industry to grow, as the need for insurance and protection for the future and the number of potential customers are high on the local market," adds the NN Asigurari de Viata representative.
According to him, the diversification of insurers' portfolios and the increase of the bancassurance segment, as a result of Romania's economic growth, were the main trends on the local market last year. "In addition, there is also a digitalization and automatization trend in certain processes, in order to offer customers an experience that meets their expectations, both when they buy insurance and during the whole contractual period," adds the general manager. He says that in 2015 the increase in the financial protection level was a priority, and it continues to be this year too, both for NN Asigurari de Viata's strategy and its customers. "The number of individuals who chose financial plans for protection increased by 90 percent last year on 2014 and by 85 percent in the first part of this year compared with the same period last year," says Popescu. "We expect the health insurance product launched by NN in the first quarter of this year to continue to grow in the near future, while the business development initiatives in the coming period will be focused on health insurance."
So how will life insurance fare? "We expect the life insurance market to do well and the conditions are in place for the development of health insurance, propelled by the increase of tax deductibility for these types of products and customers' great interest in protecting their health in unpredictable situations. Overall, the life insurance market will reach its real development potential within five to seven years, in a stable economic context," predicts Popescu.
Who is the typical Romanian life insurance customer?
Because the Romanian life insurance market is still young, it is hard to draw up a representative customer profile. Customers in this industry mainly go for traditional products, which represented about 60 percent of the total volume of gross written premiums last year and posted an increase of 10 percent on 2014. Popescu says that lately NN customers have shown increasing interest in financial plans for protection, with the number of policy-holders almost doubling last year versus 2014. "For life insurance products, our customers paid an average gross premium of RON 1,744 while the average sum insured was RON 56,311, some 13 percent up on the value posted in 2014," adds Popescu.