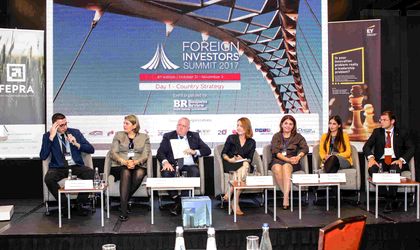 Despite posting a handsome growth rate of 7 percent in the first nine months of 2017, the private sector in Romania is dealing with swift changes of legislation and exacerbated pressure on labor markets, which sees new investment initiatives shelved, said speakers during the fourth Foreign Investors Summit (FIS) organized by Business Review in early November.
"Romania's priority for 2018 is calming down the business environment," said Alex Milcev, tax & law services leader at EY Romania, the professional services firm. He underlined the fact that Romania's flat corporate tax rate of 16 percent attracts investors, adding that the country has one of the best networks of bilateral taxation agreements in the world.
"It means investors coming from foreign countries have the framework to make their investors comfortable in Romania and avoid double taxation," said Milcev.
Against the backdrop of the 18.5 percent fall in foreign direct investments (FDI) to EUR 2.5 billion in the first eight months of the year versus last year, a state aid scheme could have convinced more investors to lend an ear to Romania's potential.
Manuela Furdui, managing partner of FiNEXPERT, said there were delays in the approval of fresh funding for the state aid scheme (807/2014), which covers investments larger than EUR 10 million.
"I had more than 20 meetings with potential investors, with more than EUR 10 million of investments, and we don't have any solution for them. For this year for sure we missed this investment because they can't wait and I can't give them an answer," said Furdui.
Dragos Anastasiu, president of the Romanian-German Chamber of Commerce and Industry (AHK Romania), put it more bluntly: "We are talking about having some measures on Friday and the final decision on Monday. For Romania this is the challenge for the next two years."
However, large players have continued to expand their operations in Romania despite the ongoing challenges, be it related to the poor road infrastructure or the lack of skilled workers.
"Analysts say that Romania's economic development is not sustainable due to labor shortages, especially in the blue collar category. We have to tap into human resources that are blocked," said Dan Petre, partner at D&D Research.
For instance, Czech utility CEZ is planning fresh investments focusing on smart meters and charging stations for electric cars in cities.
"We have invested over EUR 2.5 billion in Romania, mainly in the infrastructure in Oltenia (the region – e.n) where the results have improved yearly," added Borotea.
The director said that CEZ has two charging stations for electric cars in Craiova and Pitesti, with the company aiming to install another 40 stations with EU funds and national grants.
Meanwhile, Razvan Copoiu, industry vice-president, South & Eastern Europe, at Schneider Electric, said that it was important for municipalities to invest in having smart activities by teaming up with private contractors.
Looking at other sectors with high potential, Raul Pop, senior manager, climate change and sustainability services at EY Romania, said, "On economic activity, we have not yet started a discussion about the circular economy, which could become a gold mine for Romania."
Opportunities in real estate
Moving to the real estate sector, investment volumes are set to hover around EUR 1 billion this year, the same as last year, according to Silviana Petre Badea, managing director & head of capital markets at JLL Romania.
She added that the amount of Romanian investors in the real estate market has remained limited, citing among other reasons the access to finance.
Geo Margescu, CEO of Romanian real estate developer Forte Partners, confirmed, "Banks are still cautious about financing real estate projects."
Elsewhere, the managing director of Vastint, Antoniu Panait, said that big cities that host universities will generate demand for offices, suggesting that the company might decide at some point to expand its presence outside Bucharest. In the capital, the developer is working on two office projects, with plans also to invest in the residential component.
Investors are continuing to pay attention to Romania's property market, but cannot find mid-project offices with values from EUR 30-70 million, according to Vlad Tanase, partner at law firm NNDKP.