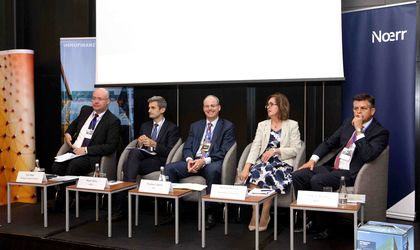 The planned public sector wage hike and the underdeveloped infrastructure in some regions of the country are among the crucial challenges faced by the main foreign investment communities looking to create new jobs in Romania.
As the government plans to increase all public sector pay by 25 percent from January 2018, executives from some of the largest foreign firms in Romania say they have to focus even more on retention strategies.
"This will increase the imbalance between the supply and demand of talent and people in the private sector. But here we face a dilemma. On one hand, investors in Romania see for sure the need for stronger social cohesion through higher wages. They see the need for convergence in Romania with the European Union (…) On the other hand, we need to protect our margins, because with a higher margin we hire more people, we develop people, we invest in capacity," said Francois Coste, CEO of Groupama Asigurari, during the Country Focus Community Forum, organized on June 13-14 by Business Review magazine. The French insurer has 2,100 employees in Romania, of whom 600 are contractors
Coste, who is also president of the French Chamber of Commerce and Industry in Romania (CCIFER), said that to solve this challenge, companies have to increase staff productivity.
"We need to find ways to compensate for the sharp increase in the human factor. If it is too sudden, we won't get enough of a productivity gain and it will pose a financial challenge. The second way to solve this dilemma is by striving to be a preferred employer (…) It's not all about the money, it is about the culture you provide, the development opportunities," he added.
Making a company stand out to new candidates also means that companies might further intensify their recruitment programs in universities.
Francois Bloch, CEO of BRD-Groupe Societe Generale, said that there is a lot of talent that should stay in Romania and work for companies with Romanian or foreign capital. "Through innovation and investments, we will enable productivity gains in various sectors again, through which we can compensate for the increase in salaries," said Bloch.
How to get more employees in the private sector
The draft bill for the new wage structure in the public sector was voted in by MPs in early June, but has to be signed into law by the president, Klaus Iohannis, before it can be enforced. The government has already pushed back the deadline for the wage hike from this July to the start of next year.
The draft bill has raised concerns among economists, who have warned that the spike in the payroll could push Romania's budget deficit above 3 percent. The cost of the new draft bill will amount to more than 8 percent of GDP annually.
"It is worrying that the high economic growth comes with a high deficit," said Carmen Marcus, economic counselor at the European Commission.
Eric Stab, president of the Foreign Investors Council, added that there is a pretty broad consensus that some wages in the public sector have to rise, citing the situation of teachers and doctors. However, he shared the story of an investor who claimed that it had become "pretty much impossible" to hire people in Timisoara. The western city has attracted massive investments in the automotive and IT sectors and its proximity to the border makes it attractive for industrial groups that need to move freight by road fast.
"The soaring salaries that companies are complaining about would not be a problem if productivity was growing similarly or more strongly" said Gerd Bommer, commercial counselor at Advantage Austria. He commented that Austrian companies see the potential in longstanding operation in Romania to stay for good and profit from the strong domestic market and growth.
Bommer went on to say that Romania faces a workforce mobilization problem and that there's a need for government actions to balance the lack of skilled workers.
The government has taken the first steps to promote the relocation of employees, for instance by subsidizing the rent paid by an unemployed person who gets a job far from home, in another city. However, the bigger problem is that some counties, especially in eastern Romania, where there is a chronic lack of transport infrastructure, are not able to attract investors that could develop large-scale projects.
Representatives of foreign investment communities say that the Romanian diaspora, which comprises roughly 4 million people, is a source of valuable talent that has been somewhat ignored up to now.
Dragos Anastasiu, president of the Romanian-German Chamber of Commerce and Industry (AHK Romania), said that the labor market has been literally blocked in the past six months as demand far outstrips supply. "We could do more but we don't have people," said Anastasiu, adding that there is an insufficient number of skilled employees with the right mindset.
"Companies have to wake up and do something. We have to invest in people through education," said the AHK Romania head, speaking about the dual education program in Romania.
Companies from Germany, Austria and France have been among the strongest supporters of the local vocational education system, and classes with students enrolled in such programs have emerged across the country. Companies have been struggling for years to find, for instance, enough welders and mechanics, and employers hope that vocational training could help them fill the skills gap.
"We have to open the country to foreigners. We have to do this in the next two to three years," said Anastasiu.
Moving away from the low-cost model
With public sector wages poised to rise sharply, which will also put ongoing pressure on the private sector to move in the same direction, representatives of investment communities talked extensively about Romania's transition from a low-cost economy.
"Romania is progressively losing this low-cost advantage," said Marcus of the EC. She added that there is a clear sectorial shift to services.
Stab, also chairman & CEO of Engie Romania, added that generally speaking, foreign investors are optimistic about Romania, noting that there is room for improvement in terms of foreign direct investments per capita.
"If you look at FDI stock per capita, it is the lowest in Romania, around EUR 3,100, compared to neighboring countries: in Bulgaria it's more than EUR 5,000, and in the Czech Republic more than EUR 9,000," said Stab, citing the results of a study conducted by the University of Economic Studies and the FIC.
In addition, with the rising automation trend, low-income jobs might be the first ones to go, according to commentators.
"Romania was a low-cost country, but this is changing," said Pierre Moussy, economic counselor at the French Embassy in Romania. He suggested that everything related to research and development and innovation should be increased.
The state continues to provide support for investors looking to develop projects in Romania. There are two state aid schemes, one to attract labor, where there is still money, and the second for investments in assets, for which competition for projects has begun, according to Iulian Sorescu, associated partner at Noerr Finance & Tax.
"There are still investments higher than EUR 10 million coming into Romania for expansions," said Sorescu. He added that companies are waiting for the call for applications for the state aid scheme for assets.
"What we have in Romania compared to other countries is a high level of financing," said the partner, adding that the 50 percent state aid for investors in certain parts of the country helps Romania's state aid scheme become more attractive than others in the region.