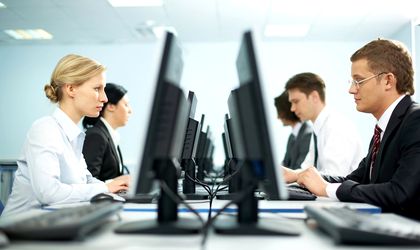 Romania's private sector is registering demand for employees across the board, from welders and electricians to IT experts and agriculture and construction specialists. In an economy with an unemployment rate hovering around 4 percent, companies are exploring various options to increase their staff, ranging from the relocation of employees from other parts of the country, to offering vocational training for high school students and importing workers from outside the European Union.
Aside from the tight labor market, companies are facing the challenges of the uneven development of the country. Whereas employers in Bucharest and other cities in western Romania are frantically looking for staff to expand their businesses, there are counties in the east and south that are grappling with chronic unemployment.
Scarcity of labor impacts firms of all sizes
The government is trying to change this by covering the rent for unemployed people who find a job in a different city, but this program is still in the early stages.
"In general, we see a clear problem in the mobilization and allocation of the available workforce. To be more specific, it has become apparent that a workforce is available in certain counties and regions in Romania, where companies are currently reluctant to settle due to missing infrastructure or other circumstances, while in other areas companies are struggling to find employees due to full employment. Furthermore, a high number of potential workers are currently employed in sectors such as agriculture and even the public domain, where their contribution leads to a comparatively smaller contribution to the national output," Gerd Bommer, commercial counselor at Advantage Austria, told BR.
"Hence, it might be more beneficial for Romania to motivate them, through education, financial and fiscal means, to reallocate or retrain available resources to join a different field of work, in order to optimize resources," he added.
Representatives of the foreign investment communities in Romania say that the scarcity of the workforce impacts companies of all sizes, whether they have Romanian or foreign capital.
"For next year, no improvement of the situation is forecasted. Manufacturing firms are looking on their own for solutions to fill their vacancies, either by recruiting employees from other regions of Romania or through workers brought from outside the European Union," officials from the Romanian-German Trade Chamber (AHK Romania) told BR.
The association says that Romanian companies have few solutions if workers decide to move to another EU member state where they are paid better. Meanwhile, the order books of production companies in Romania are increasing due to growing demand from international clients.
Raluca Penes, HR coordinator at Smartree, the HR consultancy, says that the medical field is still seeing a migration of workers to other countries, including nurses and pharmacists. Meanwhile, the IT sector also continues to suffer from a deficit of staff.
"In these fields we shouldn't expect an easy year for the recruitment departments. The opening of new work points by multinational firms that are funneling investments towards Romania will continue to generate a gap between staff demand and the available supply," said Penes. She added that wages have continued to grow in the IT sector and some firms are providing relocation packages, for instance for those moving from Bucharest to Cluj-Napoca.
Making a case for vocational training
One way to alleviate the shortage of skilled staff would be to steer more students towards the vocational training system. Although this process takes time, and a lot of convincing is needed for the parents, firms are continuing to work with the public authorities in order to create classes in which teenagers can combine theoretical training with practical experience at companies.
"We will continue to contribute to this reform, involving companies in the updating of school curriculums and their adaptation," representatives of the French Trade and Industry Chamber in Romania (CCIFER) told BR. They add that closer cooperation between parents and teachers is needed for this system to succeed, while companies should also promote internships and training more actively.
Schools developed under public-private partnership have emerged in Brasov, Cluj, Fagaras, Timisoara and Pitesti – in industrial basins, around large companies or groups of companies, said the CCIFER.
"These were more or less successful experiences, depending a lot on the level of involvement of the public partners along with the companies," said the CCIFER officials.
Bommer of Advantage Austria says that the organization has set up two dual education pilot projects in cooperation with the Romanian authorities in Bucharest and Cluj-Napoca.
"However, we see this as setting an impulse for the Romanian authorities to speed up the development of a nationwide approach to vocational education that is currently being discussed. We hope to see progress in this area sooner rather than later," said Bommer.
Solving the issue of the lack of employees is also on the agenda of the Foreign Investors Council (FIC), whose member companies have created some 200,000 jobs in the country. FIC representatives say that politicians should focus on the issue of demographics as the results will also be seen in two to three decades.
"It is as important to reduce the migration of the workforce from Romania to other states, and maybe, through a joint effort, to attract back some of those that moved away. We don't think fiscal solutions can solve this issue," said FIC officials.
Elsewhere, the founder of IT company TotalSoft, Liviu Dragan, says that Romania still has a lot of people that can be employed, despite the massive migration. He suggested that those living on welfare in rural areas could be integrated in the workforce.
"In Romania there are 17-18 million inhabitants of whom 4.5 million are working, out of whom 1.5 or 1 million are in the public sector. It is almost impossible for a country with such a small number of employees to make significant strong progress. So all the economy suffers," said Dragan, during an event organized by the Romanian Business Leaders Association.