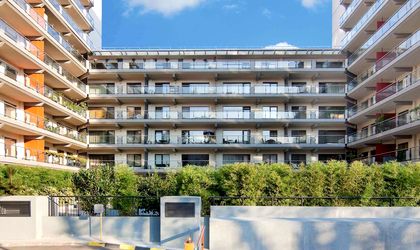 House prices are expected to maintain their upward trend through to the end of the year, after picking up speed this first semester. In the meantime, developers are boasting of investments in new projects to match the growing demand.
Simona Bazavan
Economic growth, low interest rates and support schemes such as the government-backed Prima Casa program spurred housing demand the first half of the year, which in turn pushed up asking prices throughout the country, data indicate. The trend looks set to continue throughout the rest of the year, despite concerns about how sustainable these price increases are.
While demand is going up, supply has been more sluggish. "Although most economic indicators look favorable for real estate acquisitions, the existing supply is considerably lower than a year ago. To be precise, our data indicate that supply in the main cities is down by about 31 percent," said Dorel Nita, head of data and research at Imobiliare.ro, in a recent company report.
And prices are indeed picking up. Over the past three years house prices have posted average quarterly growth rates of 2.5 percent, Imobiliare.ro data indicate. By comparison, the rise stood at 3.1 percent in the second quarter of this year. "Although the growth rate was somewhat justified by the ratio between demand and supply, these fast price hikes are considered unsustainable, including by the central bank. House prices on the local market are growing faster than the European average, according to Eurostat and the National Institute of Statistics," added Nita.
This has raised concerns about a possible market overheating, especially in cities such as Cluj-Napoca, yet consultants and developers suggest that overall growth remains sustainable. "The local residential market is on a new normal cycle. I wouldn't say we are dealing with a market explosion, and I do not think there is a risk of overheating. The market is maturing and this trend is led by the ever evolving consumer needs," Ahmet Buyukhanli, CEO of Opus Land Residential Development, tells BR. He expects prices to go up by between 5 and 10 percent on average by yearend in Bucharest.
As to when property price hikes will ease, this could happen in the event of a mix of factors, believes Nita: house prices going up faster than incomes, fewer properties changing hands, fewer prospective buyers and supply picking up once more.
Full speed ahead
Developers are certainly taking notice of the existing demand, with several major players announcing investment plans. Earlier this summer, real estate company Impact Developer & Contractor bought a 22,000 sqm plot of land in the Domenii area of Bucharest for EUR 10.6 million (VAT not included) on which to build some 600 apartments.
Works on the first development phase will start this autumn and the first 268 units are scheduled for completion in the spring of 2019.
The much-sought after plot of land is located between the Kiseleff and Ion Mihalache boulevards in an area of the city "known as the next office pole," say company representatives. The project will feature nine apartment blocks going as high as 13 floors. Homes will range from studios to three-bedroom apartments.
Impact is known for developing 16 residential compounds on the local market, its flagship project being Greenfield in northern Bucharest.
Another local player, AFI Europe Romania, is planning to start works this summer on a residential project in the capital's Bucurestii Noi neighborhood. "It will consist of a gated complex, green areas, sports facilities as well as a commercial center, served by a metro station at the entrance to the project. As part of the first development phase, two residential buildings consisting of 190 apartments, meaning 16,000 sqm of built-up area, are scheduled for development," Tal Roma, development manager at AFI Europe Romania, previously told BR. Given that the Israeli developer purchased the plot ten years ago, the timing for starting its first residential project on the Romanian market is telling. "Now, finally, as the residential market has recovered from the crisis, we have decided to enter this market segment and invest in our first residential project in Romania. Patience always pays off in real estate," said Roma.
Lithuanian developer Hanner is another player that considers the timing right for a new investment. The company wants to start works by yearend on its mixed-use office and residential project on the grounds of the former Grivita Brewery in center-west Bucharest. The developer particularly tips the medium segment of the market as having the potential for future growth.
"There are many people who bought an apartment a few years back and now want to upgrade, not only to a larger one but a quality apartment in a good location. Right now there is almost nothing available in the market for such buyers, even if we take the secondary market into consideration," Mindaugas Valuckas, CEO of Hanner Holding, recently told BR. Overall, local buyers are getting more sophisticated and demanding, especially as they also generally have more disposable income. "When we first started The Park residential project, some people said that we were spending too much money and that no one would buy. But we proved that people do care about the quality of the housing they buy. I expect this medium segment to grow even further. We are talking about people willing to pay around EUR 100,000 or more for a three-room apartment. And I think it is very sustainable because this segment is not driven by incentives from the government. It will continue to grow even further as this is linked to the IT industry, which remains on an upward trend," he added.
Overall, the number of new apartments to be completed and delivered this year is projected to be the highest since 2009, according to Buyukhanli.
The developer managed to sell 258 homes totaling 22,000 sqm in its Cosmopolis project in Bucharest in the first five months of this year, according to company data. This means it is on track to reach its 540 unit target for 2017 and post a slight increase on the previous year, says Buyukhanli.  Meanwhile, the developer is making room for new buyers. "This year, we will build another 40,000 sqm of residential area, and the works are underway as planned. Currently we are delivering five blocks of flats totaling about 350 units. We also have around 100 villas under construction," adds the CEO.
Prices on the up
The average asking price on the residential market stood at EUR 1,120/sqm at national level this June, up by 6.7 percent compared to the end of December 2016, according to data from real estate platform Imobiliare.ro. Throughout the country, asking prices for new homes posted a sharper increase, according to the same source.
In the capital Bucharest, sellers increased their price expectations by 5.4 percent throughout the first semester. The average asking price for old apartments – meaning mainly properties built before 1990 – was EUR 1,144/sqm this June, up by 5 percent compared to the end of last year. By comparison, on the primary market, average asking prices stood at EUR 1,254/sqm, a 7 percent rise, indicate Imobiliare.ro data.
However, the steepest price increases this first semester were posted outside Bucharest, with Cluj-Napoca leading the ranking. In the western city, asking prices went up by 10 percent, reaching an average of EUR 1,372/sqm. As elsewhere, the growth rate was stronger on the primary market than on the secondary market. While the average asking price for old apartments reached EUR 1,402/sqm, up by 9.6 percent since the end of last year, that of new apartments increased by 12.3 percent to EUR 1,330/sqm.
Asking prices saw gains in all the other main regional cities throughout the country, Imobiliare.ro data suggest. The average hike stood at 9.6 percent in Iasi (reaching EUR 936/sqm in June), 8.2 percent in Timisoara (EUR 1,111), 7.3 percent in Constanta (EUR 1,044), and 6.2 percent in Brasov (EUR 956).