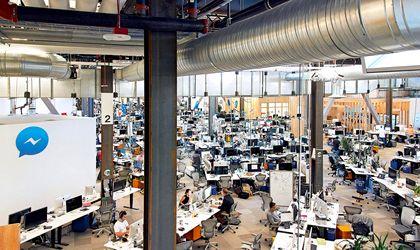 Looking at how companies are innovating their office buildings in more mature markets offers clues about how people might work in a not-so-distant future in Romania, as well.
By Simona Bazavan
Back in the 1990s, tech companies were the first to challenge the traditional office environment by introducing perks to their employees, such as game rooms and free lunches. Nowadays, they are once more at the forefront of altogether more profound changes. The way such companies shape their headquarters in the US or Western Europe signal what sort of innovations may be in the pipeline for everyone else.
Why tech players are driving these changes is easy to see. For one, the competition to attract and secure valuable talent is perhaps highest for IT companies. They are also the most likely candidates to innovate and come up with disruptive practices which, one way or the other, also end up reflecting in their office spaces.
The end game for such tech players, and other companies as well, is to craft an office that provides both an attractive and productive environment, while at the same time conveying the company's brand to employees and consumers.
Bumping into one another
Some of the more recent office developments in the west – many of them belonging to IT companies – boast novelties in both external and internal layouts. Open-office workspaces and the so-called "hot-desking", where employees no longer have an assigned desk or seating area, are nothing new. Having employees work both together and individually in different spots around the office, rather than having a fixed desk, or creating working areas whose functions overlap, creates an open, fluid and informal working environment, say employers.
Supported by
Such office spaces encourage people to be mobile and better interact with one another, sometimes solely as the result of serendipitous encounters. This interaction, in turn, improves communication and spurs creativity, they argue. Last but certainly not least, such schemes also allow companies to better optimize space without leaving employees feeling too squeezed, points out The Economist.
Some of the most recent office developments, however, are taking practices such as open-office workspaces, hot-desking and overlapping working areas to a new level.
When it comes to open-office workspaces, Facebook's headquarters in Menlo Park, California, is an example worth showcasing. It features the largest such open-space office in the world, bringing within the same walls some 2,800 employees, including the giant's founder, Mark Zuckerberg. The use of laptops encourages mobility, while those looking for privacy can use conference rooms or, so-called libraries, with dedicated quiet spaces. To make sure productivity doesn't suffer, each desk is provided with 27-inch monitors, which block out visual distractions, and noise cancelling headphones, according to a company employee cited by Inc.com. Moreover, employees also enjoy flexible working hours, according to the same source.
In 2015, the same year Facebook moved into its new headquarters, The Barbarian Group, a new generation internet-advertising agency, was making headlines by equipping its own headquarters with a one-of-a-kind desk. Their 335m-long undulating desk could host as many as 170 people at the same time.
While such developments don't spell the end of offices as physical spaces, they definitely hint at profound changes ahead. For example, American cloud computing company Salesforce will open its new headquarters later this year, in a 62-floor skyscraper in San Francisco whose top floors will be used as a lounge and open space area for employees and the general public alike, rather than as traditional corner offices for executives, writes The Economist.
Apple's colossal new headquarter in Cupertino, California, is another example of an office that is designed and managed with the self-declared purpose of being "a space for creativity and collaboration."  The circular building the size of the Pentagon, which opened this April, comes with a park at its center, which is meant to create an open environment for people "to create, collaborate and work together," they add. The parklands offer two miles of walking and running paths for employees, plus an orchard, meadow and pond within the ring's interior grounds.
No more office-like atmosphere
For all the changes technology has brought to the way we work, achieving a work-life balance has not become easier. And since most people spend a good chunk of their weekdays in the office, why not make the office feel like home? Or perhaps even better than home?
Unconventional yet comfy office settings help both distinguish a company's brand and give staff a reason to come into the office, rather than work from home. And there are plenty of companies following suit. In Google's Zurich offices, employees work inside vintage alpine ski-lifts, and as in any other Google office, they enjoy three free meals every day. Airbnb's headquarters conference rooms are designed according to the company's rental listings, including a Bedouin tent from Morocco, according to The Economist.
Increasingly more, the trend for new office developments focuses on amenities that help employees save time, say industry representatives. This might include concierge services such as picking up laundry or ordering groceries that wait to be picked up from a fridge in the building's basement, as is the case for Deloitte's employees headquartered in The Edge, the company's Amsterdam office. Other companies are offering their employees on-site wellness services, including healthcare services, or free shuttle services, which is something particularly popular among millennial workers, they add.
Technology is also widely being used for the self-declared purpose of making employee's life easier. The result is the so-called smart office, which is both user- and environment-friendly. American chip manufacturer Nvidia, for example, is planning to install cameras to recognize what food people are taking from the cafeteria, thus eliminating the need for a queue and cashier, according to The Economist. It also plans to have a self-driving shuttle to connect its various buildings and monitor when employees arrive and leave in order to adjust the building's heating and cooling systems.
Such practices are already available closer to home. At Deloitte's The Edge headquarters in Amsterdam, an app notifies employees about their schedule as they arrive, guides them to a reserved parking spot and an available desk and adjusts environmental factors such as light and temperature according to individual preferences.
The building was delivered in September 2014 and it is one of the smartest and greenest office buildings in the world, Stefania Baldovinescu, senior partner, real estate management services with Colliers International tells BR. Such perks will most likely become common place over the next years, albeit there are also fears about privacy and how this could all backfire against those they are supposed to help by creating a surveilled environment where employees are constantly being monitored.
Meanwhile, back home…
Back in Romania, office buildings are undergoing changes too, and employees are the ones dictating the change, real estate consultants tell BR. "We will see over the next years the first building in Romania to have a rooftop running track. Things are moving forward fast," say JLL representatives.
The trend is for offices to evolve from places where people exclusively work, to places where they also spend their free time and live, Gabriel Balaban, MRICS, head of building consultancy at CBRE Romania tells BR. Offices are fast turning into a hybrid between physical space and digital space add JLL representatives, and new technologies are being used increasingly more by local developers. Companies are adapting to new ways of working and the first to undergo such changes are generally those with a large number of employees, adds Balaban. "Therefore, we expect to see tracking systems for employees being set up and more apps managed by the owners of the office buildings which will help employees save time," he forecasts.
It might seem difficult to talk about smart buildings in Romania at this point in time, given that the local office market is relatively young, however, local reality catches up with trends set abroad, believes Baldovinescu. The majority of office buildings are already equipped with heat pumps, radiant ceilings, gray water systems, charging stations for electric cars, car plate recognition systems and bike parking spaces, she points out. Others already boast improved environmental features that range from interactive areas, community spaces, squares between buildings and Wi-Fi in campuses to running paths and common areas sensors. "The future is even brighter considering the fact that more and more ongoing projects include innovative technologies, such as: virtual reception with check-in and access control for visitors, dashboards at the lobby lift areas showing consumption per tenant/floor and building dedicated smart phone apps, in-building restaurant, car and bike sharing as well as other partnerships," she explains.
There is already a considerable difference between the office buildings being developed today and projects which are already 10 or 15 years old, Eduard Turcoman, senior broker office agency C&W Echinox tells BR. "Today, we have buildings whose elevators store breaking energy, led lighting solutions are becoming wide spread and ventilation systems are increasingly more employee-friendly. Also, electric car chargers, bicycle parking and showers have become standard for established developers such as Skanska, Globalworth, Vastint or AFI Europe," according to him.
Moreover, developers are considering other office upgrades that can be seen on more mature office markets, but there is also the matter of costs, he points out.
"Innovations come with costs that are later reflected in the rent. This is why developers will always pay attention to their tenants' requirements and will avoid unnecessary gimmicks," explains Turcoman.
Developers themselves agree that there are new trends taking shape and that new office projects are evolving. Ovidiu Sandor, the developer behind the EUR 130 million ISHO project in Timisoara, tells BR that one change is that energy efficiency and securing green certificates have become a must. Another important trend is the growing relevance of an office building's social function, believes the businessman.
A new office project being developed in 2017 goes beyond being simply an office building, he explains. First and foremost, it needs to be employee-centric.
"All this means is that a project which is being developed in 2017 must have an aspirational component, co-working spaces on all levels, flexible spaces and a mix of office and teleworking hours. Spaces are being adapted to present working patterns with short meetings, many of which take place in very creative areas or standing. Spaces that are increasingly more public are becoming part of office projects," explains Sandor.
An important driver of change for the local office market is the fact that many of the companies active in Bucharest are local subsidiaries of large international companies Sorin Visoianu, country manager operations Romania at Immofinanz tells BR.
"It is natural that they expect the same quality level from all their headquarters around the world. Tenants' demands have certainly contributed to increasing the standards of the local office space offer, as premium developers continuously invest in their properties," he point out, stressing that many of the latest office trends are already visible, in various degrees, on the Romanian market.  An example in this sense is the company's international office brand, myhive, which it has already rolled-out in both western European (Germany, Austria) and CEE countries (Romania, Poland, Hungary, Czech Republic,) points out Visoianu.
All these innovations hint at even more profound changes for the local office market in the years to come, but exactly how those changes will look remains to be seen. "I am personally looking forward to welcoming a building like The Edge in the Romanian market. I think the future of real estate development will blend real green attributes with smart IT features and hot-desking spaces with interactive, welcoming, hotel-type common areas. But until then, I leave you with a question: are you ready for buildings that are so technologically advanced that they know everything you do, or do you consider it is too much of an invasion of privacy and personal intimacy?" concludes Baldovinescu.