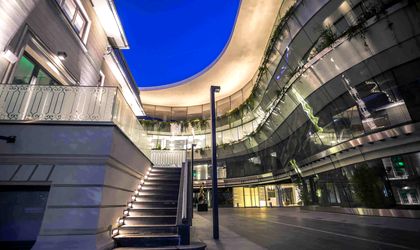 Between outsourcing, no-sourcing and insourcing, Bucharest, which recently saw the expansion of GE Power's Grid Software Solutions (SWS) center, that of DB Global Technology and the opening of Fitbit's new R&D center, is successfully trend riding.
Over the past two decades, the outsourcing of IT activities to external service providers has seen a phenomenal and fairly consistent rise. For years now, Romania has been a hot outsourcing destination, with competitive advantages including a highly skilled labor pool with multilingual skills, an attractive price-quality ratio and EU membership. Currently, the country's outsourcing sector employs more than 100,000 people, most of them in the banking, insurance and financial services, followed by the technology and telecoms sector and industrial and consumer goods. In 2014, a time when the A.T. Kearney Index ranked Romania the fifth most attractive outsourcing destination in Europe, the global IT outsourcing market stood at USD 105 billion, more than double compared to 2004, and has kept a steady growth pace, until recently.
Two years later, however, the picture is very different, with the global outsourcing market declining by almost 30 percent, to USD 77 billion in 2016. As highlighted by last year's A.T. Kearney Global Services Location Index, where Romania still ranks as the fifth most attractive destination in Europe, automation is fast becoming the predicted game-changer and the outsourcing market is feeling the impact. As automation becomes more prevalent, many outsourcing markets are projected to shrink, due to job loss caused by technology taking over a large chunk of business process outsourcing. The 2016 study singled out no-shoring, the process of transferring business services, previously conducted by humans, to anonymous data centers hosting cloud-based automated processes, as the fastest growing global trend. However, while signaling the beginning of the end for the traditional offshoring industry in information technology outsourcing (ITO) and business process outsourcing (BPO), the study also acknowledged the shift in focus towards the global transfer of higher-skilled jobs, which is expected to become more dynamic. The study's most recent edition expanded on that, pointing out that the global value chains are projected to grow, creating new offshore jobs. At the same time, experts have spotted that increasingly more global players are relying on insourcing. Far from simply being a trend reversal, this counter-trend sees companies transitioning back the development of core technologies and services in order to regain control and boost their competitive advantage, which they transfer to newly-established global centers of excellence. As highlighted by the recent opening by US wearables maker Fitbit of its new Bucharest R&D center, the largest on the continent, as well as the expansion and launch of recruitment campaigns by DB Global Technology and GE Power's Grid Software Solutions (SWS) center, Bucharest is among the global destinations making the most of the shift in trends. In doing so, Romania, a top global outsourcing destination for years, is showing that it has outgrown its condition and is helping major players redesign their global footprint.
General Electric, Deutsche Bank boost their presence
In August, GE Power's Grid Software Solutions (SWS) center, established in Bucharest in 2011 as part of the global Grid Solutions (SWS) center of excellence, kicked off a recruitment campaign upon moving into new headquarter. GE Power's Grid Solutions, employs over 19,000 people in approximately 80 countries.
According to Cristian Colteanu, president and CEO of General Electric Romania, Bulgaria and the Republic of Moldova, several converging factors contributed to GE setting up their center in the Romanian capital. "Thanks to their dynamic, highly-skilled and growing IT market, the country, and particularly Bucharest, have a lot to offer in terms of innovation and further development possibilities," Colteanu told BR. With around 4,000 IT specialists graduating each year, out of which 2,000 only in Bucharest, and 8 percent of Romania's GDP coming from the IT sector, Romania has grown into a major IT center in the Balkan area."
The SWS center's activity, supported by local specialists, has since expanded from a European, to a global level. "During the first two years, our team focused on supporting the European business. Since then, the center has evolved into a true global delivery center, effectively supporting all regions worldwide," Colteanu explained. Currently, the center "works on technical deliveries worldwide for projects such as integration, software development and testing for major players in the energy markets of Europe, North and South America, Australia, Africa and the Middle East. Therefore, it is a major contributor to energy grid stability, enabling energy providers to respond quickly to grid demand fluctuations and to ensure security of energy supply. This tremendous role places our center at the core of GE's mission to become a top ten software company in the following years," he added.
Today the center has a team of 130 employees. "Since 2015, we have hired over 100 people and are committed to keeping the same pace and continuing the recruitment of digital specialists over the next two years," Silviu Cretean, the center's senior services director said, at the opening of the company's new headquarters.
"GE was and is still relying, to some extent, on outsourcing services. The extended growth expected for our Bucharest center is strongly focused on cost optimization, while also providing sufficient flexibility to further increase the center's digital footprint," Colteanu told BR, adding that "for GE, creating our own software delivery centers was a natural step." As it operates on a competitive labor market, the company is focusing on offering incentives such as multicultural exposure and involvement in international projects, which it sees as key elements in building a strong career, as well as offices in a state-of-the-art BREEAM Excellent certified building.
DB Global Technology, Deutsche Bank's technology center in Bucharest, opened three years ago and has recently moved to new headquarters, which includes a new research and development hub, a digital workplace floor and a state-of-the-art event venue. The top draws for shareholders, namely the skills and talent of the local workforce, convenient location, the possibility for growth as well as the strong quality of interaction, are still considered the center's major assets, Marian V. Popa, general manager of DB Global Technology told BR.
After starting off with a EUR 10 million investment and initial plans to hire and train 500 people that would cover three areas, today the center has more than 800 employees that cover ten areas and counting, Popa explained. Moreover, 200 highly skilled staff are expected to join the team in the near future. "I think that all the qualities that attracted us to Bucharest contributed strongly to the continuous growth of our center," he said.
The Bucharest hub is part of the international network of Deutsche Bank innovation labs in New York, Silicon Valley, Berlin and London. "Bucharest is one of the four application development centers that DB has worldwide," Popa explained. According to him, solutions developed in Bucharest have been successfully adopted within the company. "We have developed certain areas where we imposed a benchmark, our methods being accepted and transferred also to the other centers," he said, adding that the possibility for the Bucharest center of becoming a center of excellence is still wide open. It is the openness to learn, collaborate, as well as their responsiveness to coaching and mentoring, that allow Bucharest experts to develop advanced financial solutions that are later implemented on markets that are more developed than the local one, Popa explained.
"By providing a strong base for innovation in the region and helping to develop the local fintech community, the center is supporting our ambitions to become a technology-led company," Kim Hammonds, COO and member of the management board of Deutsche Bank said at the opening of the new headquarters. Moreover, Hammonds explained, the center was supporting the company's drive to "bring technology back into the bank, instead of contracting thousands of vendors around the world, in order to derive increased competitive advantages." According to Popa, although insourcing is not expected to completely replace outsourcing, the former is driving fundamental changes within the way the company operates. "For years, the industry in general has outsourced a number of services to specialized companies and this was valid also for the banks. Now, the trend is reversing, where collaboration with outsourcers still continues, but at the same time, core technologies and knowledge are transitioned back into the bank. We are a core part of this activity as our main activity lies in internalization and knowledge transfer," he explained.
According to Popa, it is challenging to find the right people, "and it is even more challenging – once they become experts – to retain them. This can be achieved through respect, openness, trust and collaboration as well as transfer of responsibilities and empowerment," he argued, "as well as more involvement in international bodies and structures. We take a lot of pride in the fact that we have more and more Romanian experts in international forums, taking important decisions."
Fitbit taps into the market
In September, US wearables maker Fitbit opened its biggest European R&D center in the same building hosting GE's new headquarters, in central Bucharest. In doing so, the company is following in the footsteps of software giant Adobe, who built in Bucharest over a decade ago its largest R&D center outside of the EMEA. After filling around 80 tech vacancies last year, in May Adobe Romania director of engineering and site leader Cris Radu told BR the company was planning to hire, by the end of this year, more than 50 cloud and big data engineers, reaching almost 500 people at its Bucharest site. Other companies that opened R&D offices in Romania are SAP, Ixia, NXP, and homegrown global cybersecurity player, Bitdefender.
Fitbit entered the market months after completing the purchase of local startup   Vector Watch, which rather than serving to expand its range of products, served as a gateway to the local IT market. The startup, whose CTO Andrei Pitis is now heading the new facility, as well as serving as VP of engineering for Fitbit, had developed from scratch a 30-day battery life smartwatch, sold in 27 countries. In opening its new facility, built around the startup's core team of 30, Fitbit plans to capitalize on the team's expertise in developing innovative technology in the field of power consumption. "The team's knowledge around low-power technologies, the ability to have low-power OS and third-party applications – those are some of the things that they're bringing to the table," CEO James Park, who attended the opening, told ZDNet.
The company, one of the global leaders of the wearables market, already employs around 100 designers, software engineers and product managers in Romania, and is eyeing to tap deeper into the local talent pool. "Hiring smart people everywhere is a challenge, and I think there's a unique talent in Bucharest that [we] will tap into," Fitbit co-founder and CTO Eric Friedman said at the opening of the new center. According to Friedman, the country's human capital and the growth potential of the tech sector are two of the major draws of the Romanian market. "What I find most impressive and reassuring is the active number of young tech entrepreneurs, kids in their early 20s, who have the imagination and power to challenge a global start-up ecosystem," Friedman recently told Financial Times, adding: "The evolution of the tech start-up scene in Romania is highly positive. New investment funds and business angels are supporting more and more tech-based start-ups."
The wearables company has also disclosed plans to support a local startup accelerator and to collaborate with local technical universities.