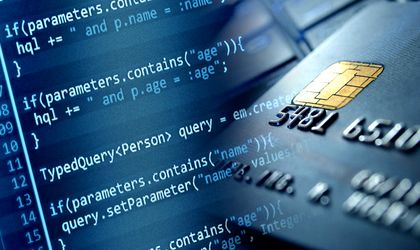 More than 20 years after the launch of the first credit card in Romania, the banking system has entered consolidation mode as it tries to keep up with the nimble tech companies that are harnessing innovation in the financial sector.
Lenders on the local market have continued to redesign their structure of physical branches as part of the digitalization process.
While the number of employees in the banking sector has remained fairly stable at 55,000, the network of branches had fallen from 5,000 to 4,800 by the second quarter of 2017, according to statistics.
Some of the largest banks on the market have continued to reconvert branches into self-service units for customers that don't need any help for basic banking operations. Lenders have also kicked off investments in overhauling their online banking platforms. Technology trends such as biometrics and facial recognition make room for the digitalization and portability of identities.
Meanwhile, banks' digital activity soared 22 percent to 92.7 million transactions in 2016, according to eFinance portal. Out of this total, 12.7 million were mobile internet transactions, while the rest came from desktops. Since then, the mobile ecosystem has continued to gain new innovations and the shift from contactless to mobile payments is gaining ground across the major markets.
However, Romania is among the worst performers in terms of internet banking usage. Around half (51 percent) of adult Europeans use internet banking, while in Romania the figure stood at 7 percent.
Banks turn to FinTech
But now, banks can tap into a new source of innovation to support their digitalization efforts. FinTechs, which are capable of collecting vast amounts of data, are being courted by lenders as they attempt to improve the online experience for customers.
"While most incumbents are struggling to consolidate and manage data and to offer digital customer-service experiences, FinTech companies are putting their spotlight on emerging technologies. (…) These developments include technologies such as enhanced biometric security, natural language searches, and chatbots. As they adopt these solutions, they are not only focusing on enhancing client service but also on improving efficiency, reducing costs, increasing security, and making processes more agile. Blockchain, AI, and biometrics & identity management are high on their priority list," stated PwC's Global FinTech report.
Financial institutions are already worried that they might lose business due to FinTechs. A survey carried out by PwC on 1,308 participants, mainly CEOs, IT managers and other top management involved in strategy and innovation, reflects this feeling. Close to 90 percent of the respondents said that they believe that part of their business is at risk of being lost to standalone FinTech companies within the next five years. In Europe, this figure climbed to 89 percent in 2017 versus the previous year. Close to half of the respondents said they were ready to partner with FinTechs.
The survey was based on responses from 71 countries and across six regions. Moreover, 77 percent of respondents expect to adopt blockchain – the underlining technology of Bitcoin – as part of an in production system or process by 2020.
Bankers have started to treat with suspicion the buoyant cryptocurrency market, and some of the largest lenders in the US and UK have begun to impose credit card bans on transactions with digital coins.
Elsewhere, FinTech funding has soared by 41 percent in the past four years (compound annual growth rate), with over USD 40 billion in cumulative investment, according to PwC's DeNovo platform. Funding deals for FinTech in the EU had reached USD 1.8 billion by the third quarter of 2017, versus USD 5 billion each in the US and Asia, according to CB Insights.
The future for banks in platforms
By 2020, lenders are set to develop shared platforms that distribute products across all channels, according to a report by PwC.
"Leading banks will make simplification a priority. They will strategically redesign their business model, end-to-end. They will develop multi-year change programmes. And they will ensure that they have the organizational capabilities necessary to achieve the change," said the authors of the report. Bankers are looking to simplify the range of products, channels and prices.
In terms of innovation, bankers in Europe see customer interfaces and core platforms as some of the focus areas by 2020.
The survey carried out by PwC states that 97 percent of CEOs consider innovation a key priority for top and bottom-line growth, but only 10 percent of CEOs view their organizations as innovation leaders.