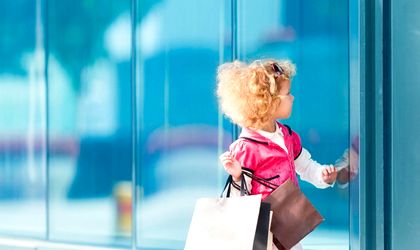 From food, clothes, toys and games to professional services, like education and healthcare, babies that become children then teens, have a wide range of industries concentrated around them, meant to ease both their and their parents' lives. Players spend huge amounts on advertising in an attempt to convince parents that their product or service is best for their children. But who holds the power in the purchasing process: kids or their parents?
 Anda Sebesi
For decades, children have been the source of big business for many companies selling toys, games, clothes and now, lots of high-tech goodies.  Marketers have tried to treat kids as young adults, unleashing an array of ad campaigns designed to get them to buy or pester their parents.
According to a report published by Digitas, part of the global ad giant Publicis, today's little kids and tweens have buying power to the tune of USD 1.2 trillion per year. The same research says that this figure isn't just about how much kids buy themselves. It also includes the degree to which they are influencing their parents' purchases. For instance, 60 percent of all tweens today have substantially influenced their parents' final decision on which car to buy.
As pundits say, kids today are treated more like adults than ever before. In school and at home, they are exposed to more adult topics like poverty, war, the environment and climate change. In addition, because they are treated more like adults, the result is that they are showing preferences for adult things.
Every year, children and their parents are bombarded with advertising announcing the latest and greatest the toy industry has to offer. Toy manufacturers try to convince parents that their children absolutely need these new toys.
It has been estimated that the toy market garners an approximate revenue of more than USD 80 billion on an annual basis worldwide. Around a quarter of this estimated total is derived from the North American toy market. The revenue obtained from the sale of games and toys within the United States alone was estimated to have reached USD 23 billion by the end of 2014.
Last but not least, according to a study called "The Cost of Raising a Child" conducted by the US Department for Agriculture (USDA) in 2015, a family spent approximately USD 12,980 annually per child in a middle-income (USD 59,200-USD 107,400), two-child, married-couple family. Middle-income, married-couple parents of a child born in 2015 may expect to spend USD 233,610 for food, shelter, and other necessities to raise a child through age 17. This does not include the cost of a college education.
As pundits say, the current marketing strategies focus on some basic sentiments that kids have such as fear, anger and joy. "The strongest influence on purchasing a product comes from joy: joy of eating, playing, being strong, getting attention or influencing others," says Diana Paula Stoian, psychologist-psychotherapist, coach and representative of "Centro di Terapia Strategica" from Arezzo (Italy) in Romania. According to her, children need to be part of a group and often they buy a specific brand just to do so or to make friends. "By consuming a product, children try to create autonomous spaces where there is no room for the authority or the influence of their parents. Usually what parents defy or consider unhealthy, children love," adds Stoian. She emphasizes that parents who spend less time with their children, spend more money on them due to the resulting guilt.
Romania is on the same wave
Technology is part of our life more than ever and children of all ages are exposed to it and to its implications on their personal development. According to a study conducted by iSense Solutions for Lowe Group last fall, the average age when children get devices is 8.5 for a tablet, 9 for a computer, 10 for a smartphone and 11 for other smart devices. "Children are exposed to technology in their early childhood which generates changes in the behavior of young generations and in the decision-making process in a family. Seventy-one percent of parents said that they asked their children what products should buy while 51 percent of them consider them very persuasive. Our stake is to understand the factors that influence the new behavior models and identify hints that can guide us in preparing some actual, long-term communication strategies for the next generations of consumers," said Adela Preda, digital creative strategist at Profero. The study analyzed the behavior of children aged between 5-7, 8-12 and 13-16 in a digital environment.
Children on the local market have been a source of big business for many companies across many sectors, from food, toys, cosmetics, care products, clothes, books and audio books to medical and educational services. Next, H&M, Mothercare, Zara Kids, Mango, Cocodrillo, Lego, Imaginarium, Jumbo, just to name few, are some of many global brands that made their entrance on the local market, either with a traditional store or using the online channel to sell products for children of all ages. Even hypermarkets like Cora, Auchan or Carrefour have set up specific areas for food and non-food products and clothes for children.
As a result of decreasing confidence in the Romanian public medical system, many parents decided to invest more in the safety of their newborn or unborn children and benefit from premium medical care and housing offered by private medical players. As a result, in recent years, almost all the private healthcare clinics and networks completed their portfolio with medical services dedicated to children, from maternities to pediatric clinics and hospitals.
For example, 3,051 babies were born last year at Regina Maria Baneasa Maternity, representing the second largest number of newborns registered in Bucharest both in the public and private medical system, according to the data of the Center of Research and Evaluation of medical services within the National School for Public Health, Management and Improvement of the Medical Sector Bucharest (SNSPMS). Over 12,000 children have been born in Baneasa Maternity up to now, of which 2,200 were premature ones.
The public educational system is in the same shading cone as the medical one, with many parents considering private education as a valid option for guiding the professional path of their children. According to the most recent data released by the National Institute of Statistics (INS), quoted by Mediafax, about 17,000 children were registered in 310 private kindergartens in 2014 and 61 private educational institutions have opened their doors for students from primary and middle schools. As for private high schools, only 2.1 percent of Romanian students were enrolled.
One significant step in this huge industry dedicated to kids was made with the entrance of Bebe Tei on the local market. The store, based on the concept of "all under the same roof" posted a RON 54 million turnover last year, according to Ziarul Financiar. At present, Bebe Tei operates through its three locations in Bucharest in Militari Shopping Center, Sun Plaza and a showroom located on Lacul Tei Boulevard. Roxana Maftei, the founder of Bebe Tei and Farmacia Tei stated last year for Ziarul Financiar that the company intended to launch a 3,000 sqm Bebe Tei store in Iasi and another one in Constanta.
Toy story
The local toys industry is one of the hottest sector on the local market, with Jumbo, Imaginarium, Noriel and Lego just to name the few, making big plans for the local market. Even international private investors scanned this market, with Polish Enterprise Fund VII being such an example. The private equity fund managed by Enterprise Investors (EI) signed an agreement to acquire 100 percent of shares in Noriel Group last year for an undisclosed sum. The sellers were the Constantinescu family, Noriel's founding entrepreneurs, and Balkan Accession Fund, a private equity fund advised by Axxess Capital. As part of the deal, EI will provide EUR 2 million funding to support further development.
With a network of 47 stores in 27 cities and a strong online platform, Noriel is the leader in the toys retail market in Romania. In 2015, Noriel's sales grew by 26 percent, to approximately EUR 30 million. "We will strengthen the management team with industry experts and we will support the further rollout of Noriel stores throughout the country in order to double the number of shops in the coming years," stated Serban Roman, country director at Enterprinse Investors.
Along the same line, Jumbo is another significant player on the Romanian toys market. Despite only having seven stores in Bucharest, Pitesti, Ploiesti, Timisoara, Arad and Oradea, the Greek retailer posted RON 217 million turnover in 2015 and had over 40 percent market share. According to local media, Jumbo intends to open two new stores in Constanta and Suceava this summer. As a recent study conducted by KeysFin found, from the 2015 turnover perspective, Jumbo is followed by Intertoy Zone (RON 117 million), Lego Romania (RON 75.5 million), Noriel Impex (RON 35.9 million), Brick Depot (RON 13 million), J&M (Ron 11.7 million), Netzah Game (RON 11.3 million) and Tritex Design (RON 9.5 million). "The entrance of Jumbo in Romania back in 2013 was a significant point for the local toys market. Through its format and wide offer, it managed to rewrite the standards in this sector in a short time," adds the analysts of KeysFin.
According to them, the local toys market will reach its historical peak this year, based on an increasing demand. The researchers found that the cumulated turnover from both the production and retail of toys reached RON 715.8 million in 2015, four times higher than in 2010. Also, the profitability of the sector reached significant peaks, from RON 11.3 million in 2010 to RON 72 million in 2015. "Both manufacturers and retailers capitalized the increase effectively of the income posted by families with children. The sustained promotion on all media channels – TV, radio, print, online, stores, outdoor – is proof in this regard. The marketing policies became more effective and now we have TV channels for kids where games and toys are marketed," say KeysFin representatives.
The global toys and games market reached USD 100 billion last year and, according to analysts, it is estimated that it will exceed USD 135 billion by 2020. This growth is the result of the increase of the purchasing power, innovation, technological advance and the increasing appetite of both children and adults to buy toys and games.
Romanian parents eye private education
Education is one of the crucial pillars that establishes the solid foundation of a future adult. At present, many Romanian parents choose to enroll their children in the private educational system. "Usually parents choose private education because they want an educational system that focuses on student and a curriculum adapted to his or her individual needs of learning. They want a school oriented towards academic performance, personal development and discovery of passions along with well-trained and motivated teachers who are able to use complementary educational strategies and have access to diverse and interactive teaching materials," says Cristina Pop, director of communication and admission at Avenor College. She adds that when it comes to education, parents strike a chord with authentic messages that are in line with their values and principles. "When telling the story of your school, it is crucial to help parents find their place in this story," adds Pop.
As Catalina Gardescu, director of admission and external relations at the American International School of Bucharest highlights, Romanian parents want "something different" for their children than what the public system can offer: smaller classes, modern facilities, the possibility to apply what they learn and to encourage their creativity, supporting the child and leaning on the social-emotional aspects of his or her life, encouraging the learning process and creating an educational environment where the kid can participate with joy, learning foreign languages and getting certificates with international recognition. "Plus, parents want to be more connected to the school, and to have a more open and direct communication with teachers and directors, focusing on the education and protection against alcohol and drug consumption and other behaviors that can have a negative impact on them," adds Gardescu. She highlights that today there is a wider group of young parents that invest more in education, are involved in the educational experience of their children and realize that they have a crucial contribution to it. As for the marketing messages, Gardescu says that parents need to be listened to and be told the truth about the school and what it can or can't offer. "At present parents are much more educated and critical with the messages they get. They can easily identify both the standard messages and those that are not in line with reality," concludes the representative of the American International School of Bucharest.
Choosing to be responsible
For Ana Maria Florea Harrison, writer and owner of Riki&Friends the idea of determining a responsible behavior towards pets and animals in general has been the main drive for putting into practice The Adventures of Riki, a book published back in 2013 by Curtea Veche Publishing. Her inspiration was Riki, her own 14-year-old dog. The book got a nomination at the Bun de Tipar Gala in 2014 in the "Best book for kids in Romania" category. Recently, she published the first bilingual edition of "The Adventure of Riki" (French and Romanian). "The Romanian edition of The Adventures of Riki is recommended by many teachers, and there are schools that choose it for study in a specific week. Plus, many schools and kindergartens invite me with Riki to read to them and tell them about animals," says Harrison. She adds that a publishing house included a text from the Romanian edition of her book in an auxiliary manual of Romanian Language and Literature. "My book, including the bilingual edition is now part of the libraries of many schools, including the Anna de Noailles French High School in Bucharest," adds the writer. Speaking of the benefit that The Adventures of Riki brings to children, Harrison says that she wants people and children to learn how to be gentler with animals and make them understand that they are like human beings. "Riki is a real character, not a Superman one and thus doesn't do imaginary things. Children need imaginary stories, but they also need real ones about characters with which they can identify. They discover and learn through the eyes and the soul of a dog how to behave in different circumstances. They learn simple but important things. The realism and the honesty of the stories inside the book are its main added value," adds Harrison.
Kids like the market niches
Back in 2014, when Luiza Willems, entrepreneur and designer at the Family Fashion tailor shop decided to set up her own business and give up her 13 years of corporate life, the concept of family fashion was quite nonexistent on the local market. She found a specific market niche and started by creating mother-daughter clothes based on a mix of factors: her passion for fashion combined with her ambition to create clothes, her experience in the marketing field and as a mother of two daughters. "In December 2015, I leased a space and made my own tailor shop. I continued to work with other tailor shops until I created my own team of tailors with whom I create the mini-series and the dresses made to order. For large projects, that involve hundreds and thousands of items, like my partnership with Cora Romania for mother-daughter sets and school uniforms, I collaborate with factories," says Willems. Her initial investment was about RON 1,000 in 2014 while the total investment for setting up the tailor shop reached about EUR 10,000. Last year, Family Fashion posted a EUR 110,000 turnover, and Willems expects her business to increase by 10 to 20 percent this year. "The Family Fashion concept appeals both to children and their mothers. When creating clothes that need to be suitable for both a child and an adult, I pay attention to design, the moment of wearing it and comfort. While girls strike a chord with color and design, mothers need to be sure that their kids feel comfortable wearing that dress and that it can be cleaned easily," says the entrepreneur. As for her marketing strategy, Willems says that often it is based on an emotional communication, as children that wear her creations don't know to read.