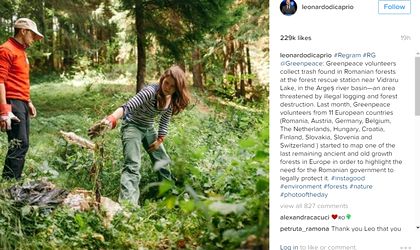 American Hollywood actor LeonardoDiCaprio took to Instagram to congratulate a team of volunteers that cleaned the waste from a forest in central Romania.
He wrote that the country's forests face risks due to illegal logging.
"Greenpeace volunteers collect trash found in Romanian forests at the forest rescue station near Vidraru Lake, in the Argeș river basin—an area threatened by illegal logging and forest destruction. Last month, Greenpeace volunteers from 11 European countries (Romania, Austria, Germany, Belgium, The Netherlands, Hungary, Croatia, Finland, Slovakia, Slovenia and Switzerland) started to map one of the last remaining ancient and old growth forests in Europe in order to highlight the need for the Romanian government to legally protect it", said the actor in a message posted on the social network. DiCaprio has his own foundation that develops projects for the protection of the environment.
Statistics show that around 9 million cubic meters of wood are disappearing each year in Romania. Local forests are sold for around EUR 3,000/hectare and this price is three times smaller compared to the one you would have to pay in another European Union member state.