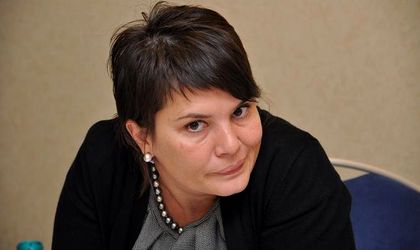 The American Chamber of Commerce in Romania (AmCham Romania) members elected the members of the new board of directors for the next mandate March 2011-March 2012. Following the elections Alexandra Gatej (pictured), from Maldon & Wat, is the association's new president.
The new board of directors also includes Carmen Neagu, (General Electric) and Ionut Simion (PwC) as vice-presidents. Peter Weiss (Bancpost) was appointed treasurer while the other board members are: Wolfgang Schoiswohl (Banca Comerciala Romana), Tibor Pandi (Citibank), Pascal Prigent (GlaxoSmithKline), Radu Enache (Hewlett-Packard), Bogdan Balaci (IBM Romania), Ronald Binkofski (Microsoft) and Anda Todor (Salans)
"I am honored by this new opportunity to continue my previous engagement as member of the AmCham Board and President of the organization. I return with a wide expertise in the business environment and a recent experience in the public administration, and I trust that along with my fellow Board Members we will actively promote AmCham's agenda for a solid business environment and AmCham's vision for increasing our country's competitiveness," stated Alexandra Gatej, AmCham's new president.
AmCham Romania represents 300 members – American, international and local companies doing business in Romania that employ together approximately 200.000 people and invested more than 10 billion USD in Romania. AmCham Romania is affiliated to the U.S. Chamber of Commerce and is a member of the European Council of the American Chambers of Commerce.
Simona Bazavan