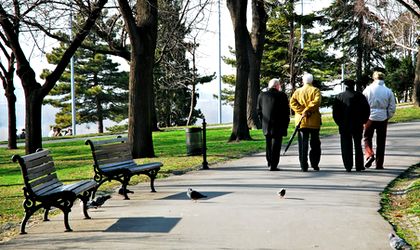 The share of elderly people over 65 years old in Romania was 18 percent on January 1, 2018 – 3,55 million individuals of a total of 19.52 million, according to the National Institute of Statistics.
Of the total number of elderly individuals, 1.43 million were men (15 percent of all males residing in Romania), while 2.11 were women (21 percent of the total).
In terms of regions, the largest share of elderly citizens was found in South-Muntenia and South-West-Oltenia (over 20 percent), followed by the North-East (17.8 percent), Center (17.7 percent) and the North-West (17 percent). The "youngest" region was Bucharest-Ilfov (15.9 percent).
The median and average age put Romania below the EU level, although both have been continuously growing in the past 15 years. The median age of the resident population has increased from 35.3 years in 2003 to 41.8 years in 2017, while in the EU it grew from 38.9 to 42.8 years old. The average age increased from 37.8 (2003) to 41.7 (2017), while in the EU it increased from 39.8 to 42.5 years old.
The demographic aging index of the resident population on January 1 was 116.9 elderly individuals to 100 young persons.
The household structure by occupational status of the head of the family shows that the biggest categories are pensioners (43.9 percent) and salaried individuals (38.4 percent).
Photo: dreamstime.com