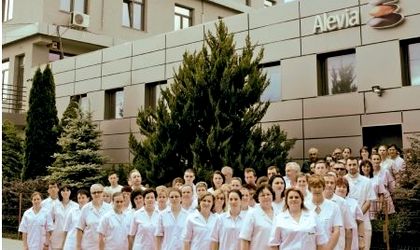 Alevia, the Romanian company specialized in food supplements and teas, finished the works for a new work space, following an investment close to EUR 2 million. Based on this extension and production space expansion, the company estimates a turnover increase by 20 percent annually in the next 5 years.
The investments in the new factory equipment stood at EUR 300,000.
The expansion brings investments in new equipment acquisition, development of products portfolio and HR area. The investments plan focuses on the acquisition of a hall of 2,000 sqm and most recently, a closer one of 1,000 sqm, overall 3,000 sqm. The 2,000 sqm hall covers a delivery storage, which was relocated from the old storage space, the tea section and three new production lines and the 1,000 sqm hall covers the raw material storage and finished products.
The surface of the new delivery storage increased from 170 sqm to 600 sqm and the storage is made on 6 levels instead of 3, as in the previous storage space. The tea section has 500 sqm and new equipment was brought in to double its capacity.
Alevia brings some major changes in its products range together with three new production lines, launching products that don't relate with the former production activity. One of the new categories is food.
Alevia's strategy is to reach a turnover of EUR 5.8 million in 2017 and enter on 5 new markets by launching 50 products.
As a result, Alevia estimates an upward evolution on the annual turnover. Based on the financial results from 2016, with a turnover of EUR 5 million and a growth by 17 percent compared with 2015, the company forecasts a turnover growth of at least 20-25 percent. The increasing trend of the company is based on sales of over 2 million supplements boxes and approximately 3.5 million boxes of teas annually.
In addition, the company aims to add 30-40 employee, on top of the 210 employees that is currently records.